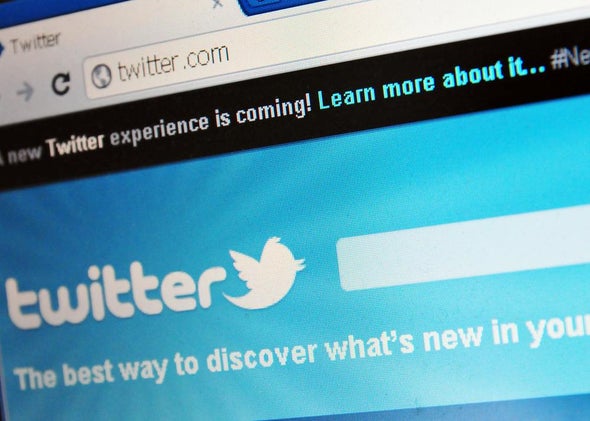 On Tuesday night, Robin Williams' daughter Zelda took to Twitter to mourn her father's death, thank fans for donating to St. Jude's in his honor, and release an official statement on his passing. A few other Twitter users responded to Zelda by blaming her for her father's death, calling her a "heartless bitch," and sending her a photograph that appeared to be an autopsy image of her dad. (It wasn't.) Zelda begged her followers to report the abusive tweets for her: "I'm shaking. I can't. Please," Williams tweeted. "Twitter requires a link and I won't open it. Don't either. Please."  (Reporting abuse on Twitter requires a user to click on the offending tweet, which reveals an attached photo in full view.) Then she vowed to take a break from the network "for a good long time, maybe forever."
Within a few hours, the most abusive accounts interacting with Williams were suspended. Today, Del Harvey, Twitter's VP of Trust & Safety, released a statement pledging to revisit the site's policies to help prevent scenarios like that in the future:
We will not tolerate abuse of this nature on Twitter. We have suspended a number of accounts related to this issue for violating our rules and we are in the process of evaluating how we can further improve our policies to better handle tragic situations like this one. This includes expanding our policies regarding self-harm and private information, and improving support for family members of deceased users.
Jezebel cheered Twitter's response, but I'm not sure there's much to celebrate here. Though I'm told that Twitter has been engaging in serious behind the scenes conversations to decide how to deal with abuse on its otherwise freewheeling platform, the company rarely releases details to the public. It's good that Twitter is opening the lines of communication with its users on this issue, even if in a vague, canned statement. Still: Zelda Williams is a famous person with over 200,000 Twitter followers. It's a little depressing that it took a user of her stature being harassed—and speaking up about it—in the context of an extraordinarily high-profile event to move Twitter to make a public statement about its responsibilities toward harassed and abused users. This was indeed a tragic situation, but less-publicized tragedies strike Twitter users all the time. And rampant abuse and harassment on Twitter often arises apropos of nothing, not in response to a big story that's monitored by Twitter higher-ups.
Furthermore, the policy targets Twitter says it will focus on in the future—"self harm" and "private information"—don't appear to seriously address the major issue in Williams' case. As TMZ reported, the image that circulated on Twitter Tuesday night was not of Robin Williams—the photo came from a Spanish-language site that publishes photographs of strangulation, and happened to resemble Williams—so it can't be argued that the photo constituted "private" information. Williams was a victim of what Twitter calls "targeted abuse," and that's the slipperiest category of content Twitter supposedly bans. Twitter defines targeted abuse as "sending messages to a user from multiple accounts," starting an account with "the sole purpose" of sending "abusive messages to others" and engaging in behavior that is "one-sided or includes threats." The company's definition of a "threat" is pretty close to the criminal version: Twitter bans "direct, specific threats of violence against others," which is a pretty high bar. Running afoul of these rules can lead to permanent account suspension, but it doesn't mean that the user behind the account will be banned from Twitter. As the Washington Post's Caitlin Dewey notes, the person behind one account that harassed Williams has bragged about manning multiple sock-puppet accounts on the platform, several of which are still active. He may have lost a few usernames, but nothing's stopping him from returning to the scene and striking again.
Twitter has a lot of conflicting interests (not to mention technological barriers) to weigh in its efforts to keep millions of anonymous users safe enough to tweet. It would be nice for users to know a little more about Twitter's process as we all wait for the platform to sort out the details. Here's one bright note: When I tried to report Williams' trolls as abusive through Twitter's mobile "report abuse" button on Tuesday night, I had the frustrating experience of clicking the link to code those tweets as harassment, only to be kicked back to the home screen to try again. Twitter's Nu Wexler tells me that the platform's engineers are now aware of the problem, are taking it seriously, and are working on a fix.
---