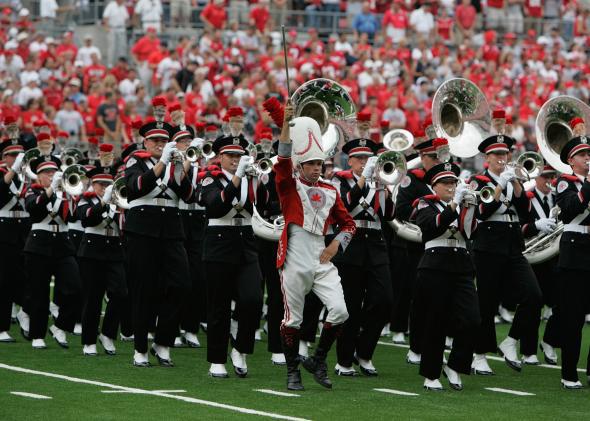 It seems the ruckus over the firing of Ohio State University's marching band director, Jonathan Waters, is not over yet. Julie Carr Smyth at the Associated Press reports that the "band's powerful and well-funded alumni association" is fighting to reinstate Waters, who was fired after a two-month investigation found that he had been aware of a band culture that involved hazing and other activities that created a sexually hostile environment.
This new development demonstrates why it's so hard for universities to get their acts together when it comes to complying with Title IX regulations requiring that schools protect gender equality by cracking down on sexual harassment and abuse on campus. Even with increased pressure from the media and from the White House for schools to do better, there's often substantial pressure from other places to cover up or ignore the problem. Sometimes pleasing people who prioritize equality and safety on campus means running afoul of people who have very different priorities, and a lot of power.

It's easy to see why band alumni would defend Waters, whose leadership has turned the OSU marching band into a national treasure with routines so charming that even marching band skeptics find themselves posting the videos on Facebook. And even Waters and his defenders agree the band crossed the line at multiple points. The problem here is that the backers and alumni are more opposed to the consequences than they are to the problems. "We want somebody to stand up for the history and reputation of the band, which is undergoing a large smear at this moment," argued Paul Droste, who is the spokesman for the band alumni group trying to get Waters reinstated. "The band is portrayed now as a bunch of 'Animal House' types, and there are a few scattered minority in the band that might fit that description, but the rest of them don't."
It's true that the consequences in this situation are crushing for fans of OSU and its marching band, and the upcoming football season might feel a little empty without Waters' halftime contributions. But what else is Ohio State supposed to do? While consequences for people who allow sexual harassment and abuse to continue can be painful to the school at large, without them, it's hard to see anything getting better.

---