The Vault is Slate's history blog. Like us on Facebook, follow us on Twitter @slatevault, and find us on Tumblr. Find out more about what this space is all about here.
Images of the intense flooding around the United States this week brought to mind this Mississippi Department of Archives and History Flickr set, which collects flood images taken by photographers for the Illinois Central Railroad Company during the Mississippi River floods of 1927.
In the spring of 1927, rains that were much heavier than usual overloaded the tributaries of the river. As historian Pete Daniel points out, "the cumulative tinkering of humans"—logging, farming—combined with the abnormal rainfall to create disastrous conditions. Levees broke, and, in the end, more than 16.5 million acres flooded in seven states. The flood dislocated 637,000 people and killed between 250 and 500.
The railroad's "flood committee" was sent to examine damage along the train lines in the Mississippi Delta. The images capture the coping strategies of citizens trying to save infrastructure and belongings from rising waters, as well as the racial injustices that the emergency circumstances had exacerbated.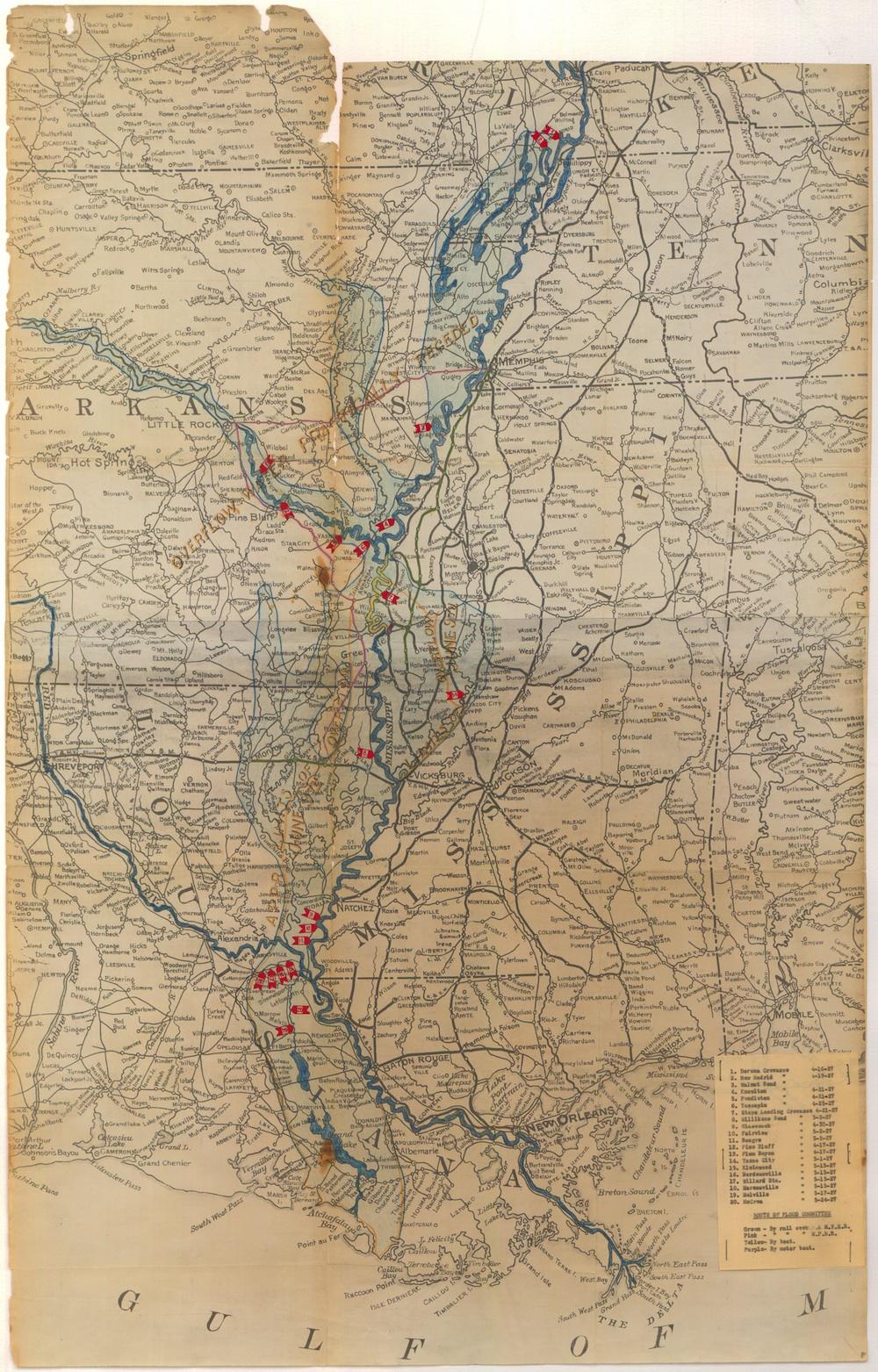 The flood committee's trip map, which charts the stops of the group as they moved from north to south to assess the damage, shows the extent of the flooding at various times in the spring.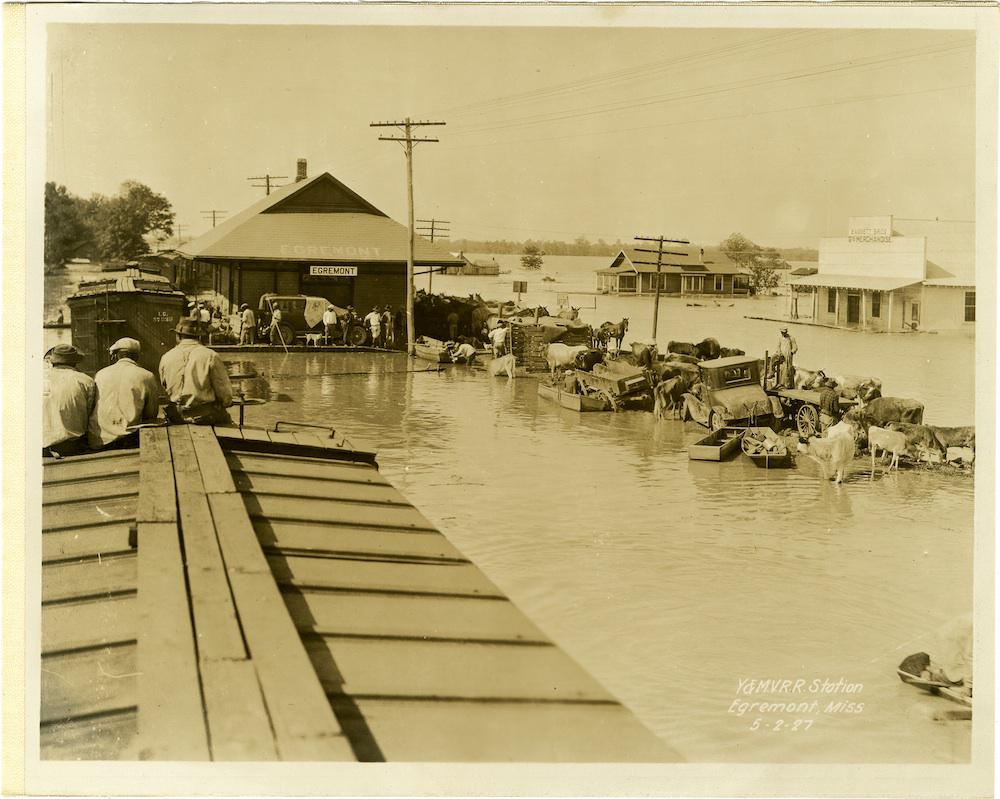 In Egremont, Miss., people hauled possessions and livestock up onto the highest point—possibly tracks—near the railroad depot, May 2, 1927.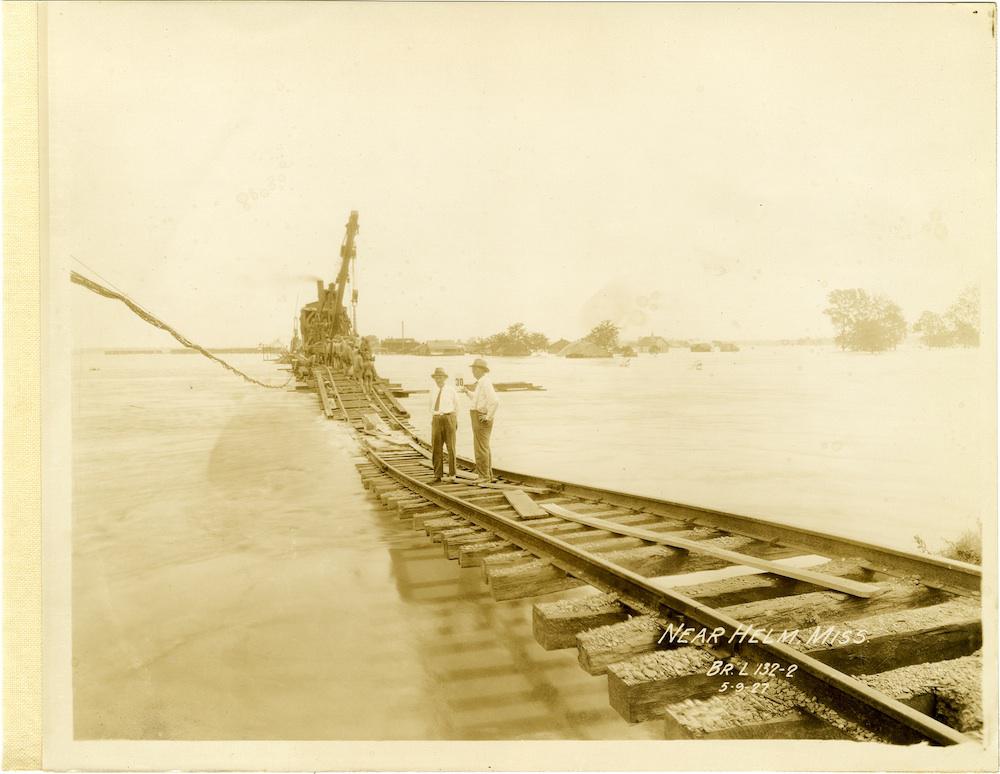 Near Helm, Miss., two members of the committee stand on a partially submerged track, where a group appears to be trying to move a stuck train car, May 9, 1927.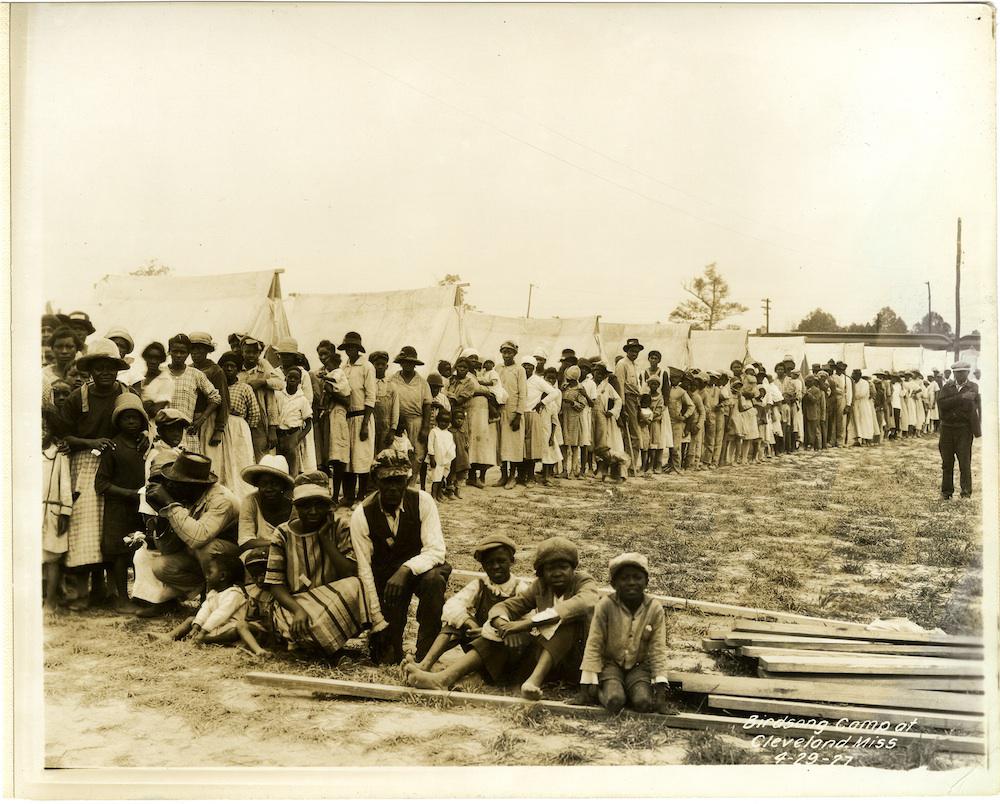 Refugees queue in a camp near Cleveland, Miss, April 29, 1927. As John M. Barry writes in his history of the flood, African-American refugee laborers who stacked sandbags on the levees were housed in camps like this one. Often, they were not allowed to leave, since the owners of the plantations where they worked were afraid of losing their tenants.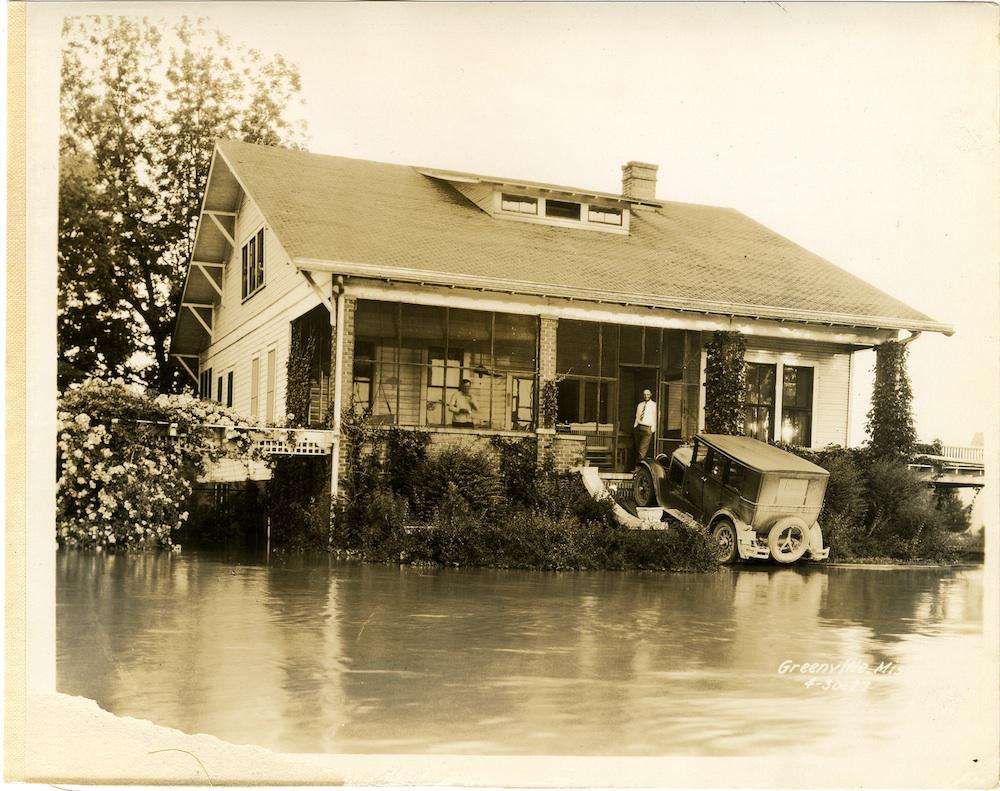 In Greenville, Miss., on April 29, 1927, two citizens pulled their car up onto their porch steps, in hopes of preserving it.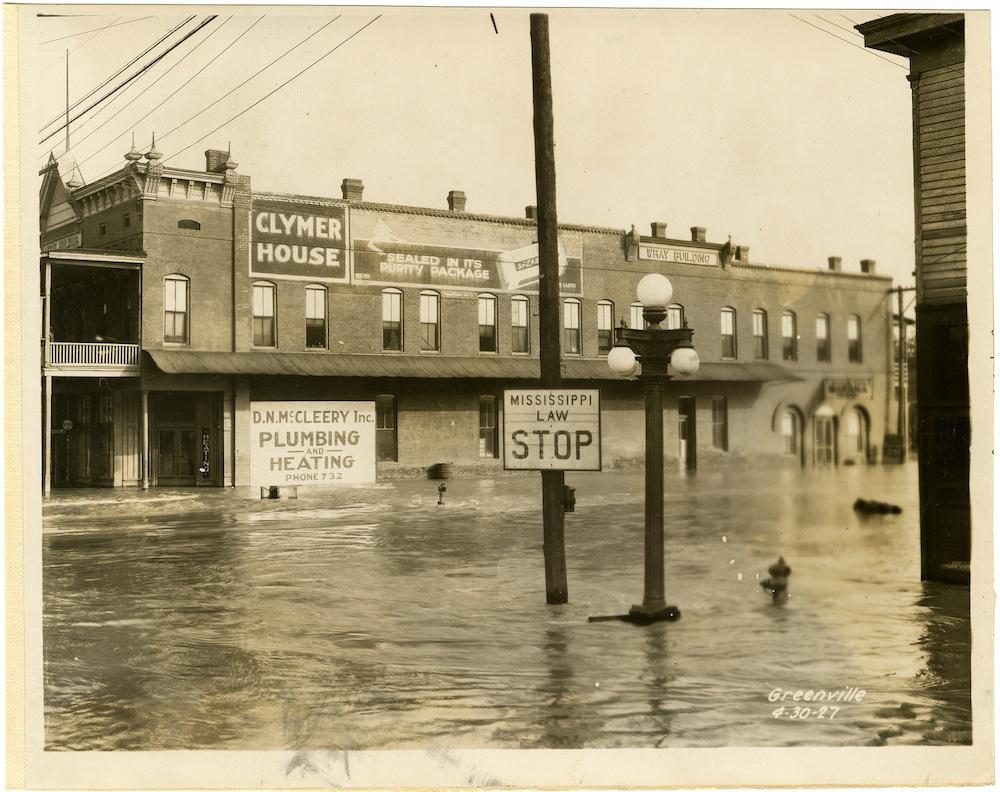 A street in Greenville, given over to water, April 20, 1927.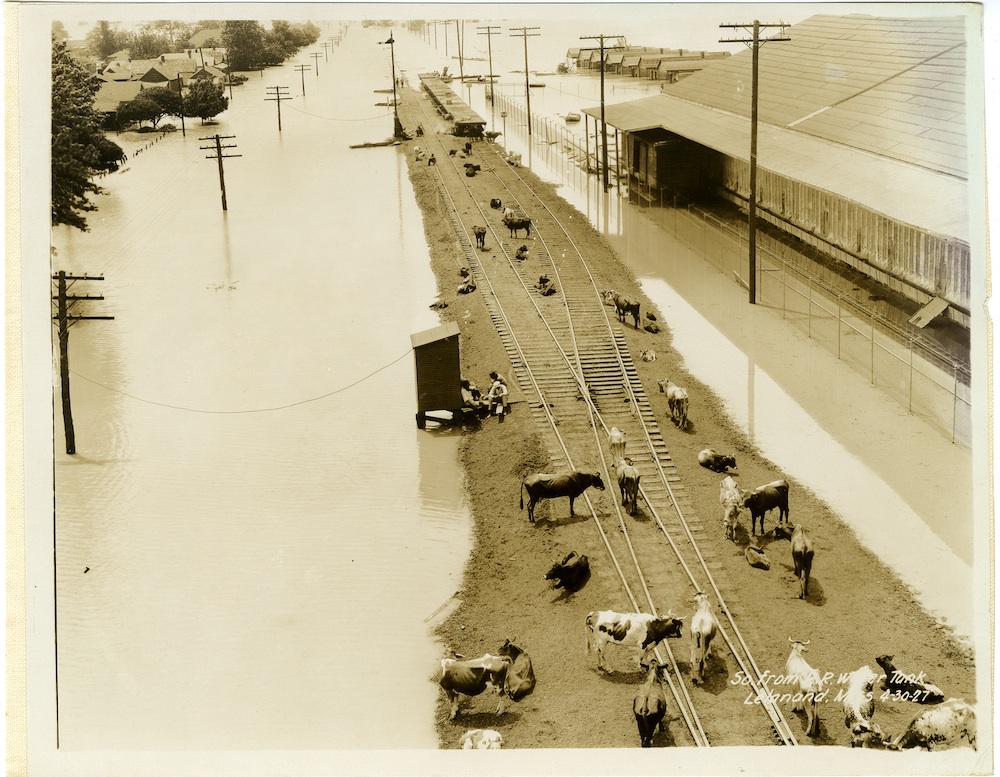 View from a railroad water tank, in Leland, Miss., April 30, 1927, showing livestock brought to the highest point and stationed on the tracks.