The Vault is Slate's history blog. Like us on Facebook, follow us on Twitter @slatevault, and find us on Tumblr. Find out more about what this space is all about here.
These U.S. Geological Survey relief maps, published circa 1914 by the Department of the Interior, offer "panoramic views" of several of the young national parks. Yosemite (est. 1890); Mt. Rainier National Park (1899); Crater Lake National Park (1902); Mesa Verde National Park (1906); Glacier National Park (1910); and Rocky Mountain National Park (1915) appear in craggy glory, in shaded relief maps illustrating the natural and human-made attractions of the parks.
In the 1910s, promoters of the national park idea, smarting from the loss of Yosemite's Hetch Hetchy valley to a dam project in 1913, came to believe that they had lost that fight because Americans didn't see the value of the parks. Historian Alfred Runte writes of the low levels of visitorship in the parks' early years: "As late as 1908 barely 13,000 tourists enjoyed Yosemite National Park as a scenic wonderland … of these visitors, only a few hundred shunned the localized points of interest" to travel into the back country.  
New initiatives during this decade promoted tourism in the parks while soliciting development. Railroads, hotels, and roads made the parks newly accessible. Advertising campaigns like "See America First" tried to redirect American tourist dollars from the mountains of Europe to those of the American West.
It's possible that these maps were printed as part of that publicity initiative. In 1921, the director of the Rocky Mountain National Park reported to the National Park Service that geologically-oriented books and documents had sold briskly at their information bureau over the past year; visitors had purchased 361 copies of a topographic map. "This [number] would have been greatly increased," the director added, "had it been possible to keep a supply on hand."
The maps were their own advertisements. Each map carries a note at the bottom right: "Additional copies of this view may be purchased from the Superintendent of Documents, Government Printing Office, Washington, D.C., for 25 cents." 
Click on the images below to reach zoomable versions, or visit the group's page on the David Rumsey Map Collection website.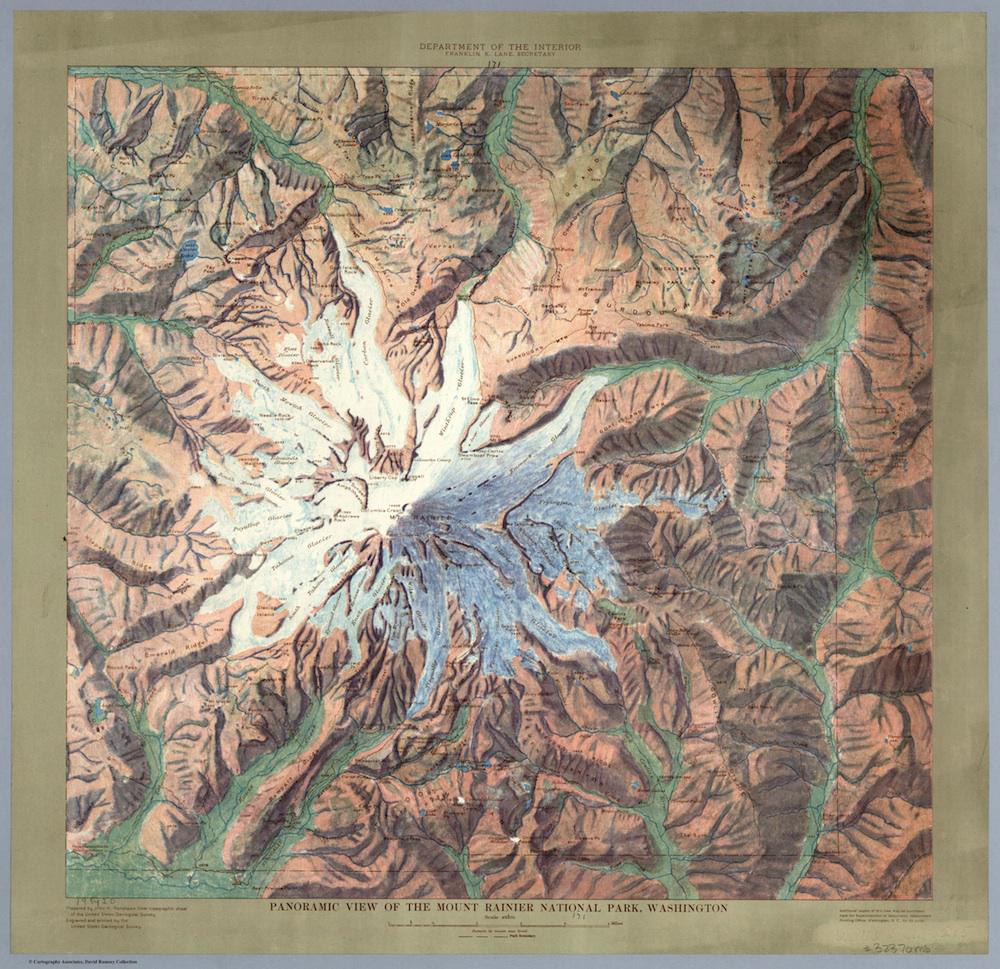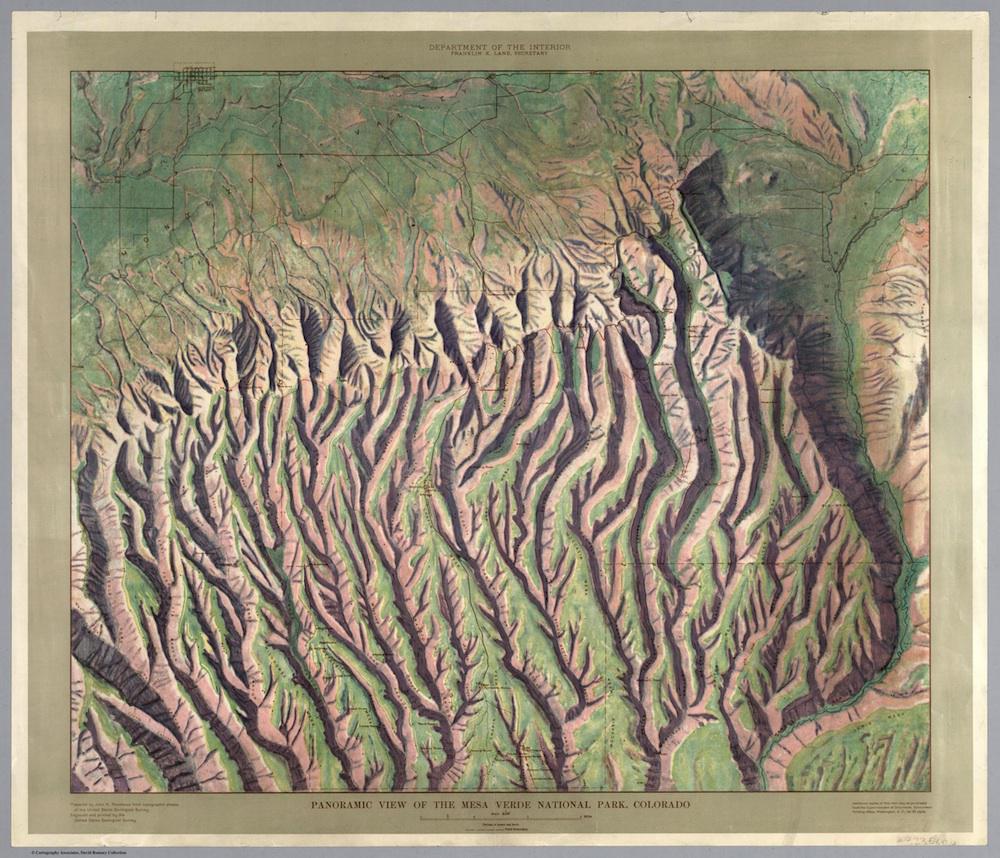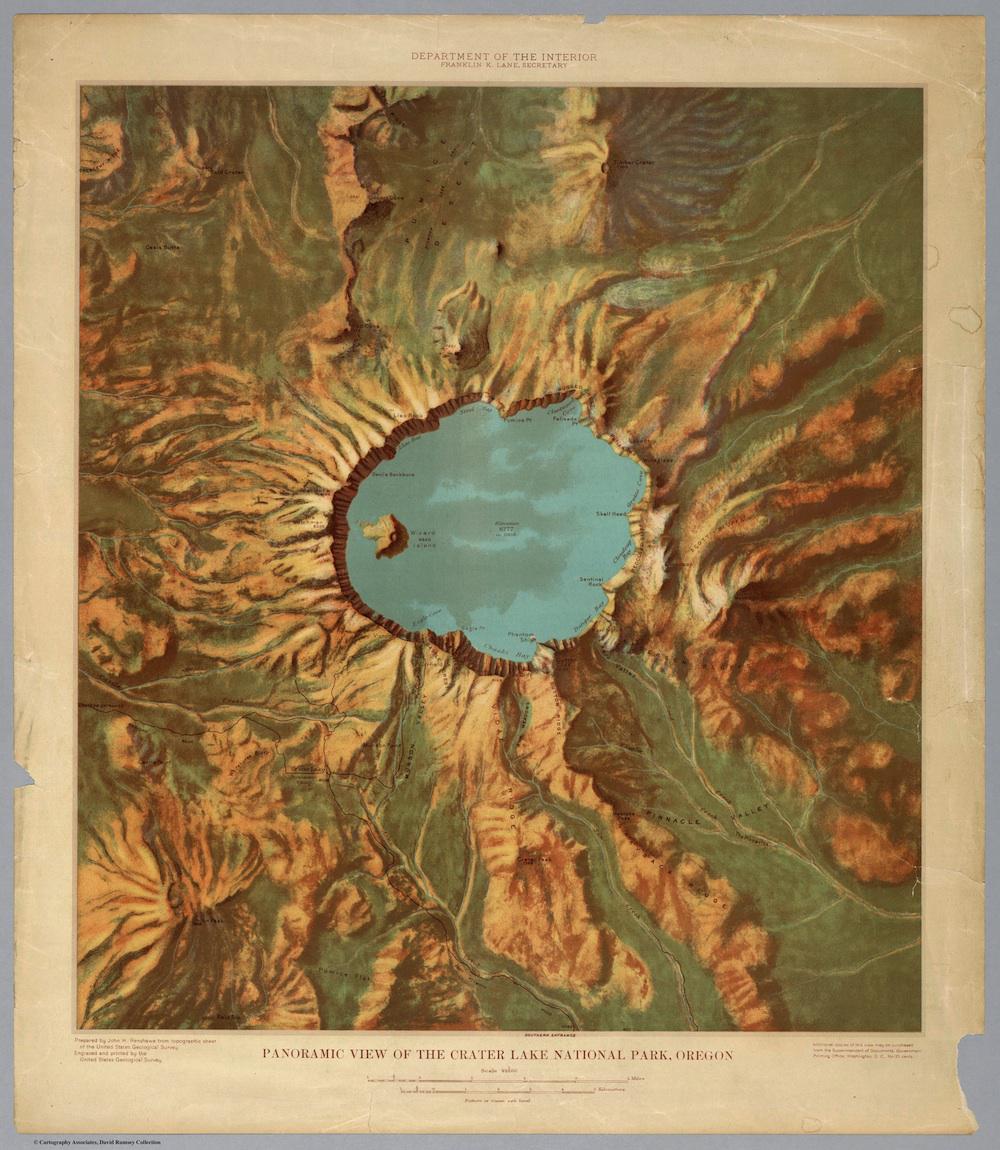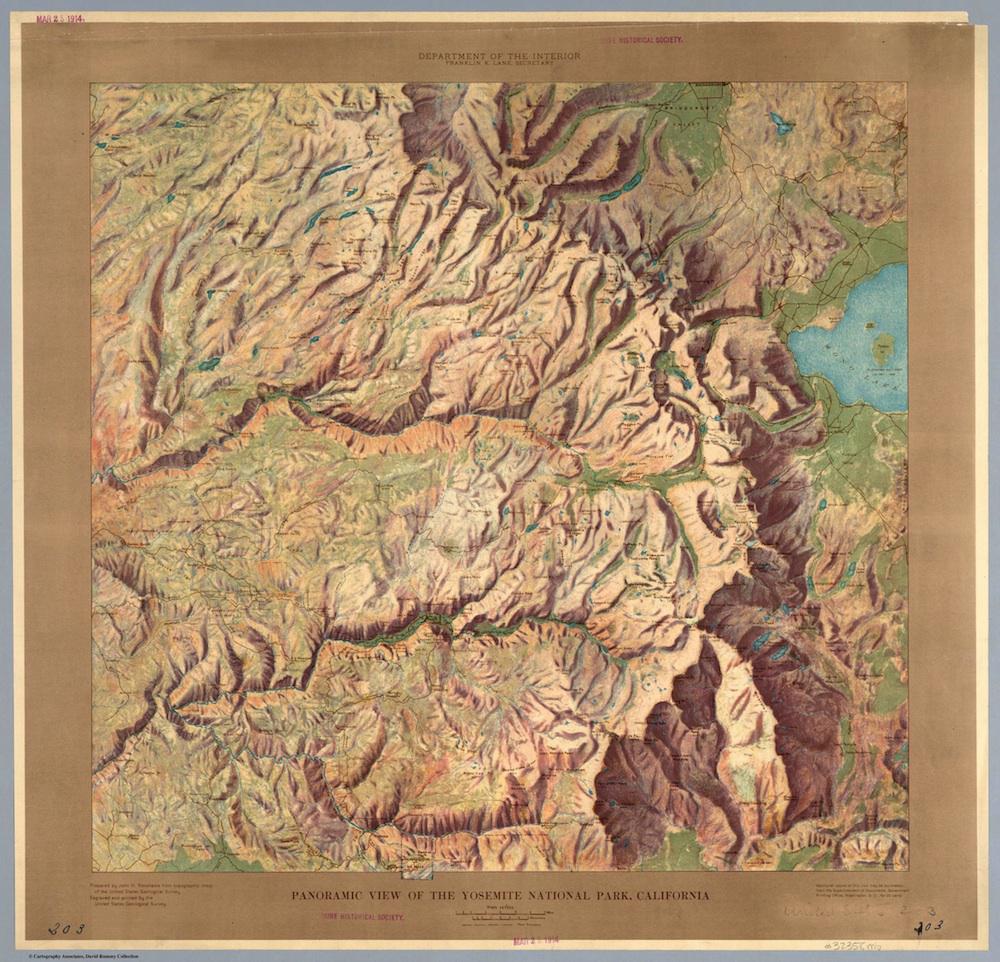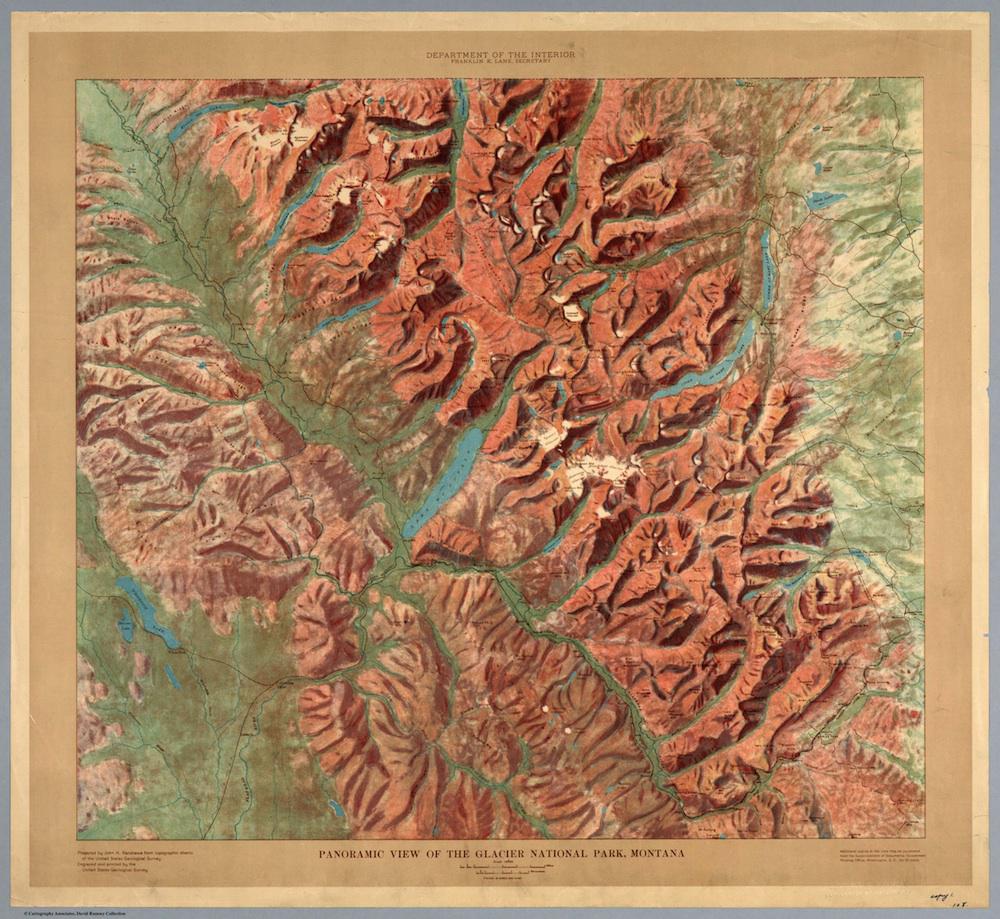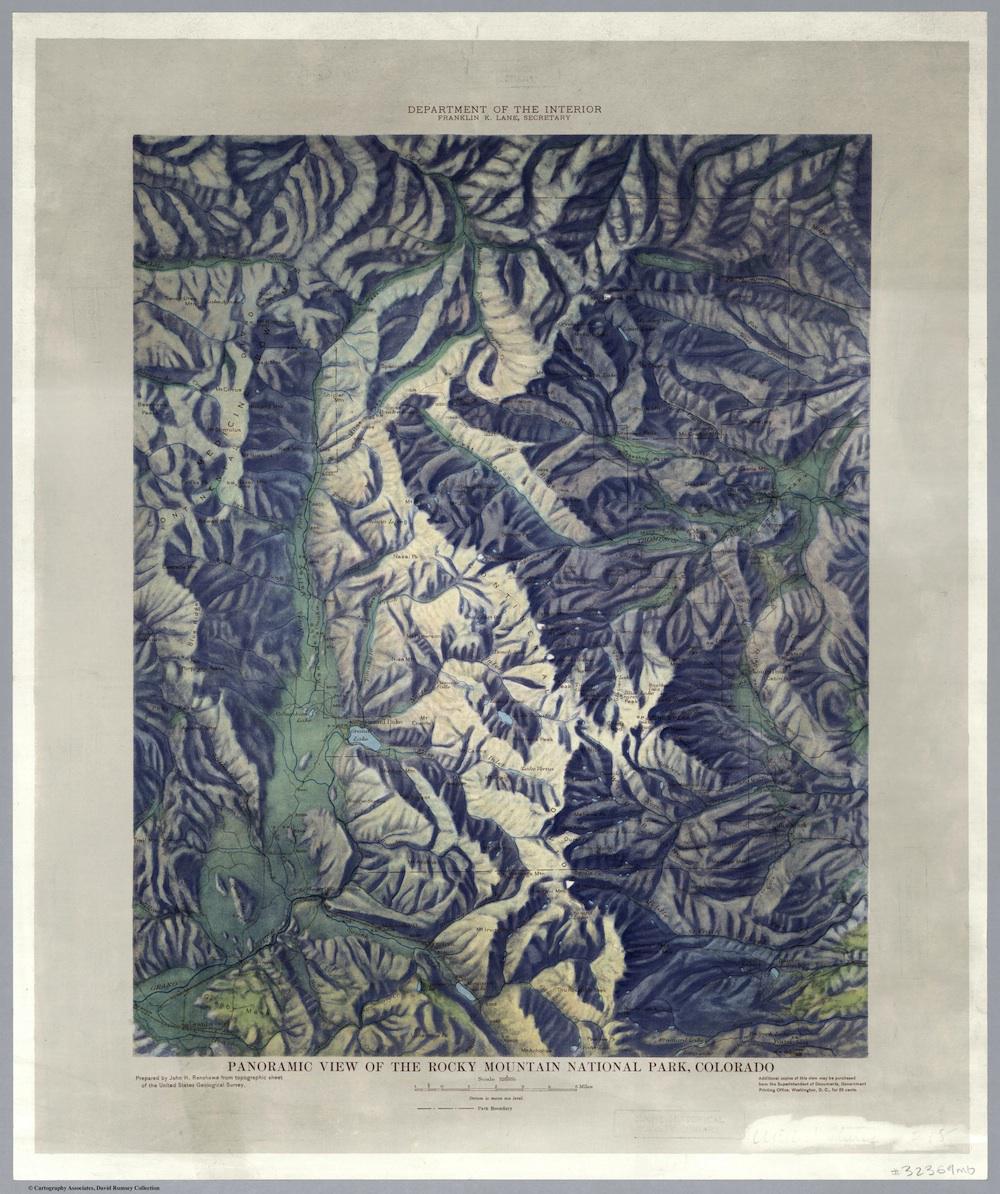 Correction, Aug. 7, 2014: This post originaly misidentified these maps as topographic maps. Since they lack contour lines or quantitative elevation information, they are better described as relief maps.