In a moment of desperation one night this June, I opened my laptop, typed "Bachelorette rumors" into Google, clicked on the most tantalizing hit, and got my fix: an article, composed partly in English and partly in GIF, analyzing whether a gossip blogger had correctly predicted the man who would win Andi Dorfman's heart, or whether he had been deliberately duped by dastardly marketing forces at ABC. When I reached the end of the piece, dozens of thumbnails materialized, teasing more digressions into Bachelorette territory. I clicked and inhaled them all: the post questioning why Andi is always making this face she always makes; a photo listicle of the pants designed by contestant J.J., the show's resident "pantsapreneur"; and a piece promising to reveal how many of the show's contestants Andi believes are secretly gay. When I found the answer in the story's last line—"Oh, and Andi asserts that none of her suitors are gay"—the spell was broken. I closed the tab.
I didn't realize it at the time, but I had just been reeled into Bustle, a new website for women that founder Bryan Goldberg predicts will be the "biggest and the most powerful women's publication in the world" within six years. Bustle hadn't crossed my mind, or my Facebook feed, since I relentlessly mocked the site's launch last summer. Back then, Goldberg—who previously co-founded the sports site Bleacher Report, flooded it with content produced by unpaid community bloggers, then sold it for $200 million before his 30th birthday—had coyly teased the media venture in a series of articles on PandoDaily, writing that it was "going to make me rich(er)" and that "in two years, every young editor in New York will want to work for my company." He launched Bustle in August 2013, bragging about the $6.5 million in funding he'd secured from investors and informing the women of the world what they'd been missing. "Isn't it time for a women's publication that puts world news and politics alongside beauty tips?" Goldberg wrote. "What about a site that takes an introspective look at the celebrity world, while also having a lot of fun covering it? How about a site that offers career advice and book reviews, while also reporting on fashion trends and popular memes?"
The resounding response was "no." "Congratulations for being the first person to realize that women are interested in foreign news AND makeup tips!" Rachel Sklar, the co-founder of Change the Ratio, which advocates for women in media and tech, snarked in the comments section of the post. "We've been waiting for you." Goldberg "completely glosses over—even erases—the hard work and vision of dozens of (female) editors and writers who have been doing this exact thing for years, myself included," Jezebel founding editor Anna Holmes wrote. Gawker founding editor Elizabeth Spiers rejected Goldberg's suggestion that existing women's publications were doomed to toil in relative obscurity while Bustle alone had the strength to rise above. Spiers predicted that several women's sites dismissed by Goldberg as niche concerns would reach 10 million monthly readers "sooner rather than later."
But they won't do it as quickly as Bustle did. One year out, Bustle is climbing the Quantcast ranks at an astonishing pace. In the past month, the site has attracted more than 15 million unique visitors, which puts its audience on par with Jezebel's and lifts it above those of Hello Giggles, Oprah.com, and Refinery29, not to mention several general-interest legacy websites. Since his initial round of funding, Goldberg has raised $5 million more in capital and commands a staff of 30. Rachel Sklar is now an adviser to the site. She regularly Instagrams shots of herself and Goldberg out on the town, tagged #bluesteel. How did he do it?
* * *
Bryan Goldberg's ill-fated Bustle announcement was the product of a classic "audience problem," he told The New Yorker when reporter Lizzie Widdicombe checked in on the site in September. Goldberg had targeted his pitch at "venture investors and advertising executives," but had instead "reached an audience of writers" in "the feminist community"—people who operate on a different level of discourse. "Honestly," Goldberg said, "nothing would have been more helpful here than for some highly regarded feminist writers to say, 'Bryan's a good person.' "
So Goldberg set out courting his skeptics. He published a sheepish mea culpa that absorbed the arguments of his critics, told reporters that the site's female editors—led by Entertainment Weekly vet Kate Ward and former HuffPost Women editor Margaret Wheeler Johnson—are really responsible for the site's success, and began reaching out to female influencers for off-the-record coffees and drinks. "Bryan was not the first person on my list of people to talk to" when he reached out last year, Sklar told me. So he bought her audience: He pledged $200 to a Feministing fundraiser in exchange for a consulting session with Sklar. "I laughed," Sklar admits. "I was like, 'Well done.' "
Sklar used the session to run a litmus test on Goldberg. She brought him along to an open mic night where audience members perform monologues from the Internet and told him to read a feminist TED speech by Chimamanda Ngozi Adichie that Beyoncé had recently sampled on "Flawless." ("Feminist!" Goldberg announces into the mic in an Instagram video captured by Sklar. "The person who believes in the social, political, and economic equality of the sexes!") Then, Sklar headed to the Bustle offices and found a group of young female editors brimming with respect for their boss. After a few more meetings, she agreed to come on as an official adviser to the site. "I don't know what to tell you: He impressed me," Sklar says. "He seemed like a good guy. He kept on ringing all of my mensch bells. I was like, 'OK. I guess Bryan Goldberg is my friend now.' "
Goldberg had less luck wooing Mallory Ortberg, co-founder of the punishingly hilarious woman-owned website The Toast, which has elevated mockery of Goldberg to a kind of performance art. "Bryan Goldberg emailed me during his Lady Blog Forgiveness World Tour to ask me to get coffee with him," Ortberg tweeted earlier this month, "and I was so grateful that it was so tone-deaf and entitled that I didn't have to be polite when I said no." But even Ortberg can find a silver lining in Goldberg's success. "On the other hand," Ortberg tweeted, "women write and work for Bustle, and they get paid, and I'm always in support of that."
* * *
"Young women don't have many opportunities to get their foot in the door," Wheeler Johnson told me of why she's excited to work for Bustle. Now, Goldberg has opened the floodgates. The site employs about 15 female editors, all of whom have equity in the company. When Goldberg recruited them to Bustle, he told them about the day he sold Bleacher Report for $200 million and described how the payout translated into down payments for his employees' houses and college tuition for their kids. After working for years in online media, Ward and Wheeler Johnson told me they rushed to snag the rare opportunity to build a women's publication from the ground up. Sklar described the site as a "rocket ship" she wanted to be on. And some Bustle staffers have already ascended higher than they thought possible: Jennifer Hollander rose from dejected j-school graduate to Bustle intern to the site's news editor in the space of a year. She credits the site with saving her from the indignity of applying to work at "a website that published breaking news about drugstores," and also from deportation; the job helped the British Hollander secure a visa.
Bustle's investment in its female employees "is more than you can say about basically any other startup," Sklar said. "I'd rather support it than a startup that wants to hire someone to come scratch your ear in San Francisco." Since meeting Sklar, Goldberg has paid for several staffers to join her listserv for women in tech and media, TheLi.st (typical memberships cost $850 a year), and helped sponsor NARAL Pro-Choice America's summer fundraising event Men for Choice (and the Women Who Love Them). "Resources make things happen," Sklar told me. "Allies are important."
And Goldberg is an ally with more resources than most. His success with Bleacher Report connected him with rich people eager to invest in his next big hit. Plus, they identify with him. ("I speak fluent nerd. I speak fluent hipster. I speak fluent D-bag," he boasted last year.) At a time when women are overwhelmingly boxed out of venture capital's masculine environment, Goldberg's success can grate on women who are struggling to raise their own funds. As Ortberg put it on Twitter, "Investors have seen fit to give that man over $11 million at this point, and me zero." (When Goldberg pledged $50 on The Toast's donation page, the site publicly returned the cash.) But others see the benefit in having a self-proclaimed D-bag on their side. "It's funny, because when I coach women in pitching, I often advise them to create a bigger vision, to reference a billion-dollar market—in other words, to really take it out and swing it around," Sklar told me. Goldberg requires no coaching in this particular skill. He may have some work to do to become proficient in the language of women, but his status as a bro whisperer is probably his most valuable asset to the women he employs. If that means coming to terms with the fact that Goldberg's editorial vision is dollar signs—he wrote last year that he was inspired to launch a site for women when he realized that the male-focused Bleacher Report was only courting a fraction of advertisers, because most brands target female consumers—then so be it.
When she paid Bustle a visit last summer, The New Yorker's Widdicombe wrote that despite criticism that "Goldberg's talk of 'empowering' young writers was really a way to justify their exploitation," she "had a hard time finding anyone among Bustle's intern workforce who seemed concerned about it." But by now, Bustle has cycled through enough young contributors to produce a few concerns. Goldberg's female editors may have equity and creative freedom, but beneath them are a sizeable group of young interns plucked straight out of college. (In conversations with recruits before the site's launch, Goldberg said that he planned to deliberately target unproven writers who had never made a dime off their work.) Behind them is a massive network of female freelance contributors, many of whom dedicate several days a week to the cause. Goldberg has committed to paying his freelancers from the beginning, but the exact sum is unclear. He told Forbes last year only that "there's a lot of room between paying someone $100,000 and benefits and paying them nothing." In April, Bustle editor Alexandra Finkel tweeted that the site pays freelancers $17 an hour, before admitting that the hourly rate can dip down to $12.
As recently as July, though, Bustle has paid some regular contributors as little as $50 a day for six to seven hours on the job, no lunch break, no benefits. Writers are sometimes coaxed into working after their shifts have ended. The rocket ship does not have space for most of them. When one former Bustle contributor asked for a raise to $100 a day—a figure that had been quoted for other Bustle writers in online ads—she says editors told her she would only be eligible for an increase after three months on the job. When that time came, she was denied the raise. At Bustle, "there's a circle of editors, and then the freelance people who don't get paid well and who do a huge bulk of the writing work," she told me. "But given the inferiority complex we writers have, I kept justifying why they might pay me that little."
When I asked to interview Goldberg for this piece, to get his take on these claims and others, he replied with an email glittering with emoticons and flattering asides, suggested I speak to his female editors instead, and agreed only to an off-the-record lunch. (He was nice!) Ward and Wheeler Johnson told me that they don't discuss Bustle rates publicly, but that the pay is "competitive" and their best writers get raises for good work.
There are nonmonetary benefits to working at Bustle, of course. "It's nice not having to code-switch as I would with a male boss," one contributor told me of working with all female editors. A former intern described the office dynamic as an "all-girls summer camp feel," where Goldberg typically stayed tucked away in his office, and the crew of relentlessly kind female editors "felt like counselors" to their young charges. In fact, Bustle's office culture vibe is so by-women, for-women that one former contributor didn't recognize Goldberg's name when I raised it in our conversation. "I had no idea a man was behind Bustle," she told me. "Weirdly, that makes me like it much less." She had assumed that her low pay rate was the product of a fledgling female-run startup that had struggled to secure funding from venture capitalists. When I sent her Goldberg's now infamous PandoDaily announcement, she looked at the headline and said, "There's $6.5 million behind it, and this is what they're paying me?" I told her that Goldberg had since raised an additional $5 million. "Jesus," she said.
* * *
Last month, Bustle editors Ward and Wheeler Johnson published their own big announcement about the site, titled "Why We Started Bustle." Bustle's aim was to "create the largest platform for women's voices on the Web," they wrote. "Where as many young women as possible felt comfortable and excited to write about the issues they care most about," and "where many more young women who were equally passionate about those issues could read about them and join the conversation themselves via Twitter and Facebook."
How do you go about creating a site that appeals to "as many young women as possible"? Goldberg's claim that Bustle would be the first women's publication to put world news alongside beauty tips and celebrity culture was an embarrassment: Traditional women's magazines like Elle, and lady blogs like Jezebel, mastered that trick years ago. In fact, Bustle distinguishes itself by offering a different form of breadth than its competitors do.
Consider Bustle's coverage of Baby Groot, a very cute character who appeared for a very brief moment in the summer blockbuster Guardians of the Galaxy. Bustle kicked off its coverage with a post featuring GIFs of Baby Groot. Then, it published a post that placed GIFs of Baby Groot alongside a video of the Jackson 5's "I Want You Back," one that placed GIFs of Baby Groot alongside clips of other anthropomorphized fictional trees, one that placed GIFS of Baby Groot alongside GIFs of dancing celebrities, one that placed GIFs of Baby Groot alongside GIFs of cats, and one that placed GIFs of Baby Groot alongside GIFs of baby animals. (Slate too got in on the Baby Groot fun, but only once.) Bustle's revolutionary approach is to target women who like Baby Groot but also a cat in a massage chair, Baby Groot but also Rihanna, Baby Groot but also Joe Jonas, Baby Groot but also the tree from Harry Potter, Baby Groot but also Emma Stone, and Baby Groot but also a two-legged piglet. I like a Baby Groot GIF as much as the next woman, but the GIF does not change; the URL does.
Another favorite Bustle approach is to take one news peg and publish contradictory opinions on the same event. After a rumor hit this week that Jennifer Lawrence was dating Gwyneth Paltrow's estranged husband Chris Martin, Bustle published a piece titled "Jennifer Lawrence & Gwyneth Paltrow Are Total Opposites," and then, three days later: "Let's Not Compare J Law and Gwyneth Paltrow." The site has published an article to bury Kim Kardashian's video game and one to praise it. Taylor Swift's new single, "Shake It Off," is either a glaring bit of cultural appropriation or a slightly problematic parody of her peers or a boldly experimental departure from her country roots or a love letter to her fans. Twenty-four hours after Swift dropped the single on Monday, Bustle had published 11 different pieces parsing the song and video, plus six more Swift-related news items, all appealing to slightly different segments of her audience.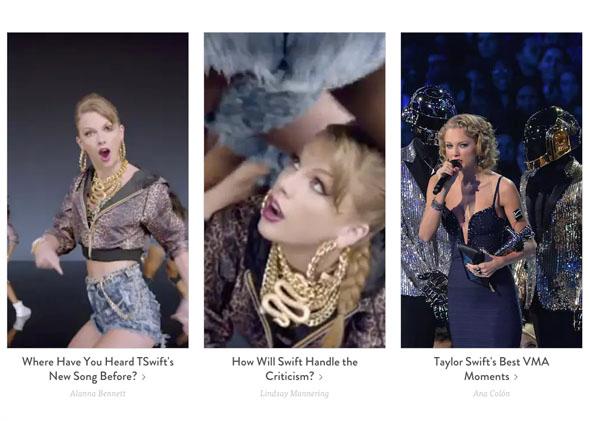 Bustle's sheer volume means that it can encompass perspectives that leaner publications don't (Kat Haché covers trans issues in pop culture that many women's sites ignore), and it casts a wide enough contributors net that it occasionally alights on a powerful personal essay (like Vaidehi Joshi's account of being blamed by Indian police after she was stabbed and sexually assaulted in Mumbai). But paging through the site, these highlights get buried under hundreds of quick, thin takes competing to gain traction in search engines or go viral on Facebook. Churning out a sufficient volume of copy requires "scraping the bottom of the barrel," one former writer told me. "It's all, 'Can we find a new angle on this?' Sometimes you just can't. There just aren't that many things to say about a Kardashian Instagram. You learn to use filler words."
"Our mission is about voices," Goldberg wrote on PandoDaily shortly after the site's launch. Bustle's aim is to "find great voices who have yet to achieve mainstream recognition. After we find these talented writers, we will work closely with them, pay them, and encourage them to write what they want to write." It doesn't always play out that way. When one intern's summer stint at Bustle ended, "I might have considered staying out of desperation," she told me. "But by the end of my time there, I was extremely frustrated." Her posts were "frequently edited to be less critical," she says. Sometimes, posts were edited "so much that the opinion [they] originally expressed was totally changed." One piece criticizing a pop star was molded to express support; a negative review of a new television show was rejected so the site could stay "positive on fall TV." One former contributor said that a common critique of her work was: "Can we be objective?" and "Can you balance it?" Meanwhile, "Thanks, this was very balanced!" constituted high praise.
There is, of course, nothing wrong with balance, and every intern opinion is not necessarily worthy of publication. But the stories I heard from various contributors do not seem to jibe with Goldberg's stated mission of finally giving overlooked young writers the chance to speak their minds. Ward and Wheeler Johnson contest that, however. They told me that while the site's news reports often strive for careful balance, positivity is, as Ward put it, "absolutely not" a mandate for the site. "We encourage our writers to come to the table with their own experiences and opinions," she said. One of the pieces the site published about Swift's new song, they noted, called out the video for its queasy images of black women's bodies. (Actually, it's the second piece the site has published on the subject.)
Bustle pieces—the ones with voice (but also objectivity), passion (but also balance)—can present the illusion that the site's women don't think much about anything at all. In many Bustle stories, any whiff of judgment is quickly extinguished with an ameliorating gloss. Take "Women Are Better at Marathon Running, Says New Study. Sort Of," which covers an academic study on how men and women pace themselves differently in endurance races. The post's author posits that "men are at both a mental and physical disadvantage when it comes to marathons," before erasing any semblance of a stance with a parenthetical: "(I'm just kidding guys, but now you know what it feels like to have people say that sort of nonsense.)" After Katy Perry posted an Instagram video of her nose piercing, Bustle floated a vaguely controversial claim: "Although she does yell 'ow' during the process, her reaction was a bit delayed and makes me wonder if the drama was just for the video." Then the chaser: "Then again, she had a giant needle sticking through her nose, so I wouldn't doubt it if her response was genuine either." I wondered if I had an opinion, but on second thought, maybe I don't.
Of course, underestimating Bryan Goldberg is rarely a smart bet. Over the past few months, Bustle has carved out a niche publishing riotous first-person essays that take the form of feminist stunts—standouts include a writer who deflated the artifice of her Instagram feed, another who gave her boyfriend a blow job with the aid of a grapefruit slice, and one who rode the subway with her legs spread to spoof men who take up too much space on public transportation. These stories signal an amped-up investment in Bustle's content: They are lively, passionate, and, crucially, popular. Perhaps they provide a shimmering glimpse at what Bustle can be after it seals its dominance of women's publishing and cinches its big payday. After Turner bought Bleacher Report, it staffed up with established sports writers from places like CBS and the New York Times; BuzzFeed is investing in established journalists while quietly scrubbing the site of thousands of subpar posts from its days as a freewheeling community platform. Who knows? Maybe we'll all be clamoring to work for Bustle next year, and actually get paid to do it.
In the meantime, here's my Bustle take on Bustle: Bryan Goldberg is creating paying jobs for female writers who would otherwise be toiling without an outlet or a paycheck. On the other hand, the paychecks are borderline criminal. Still, they're better than nothing. But then again, the writers are awarded for creating content that promotes the idea that women aren't very interesting. In the end, though, millions of women have found it interesting enough to click.