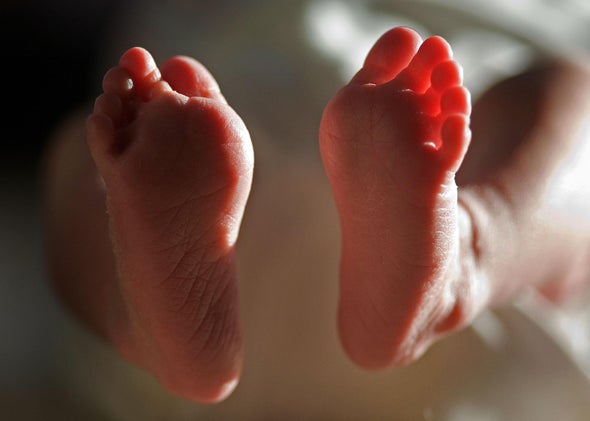 A new study shows that the birth weight of infants—an indicator of baby health—born to poor women in the United States has improved since the late '80s. As the Washington Post reports, in 1989 one-in-six babies born to poor women were considered underweight (under 5 ½ pounds at birth), compared to one-in-32 babies born to wealthier women. In 2011, that gap had shrunk to one-in-eight underweight babies born to poor women, while the rates for wealthier women had remained unchanged.
The study, co-written by professors at Brown and Princeton, points to numerous reasons for why the birth weight of babies born to poor mothers has improved, including the Medicaid expansions of the '80s, the reduction of domestic violence, decreasing smoking rates, and food supplementation programs. Though the Post links to a study showing that Medicaid expansion had a "modest impact" on babies' health, other studies have shown that babies whose mothers gained coverage while they were in utero had lower rates of obesity and fewer hospitalizations related to a variety of disorders.
It seems like common sense that babies whose mothers had access to adequate health care would do better than babies whose mothers did not have such access. But if you want to see more proof, you can look at the OECD's paper on comparative child wellbeing across 30 different countries. When it comes to birth weight, the countries with big social safety nets and low levels of income inequality—it's always the Scandinavians!—have the lowest incidence of low birth weights. The countries with a high percentage of low birth weight babies and high infant mortality rates—like Turkey and Mexico—also have high levels of income inequality.
If you want more specific data showing that good maternal health care can make up for differences in family circumstances, a study comparing urban infants in rich Swedish neighborhoods versus urban infants in poor Swedish neighborhoods found that "Differences in mean birth weight in Swedish urban neighbourhoods were minor," and that "Welfare institutions and benefits in Sweden might buffer against negative infant outcomes."
The familiar refrain of the welfare state critic is, "don't have children you can't afford." Indeed, that was one of the first comments on the Washington Post story. ("If you can't afford to support yourself, why are you having children that you can't support yourself…This woman is the textbook definition of stupid. Those kids are her and the father's problem, not ours.") But what these commenters and commentators don't understand is that poor women are always going to have children, and children whose mothers don't have access to adequate health care are sicker as adults. Those emergency room visits add up for all of us. It would be cheaper, and obviously, more humane, to care for all mothers instead of just the ones who are already well off. If not for the mothers, then for the kids.
---