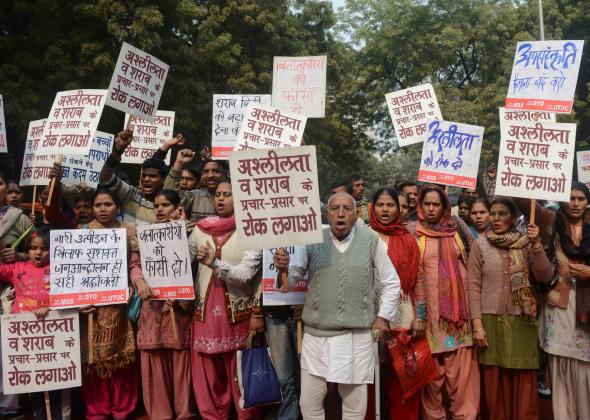 The political struggle over sexual violence in India continues to get more heated, after a shockingly gruesome crime in which two teenage girls were gang raped, murdered, and hung from trees last week. Five men have been arrested, including two police officers. Three of the men, who are brothers, have confessed to raping the girls but not yet to strangling them to death. The case is swiftly becoming a touch point for various issues regarding violence against women in India, from police corruption to the lack of basic safety protections.
The victims, cousins ages 14 and 16, were attacked when they were looking for a place to go to the bathroom, something they had to do because they had no toilet at home. As Barbara Frost, writing for the Guardian, argues, this highlights a common safety problem for women around the world. "Today, 2.5 billion people live without access to a toilet, forcing women to walk to dark and dangerous places to find the privacy they need—those same dark and dangerous places where men wait to attack them," Frost says. Around 15 percent of people in the world face this problem, but it's women who report high levels of harassment and violence as they go about their business. 
This case also demonstrates, yet again, another advantage rapists have over their victims in India, which is widespread corruption and government indifference to the problem of violence against women. Before the girls were found, the father of one girl reported them missing to the police, but he says the police didn't bother to do anything about it. When the girls' bodies were found hanging from a tree, people from the area gathered around in protest of perceived police indifference and refused to cut them down until the rapists were apprehended. Under international pressure, officials in the Uttar Pradesh state, where the crime occurred, fired two police officers for failing to investigate the disappearance of the girls. 
If this all sounds familiar, that's because it is. Ever since the brutal gang-raping of a woman on a bus in 2012 sparked widespread protests in India, there's been international attention on the problem, leading to a strengthening of anti-rape laws in the country. However, gang rape in India shows little sign of abating yet, because the solution has less to do with official laws on the books and more to do with indifference from leaders and law enforcement, who routinely refuse to take the problem seriously. 
A prime example: On Friday, the chief minister of the state, Akhilesh Yadav, appeared to minimize the seriousness of the public's concerns over what happened to the teenage girls. When journalists asked him about the attacks during a public event, according to the AP, Yadav mocked them, saying, "Aren't you safe? You're not facing any danger, are you?" adding, "Then why are you worried? What's it to you?"
Last month, Yadav's father, Mulayam Singh Yadav—a former chief minister himself and a current leader of the Samajwadi Party—drew criticisms for his comments opposing a proposed law to sentence gang-rapists to death. "Boys will be boys," he said. "They make mistakes." He also argued that women routinely make up false rape accusations to control and punish men, and he implied that men would be executed on nothing but the word of a false accuser. 
Between the lack of protection and legitimate fears of police corruption and indifference, women and girls in India appear to have every reason to worry that they'll be violently raped and possibly murdered. Luckily, the public anger that coalesced in a series of anti-rape protests last year shows no signs of abating. This latest crime will make it that much harder for public officials who want to hand wave the whole problem away. 
---