What's That Thing is Slate's column examining mysterious or overlooked objects in our visual landscape. To submit suggestions and pics for future columns, drop us an email.
Numerous readers have written in to say they've wondered for decades about these totemic structures on the New Jersey Turnpike. While they have a certain vertical dignity suggestive of permanence, they often disappear overnight, only to reappear at different locations.
One reader asked if they might be an art installation. At first I thought they might be some East Coast version of California's beautiful mission bell markers on that state's Royal Road, aka El Camino Real. After all, the New Jersey Turnpike, though many claim to hate it, is one of America's most iconic roads. Bruce Springsteen dubbed it "the golden roadway of the East" and put it in a song or two. Simon & Garfunkel, too, fell under the N.J. Turnpike's mysterious spell. So did Chuck Berry.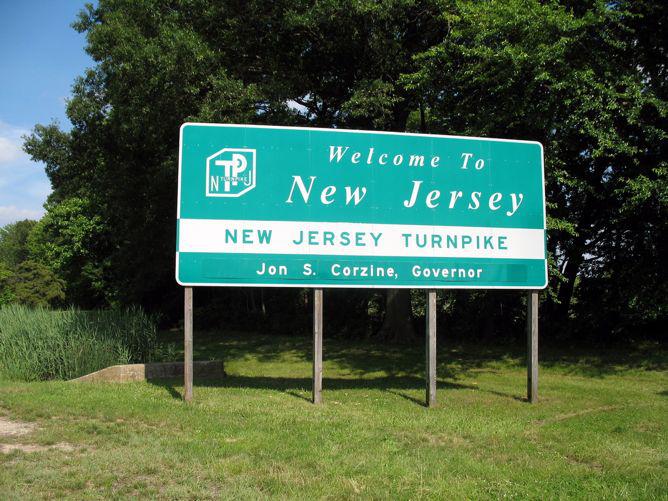 But these structures have a weirder, not-of-this-time quality—as if either so futuristic or so ancient that their purpose eludes us. You know, part Moai, part Monolith. Several letter-writers have suggested they might have a supernatural or extraterrestrial purpose (not for the first time on a Jersey road). Are they talismans against disquieted spirits—rising, perhaps, from the paved graves of our ancestors? Markers for alien road trips or landing sites?
Several readers see human qualities in these highway forms. Hal Laessig, a Newark-based construction manager, compared them to "stick figures." He dubbed the two types as the "one with a torso and arms, and another without."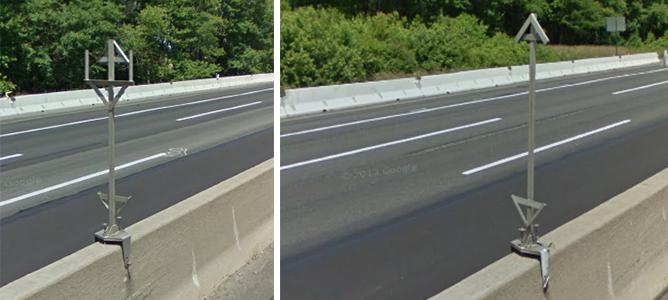 Tom Feeney, the helpful spokesman for the New Jersey Turnpike Authority, assured me that these structures are not alien death totems (but he would, wouldn't he?). According to Feeney—or his extraterrestrial overlords—they're aluminum sign stands. "If a lane is closed for maintenance, warning signs fit into the brackets on the stands," said Feeney. The turnpike started using these about 20 years ago, Feeney explained. The big advantage is that they allow warning signs to be placed without blocking the shoulder of the road.
As for why some have "arms," Feeney says that some sign stands have pairs "of vertical tubes designed to hold flags or warning lights." And others don't.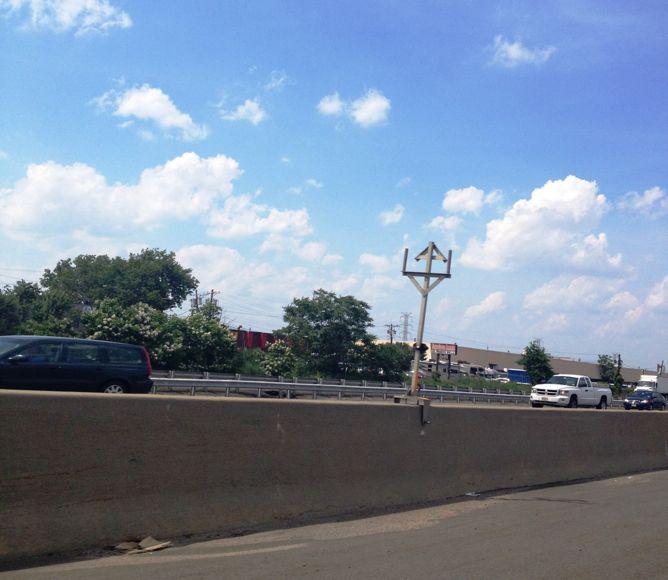 So why do they seem to move around? "There are holes drilled in the median barriers every 300 feet to attach one of the sign stands," Feeney said. "We don't actually have brackets attached every 300 feet … they're portable and easily moved around as needed."
See something out there this summer that you're wondering about? Send a description and a pic to whatisthat@markvr.com.