Gay and lesbian existence was veiled in secrecy until quite recently, so documenting our history has often required a heroic mix of detective work and scholarship. The last 20 years have seen the publication of several fascinating accounts of gay and lesbian life in American cities, of pioneering organizations and individuals, as well as the release of some outstanding documentaries about LGBTQ social and political movements. Nevertheless, many longstanding community institutions are still largely unknown. So when I heard about 34-year-old Alexis Clements' plan to travel across America, stopping in on some of the remaining lesbian bars, bookstores, galleries, publications, cafes, and performance spaces, I called her up to learn more about the project.
So, you're taking a big trip around the U.S. this summer, visiting some lesbian institutions. What's it about?
I wrote a play a couple of years ago inspired by the Lesbian Herstory Archives. Instead of choosing to do a first reading in a theater, we did a reading of it at the archives, and instead of bringing actors, I decided to ask people who were part of the archives community to read the roles. It was really great to have people who had a vested interest in a subject and didn't necessarily have much theater experience have a chance to read aloud these stories about women, particularly lesbians. After that reading I thought, I wonder if there's a way that I can do that again, and that's when I started to land on the idea of traveling around the country to do small community-based readings in different community spaces: queer spaces, feminist spaces, lesbian spaces. A lot of spaces where lesbians and queer women gather face challenges, particularly around economics and maintaining their spaces, so I started to think, Well, if I'm going to visit all these spaces, it feels really important to document the trip in some way. That's where the documentary came from..
I'm still going to do some readings of the play as we go, but because the documentary project has developed and taken on a life of its own, I'm also going to visit some places where we may not do readings of the play. We're going to capture footage of the spaces so people can see them, and we'll also have conversations with some of the people who occupy and maintain them.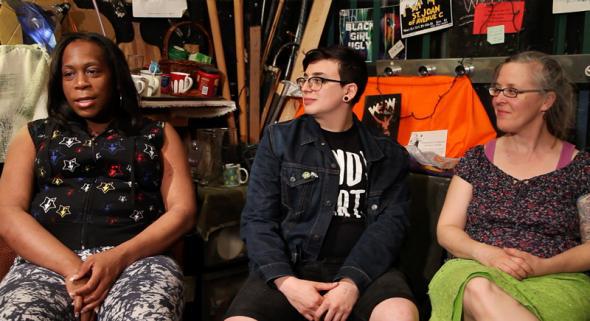 I have a sense that many of these spaces are disappearing. Is that the motivation for making the trip now, rather than in a few years' time.
Absolutely. Two of the most stark examples are bars and feminist bookstores. In the 1990s, there were literally 100 feminist bookstores in the U.S. Today there are 14. So in 20 years, they've almost disappeared. Then if you start to do any kind of research about lesbian bars, you see that they are also disappearing. Philly lost two of them. Chicago lost one. Portland doesn't have one anymore. West Hollywood—one of the places many people consider to be one of the gayest areas in the United States—doesn't have a lesbian bar anymore, and it had one of the oldest, the Palms That's gone now.
I absolutely feel the loss of those places, but I can imagine people saying that old places closing is part of the evolution of the community. You can find the kinds of books that were in feminist bookstores elsewhere now, and women can be open in other places in a way that used to only be possible in lesbian bars. How do you respond to that?
As far as bookstores go, obviously a huge part of it is changes to the publishing world, but that speaks to the erasure of a lot of subcultures that used to be fully sustainable. Of course, there's self-publishing now, but accessing these audiences is a completely different game. The impact of the economics has ripple effects that have many more implications than just "this bar is gone, or this bookstore is gone."
A lot of people say, "Oh, well, there's gay marriage now, so essentially queer people can assimilate into the larger culture; we don't need places to go." But for both political and romantic reasons, we still need to be able to spend time with people who we want to partner with or who we want to engage in political activities with. Those two things are in many ways core to a lot of lesbian and queer communities. Not every lesbian is a political activist, and not every political activist is queer, but the collision of politics and lesbian identity is longstanding and a very rich and important history.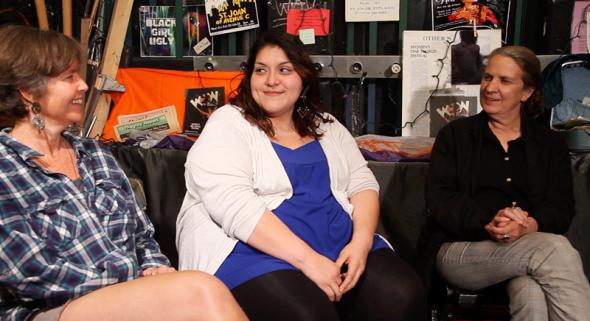 Clearly, a lot of your current focus is on the history of places that have been around for a while, but have you identified any new trends?
One of the things I'm really trying to do with the documentary project is focus on spaces that have some kind of intergenerational representation within the collective. Almost all of these spaces are collectively run, which creates an interesting challenge for the documentary. I don't really want to have a series of talking heads, because it's not representative of what these communities look like. Having lots of group conversations also presents its own challenge, but I think that's a little more true to the spirit of these places.
With a lot of the newer organizations, there's a taking of the challenges and the political work that started in the '70s and continuing to push it forward, which seems to mean engaging with a queer sensibility. There's not one way to be a lesbian; there's a gender spectrum. There's no gay, straight, bi; there's a broad spectrum of ways to identify within that. The Brown Boi Project is a really fascinating and wonderful organization that isn't necessarily about lesbians or queer women as about exploring masculinity, but it is driven by a lot of queer women of color, people who identify as masculine of center, trans men, and also cis men are part of it..
How can people keep in touch with your project, or even support it?
We're currently running a Hatchfund campaign—Hatchfund is very similar to Kickstarter, but it's a nonprofit. We're trying to raise funds to help us purchase equipment and pay for things like gas and food while we're out on the road. That's the No. 1 way people can help right now. They can stay on top of things by following us on Facebook or on Instagram.
When I talk to people about the project, or I mention certain spaces to people, whether they're lesbians or otherwise, they often haven't heard of them. So one of the things I'm really committed to doing is putting a lot of the research I do up on the website. I've already put up research about feminist bookstores and about lesbian bars. I'm trying to just put that all out there so people can see things that still remain largely invisible, even within the queer community and the lesbian community. 
If these places are still alive, let's not let them go unnoticed.
The continuation of the sense that so much of women's lives is invisible in our culture is deeply, deeply frustrating. 
This interview has been edited and condensed.