The Vault is Slate's history blog. Like us on Facebook, follow us on Twitter @slatevault, and find us on Tumblr. Find out more about what this space is all about here.
The California Historical Society recently posted a batch of cycling-themed images from their collections on Flickr. While some of the ephemera is gorgeous (and don't miss this studio portrait of "Miss Valentine Conwell, age 3 year and 4 months, the youngest cyclist in the world"), I like these photographs of groups of cyclists on outings best.
While some of these images are undated, almost every cyclist pictured has a high-wheel bicycle, a type of bike with a big leading front wheel and a smaller stabilizing rear wheel. These were commonly used in the late 1870s and the 1880s, before the invention of the so-called "safety" bicycle in the early '90s. (This cyclists' map of California, published in 1896 and bordered by advertisements for cycle-dependent businesses, shows the explosion in popularity that came with that advance.)
Bicycle clubs formed in the late nineteenth century were social organizations, meant to bring together people with interests in the new sport. Historian Evan Friss told the New York Times' J. David Goodman in 2010 that late 19th-century bike clubs tended to divide themselves by race, class, and ethnicity.
While some clubs did include women (Goodman points to the Cycle Club of Brooklyn, for example), none of the images in this collection show female cyclists in the midst of their California counterparts.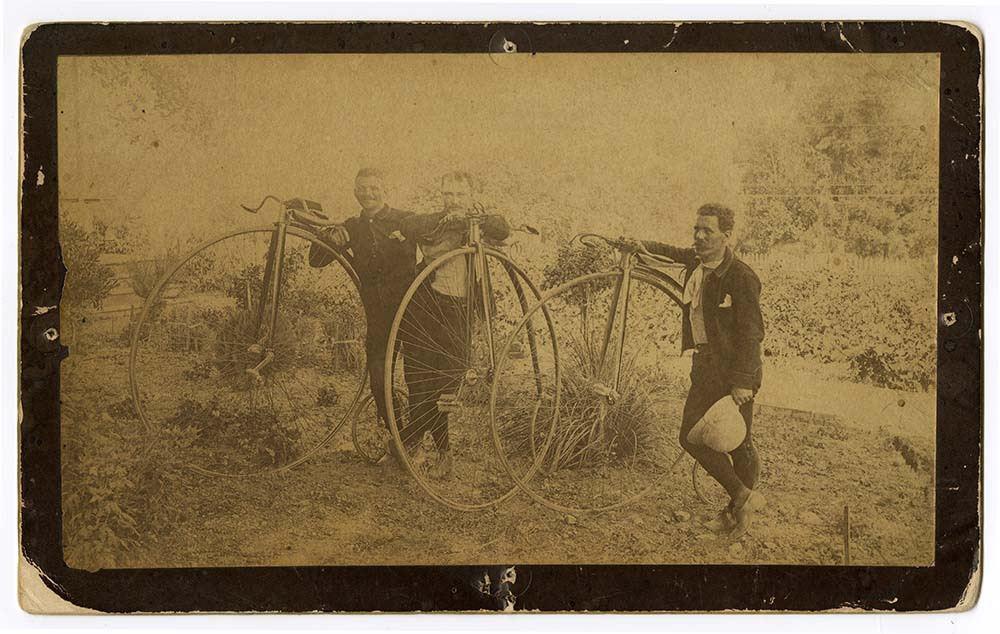 "Cyclists after ride from Oakland to Mission San Jose to Sunol Train Home," June 20, 1886.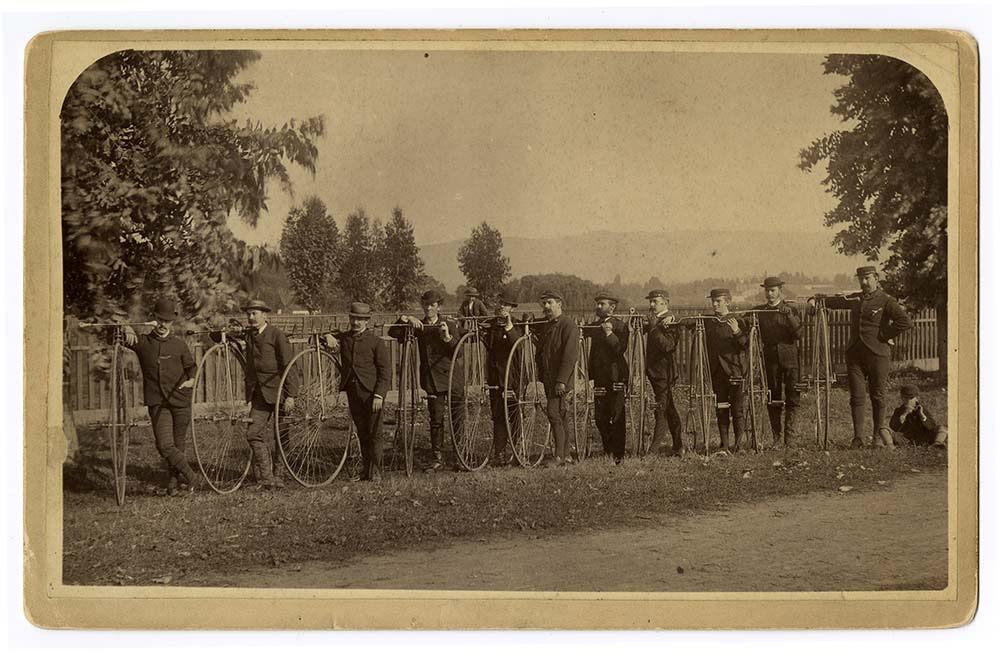 Undated, with no identifying information. Note the boy in the right, who seems to be photographing the photographer.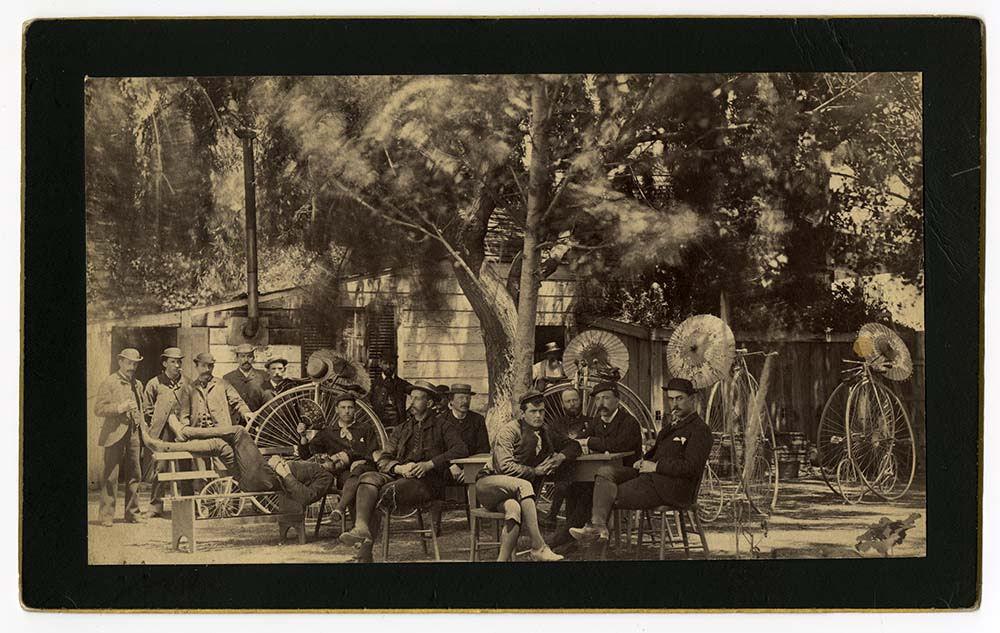 Undated, with no identifying information. Here, you can see parasols attached to high-wheelers, as well as a tuckered-out cyclist in the left foreground, lounging with his head in his friend's lap while his friend wields a fan.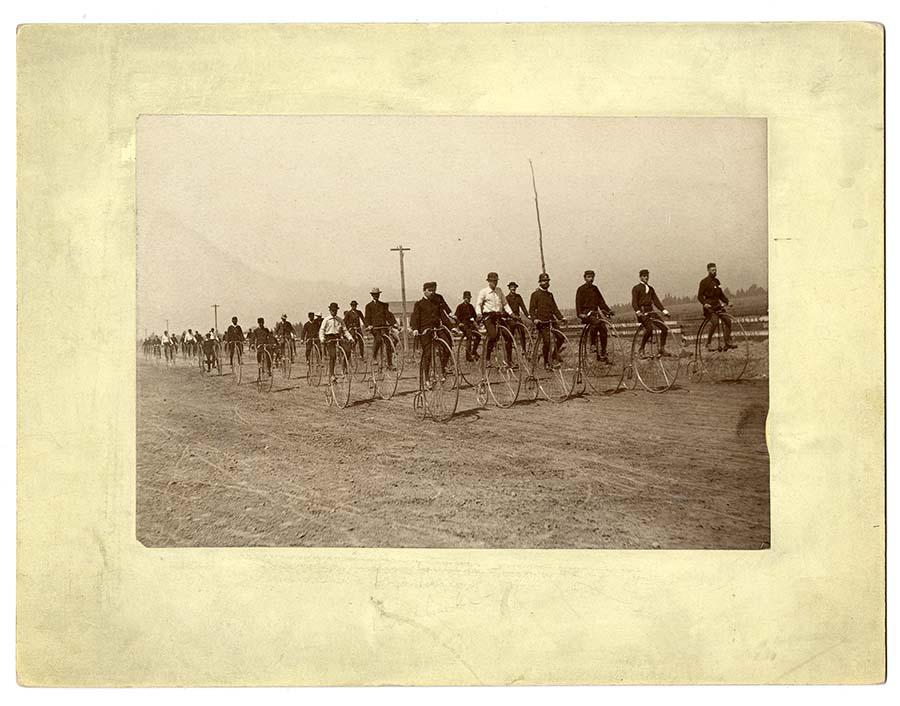 "San Francisco Bicycle Club on San Leandro Road between San Leandro and Milpitas; H.A. Greene, Captain." Undated.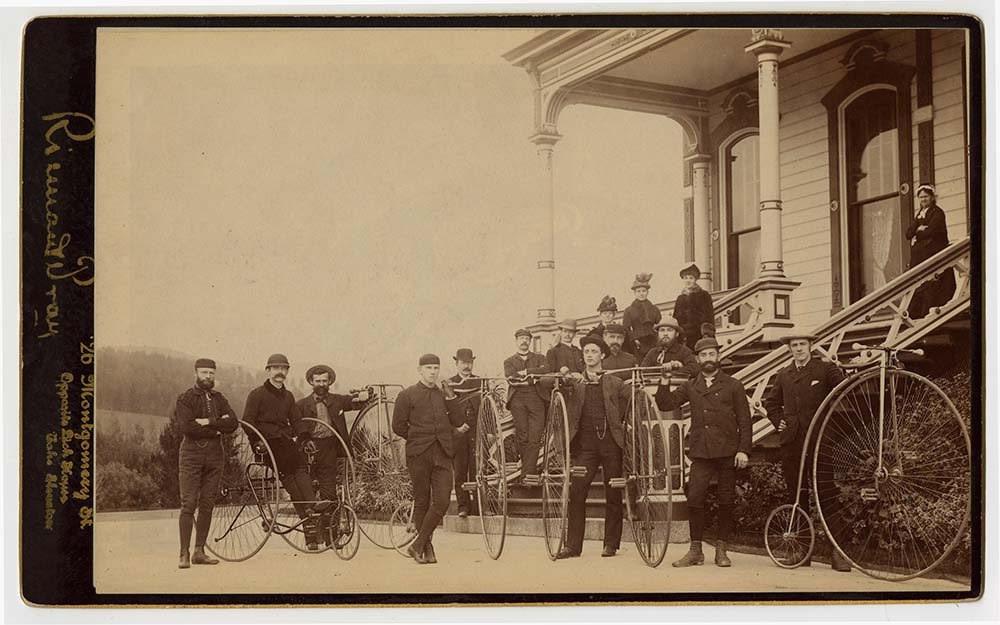 "Bicyclists in front of Isaac L. Requa residence, Highland Avenue and Hazel Lane, Piedmont, Calif.," undated, photograph by the firm of Rieman & Pray. Requa, a prominent businessman with interests in railroads and mines, was a pillar of Oakland society.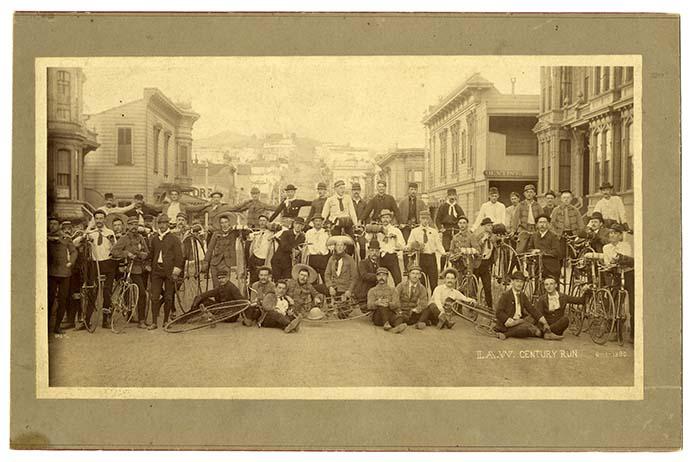 League of American Wheelmen Century Run, June 1, 1890, photograph by George R. Butler. Taken in San Francisco, at 21st and Capp, looking toward Mission.  Some two-wheeled safety bicycles are visible in this portrait.