Any chef worth his or her salt knows that the size of one's kitchen has nothing to do with the quality of one's cooking. But American kitchens are generally bloated with oversize appliances and real estate-hogging layouts, more theater than laboratory, status symbols even for those who never cook.
Even apartments in cities with notoriously small-scale kitchen spaces tend to waste plenty of square feet on four-range stovetops, giant ovens and high-capacity dishwashers that are tailored for much larger rooms. But as Americans have begun to embrace the upsides of downsizing, designers have begun to play catch up, cooking up compact kitchen designs equipped with more than just glorified dorm-room appliances.
Last week the Wall Street Journal reported that General Electric had designed a series of appliances including a cooktop, two ovens, a sink, a dishwasher, and refrigerator/freezer cooling drawers that can fit inside a 6-foot-long chest of standard counter height drawers. It's the company's answer to increasing demand for appliances tailored to micro-apartments, which it defines (rather generously) as "roughly 450 feet." GE is currently crowdsourcing micro-kitchen design ideas and will award $2,500 prizes to the top four designs this summer. They plan to produce the mini-kitchens by the end of the year for around $15,000.
Meanwhile in Europe, where so-called micro-housing is the norm, the nomadic two-by-two-foot kitchen tower designed by Massimo Facchinetti for Italian furniture company Clei that was unveiled at last year's Milan Furniture Fair is so unconventional that it almost seems like a gimmick but is in fact no joke. In addition to all the usual kitchen appliances, it even includes an espresso machine and an herb garden, and provides 15 square feet of work or dining space. Priced around 10,000 euros ($13,500), it is scheduled to go into production starting in the fall.
And in Paris, where space is a precious commodity and by law unfurnished rentals are required to come with literally nothing more than a kitchen sink, Strasbourg-based carpenter/designer Jean-­Luc Sifferlin recently won two main prizes at the annual Foire de Paris for C=1m2 (above and below), his "complete, compact and efficient" micro-kitchen. Developed in partnership with European built-in appliance specialist NEFF, it's a portable one-square-meter (just over 10-square-foot) armoire on wheels that houses a sink, stovetop, extractor hood, combination microwave/convection oven, refrigerator, and modular storage.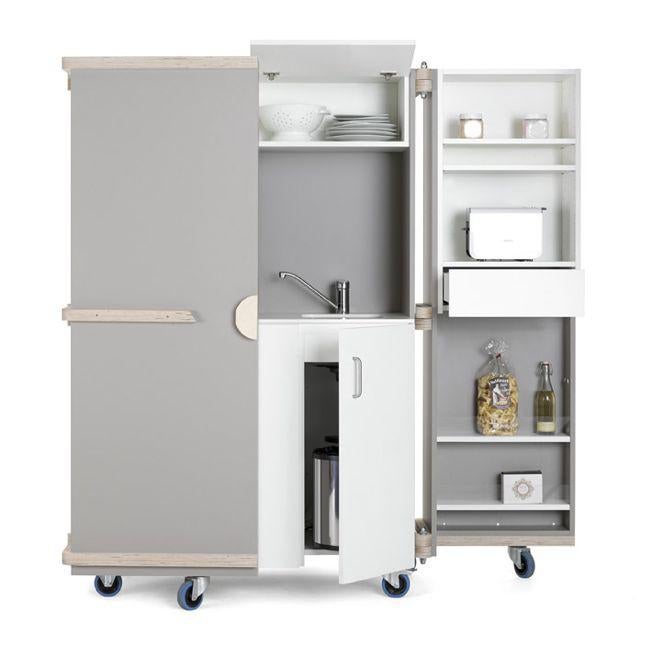 Assembled, the 550-pound kitchen chest on wheels just needs a water source and an electrical plug to get going, and folds up neatly once mealtime is over, making it particularly appealing for those who live in studios and open plan lofts, not to mention offices and pop-up spaces. At 6,500 euros ($8,820), the C=1m2 comes in both indoor and outdoor versions. Because it's portable, you can take it with you to your next kitchenless rental or fixer-upper, saving you the trouble and expense of installing a conventional kitchen.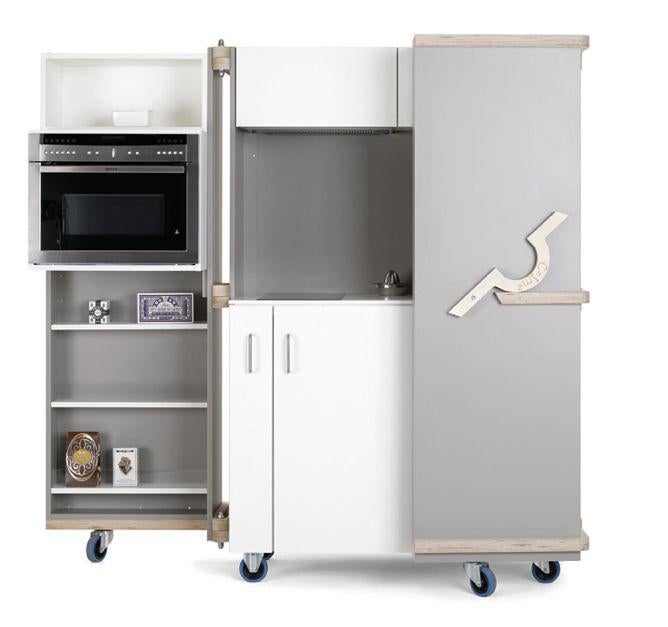 Not that all French kitchens are tiny and have the mini-appliances to match. French people with more space have been known to outfit their apartments with the large refrigerators that Americans think of as standard-sized, even though Americans have the biggest refrigerators in the world. Unlike a regular frigo—the French word for fridge—they call it a frigo américain.