The Vault is Slate's history blog. Like us on Facebook, follow us on Twitter @slatevault, and find us on Tumblr. Find out more about what this space is all about here.
This 1886 directory map shows every San Francisco business north of Market Street, between Dupont Street (now Grant Avenue) and today's Embarcadero.
The map is printed with Market Street running from northwest to southeast, when, in reality, the avenue crosses the city from southwest to northeast. To align the map to the same neighborhood in today's San Francisco, mentally spin the image 45 degrees, so that the diagonally printed legend at the bottom center of the map ("Post Publishing Company") aligns with the lower right-hand corner of your screen. 
The San Francisco Post, according to an 1881 directory of American newspapers, was one of the most-read papers in the city. It catered in particular to the businessmen of the booming town, which was then experiencing a post-Gold Rush, pre-earthquake period of expansion: "Mining men, brokers, and the great mass of people who deal in stocks and mining securities, are its constant readers." The map was a good promotional tool for a newspaper looking to show that it was on board with San Francisco's business community.  
The map is packed with historical detail. For example: The block bounded by Battery, Front, Pine, and Bush Streets (detail below) featured stores that sell "steel barb fence wire" (recently invented, and key to white settlement of the West). The many importers of goods—clothing, furnishing, shoes—testify to San Francisco's status as coastal trade city.

The advertisement in the center of the block for "A.E. Mintie, M.D., specialist in nervous, private, and chronic diseases," gives a sense of the way that doctors represented themselves as specialists in a booming urban market. The note that Koenigsburger, Fair, & Mayer manufacture "white labor cigars" is a reminder of the past two decades of battles over Chinese immigrant labor in San Francisco's cigar factories.
And this block contains the then-modest company headquarters and wholesale warehouse of Levi Strauss & Co.: "Foreign and Domestic Dry Goods. Celebrated Patent Riveted Clothing."
Click on the image below to reach a larger, zoomable version, or visit the map's page on the David Rumsey Map Collection site.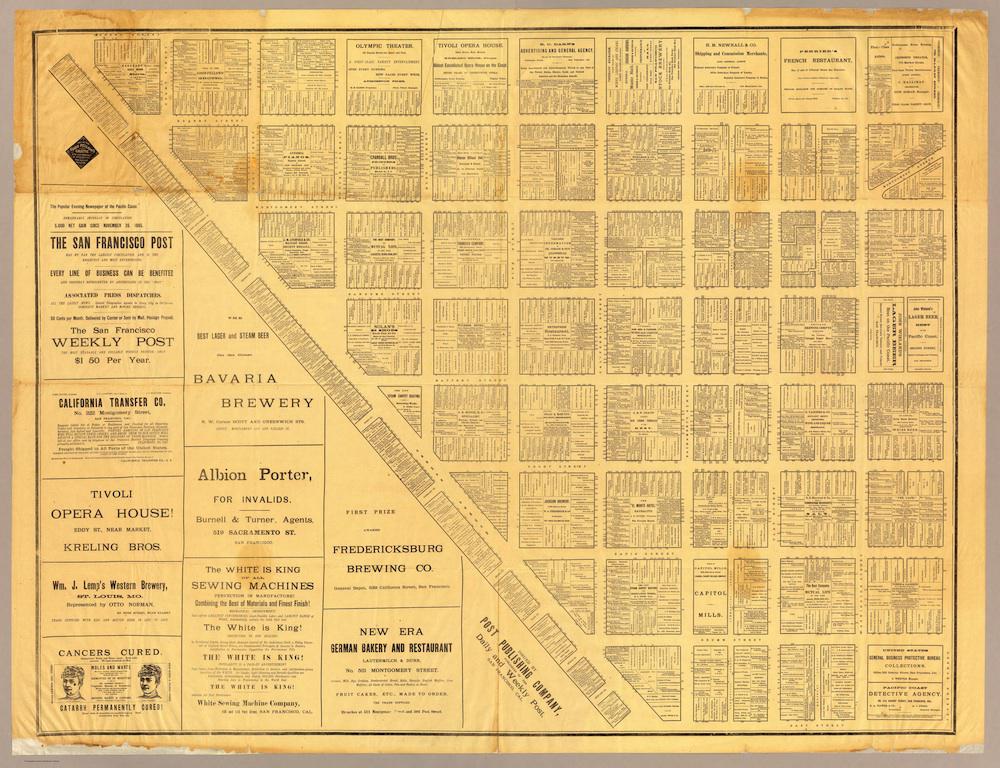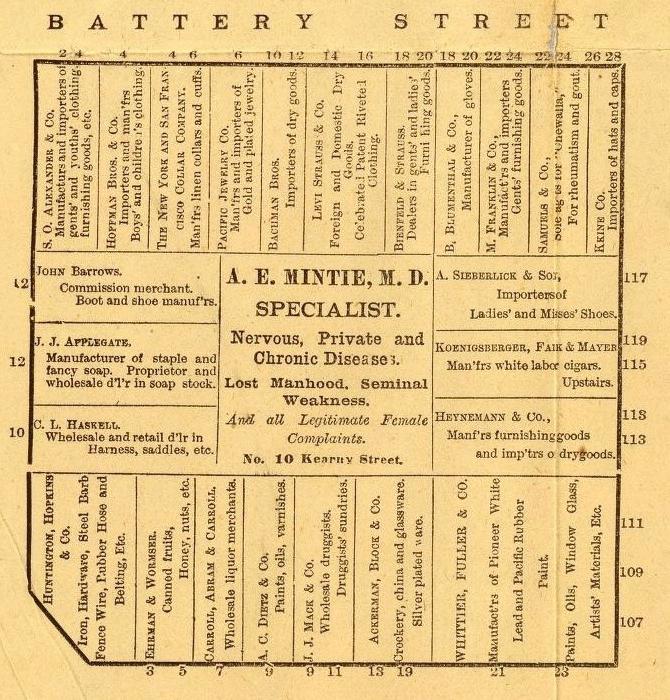 Corrections, June 4, 2014: This post originally misstated the best way to read a geographically skewed 1886 map of San Francisco. The reader should mentally spin the map 45 degrees, not align it with the bottom of the screen. It also misidentified a Levi Strauss & Co address as a store. It was the company's headquarters and warehouse.