The Vault is Slate's history blog. Like us on Facebook, follow us on Twitter @slatevault, and find us on Tumblr. Find out more about what this space is all about here.
In 1863, as he considered seeking a government clerkship, Walt Whitman asked his friend and advocate Ralph Waldo Emerson for a letter of recommendation. Emerson, for decades a respected name in American letters, knew the secretaries of state and treasury personally, and Whitman hoped that a note from him would help the younger poet secure steady employment in Washington.  
At this time, eight years after the first publication of the controversial Leaves of Grass, Whitman was well-known enough that his reputation preceded him in job interviews. Whitman reported that Salmon Chase, the secretary of the treasury who's the addressee of this letter, was vehemently against the idea of employing the author of Leaves, a book that celebrated open sexuality in a way that Chase found distasteful. Whitman wrote: "Chase did not know how he could possibly bring its author into the government service, especially if he put him in contact with gentlemen employed in the beaureaus [sic]."  
Others working for the government clearly shared Chase's assessment. While the writer did land a series of clerkships, and put in 11 years of government service—first in the Army Paymaster's Office, later in the Office of Indian Affairs, and finally in the Attorney General's Office—he was fired from the second position because of objections to his poetry.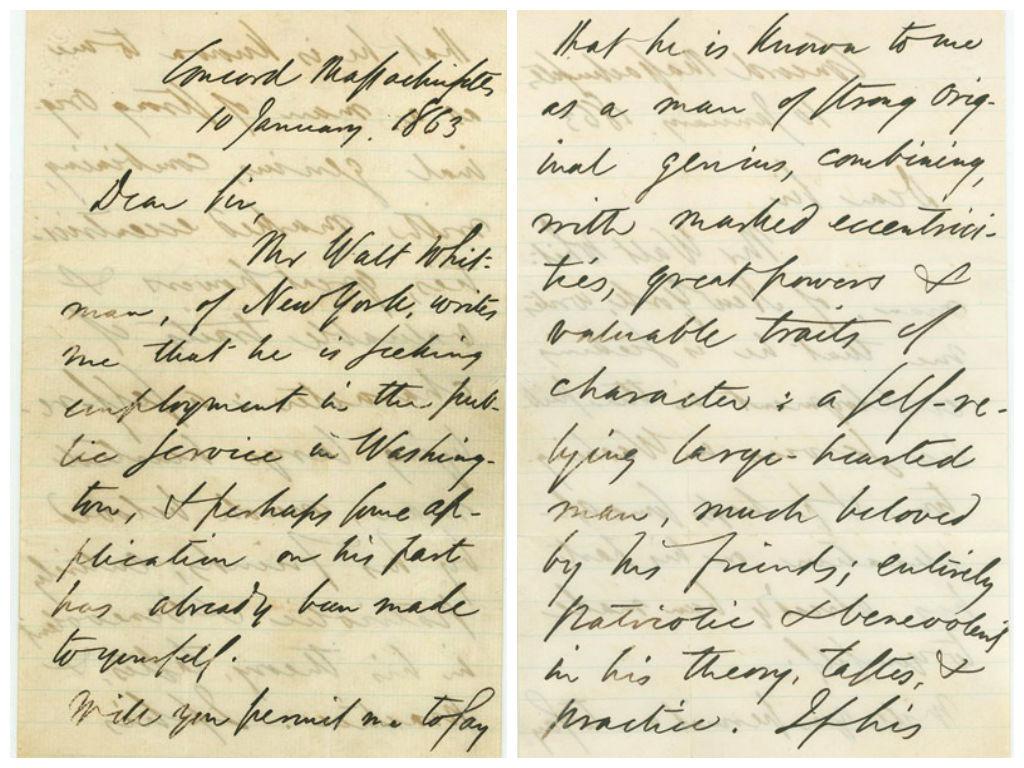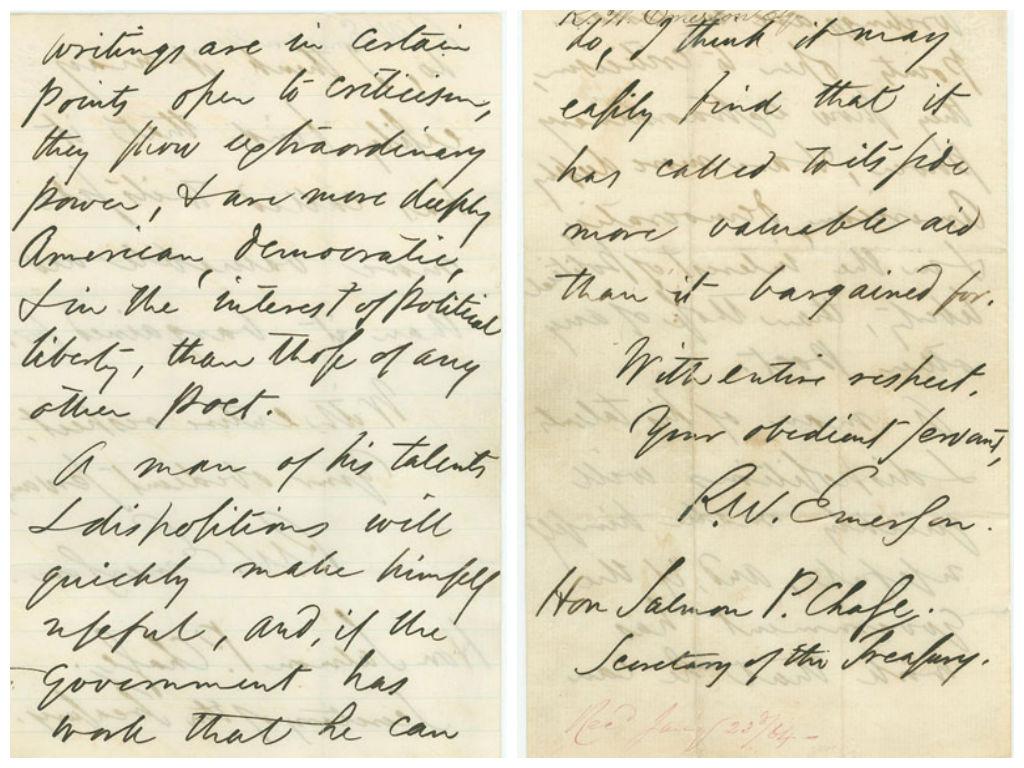 Transcript (from the Walt Whitman Archive):

Concord Massachusetts 
10 January 2, 1863

Dear Sir,
Mr Walt Whitman, of New York, writes me that he is seeking employment in the public service in Washington, & perhaps some application on his part has already been made to yourself. Will you permit me to say that he is known to me as a man of strong original genius, combining, with marked eccentricities, great powers & valuable traits of character: a self-relying large-hearted man, much beloved by his friends; entirely patriotic & benevolent in his theory, tastes, & practice. If his writings are in certain points open to criticism, they show extraordinary power, & are more deeply American, democratic, & in the interest of political liberty, than those of any other poet.
A man of his talents & dispositions will quickly make himself useful, and, if the government has work that he can do, I think it may easily find that it has called to its side more valuable aid than it bargained for.
With entire respect,
Your obedient servant,
R. W. Emerson.
Hon Salmon P. Chase, | Secretary of the Treasury.