John Logan, the creator and writer of Penny Dreadful, the new horror series that premieres on Showtime this Sunday, comes to television with quite a pedigree. In 2010, he won a Tony for his play Red, and he has written the screenplays of several hit movies, including Gladiator, The Aviator, Hugo, and Skyfall.
In Penny Dreadful, familiar figures from Gothic literature—including Victor Frankenstein, Dorian Grey, and some of the creatures from Dracula—find themselves in Victorian London alongside new characters like Ethan Chandler (Josh Hartnett), an American sharpshooter; Sir Malcolm Murray (Timothy Dalton), an intrepid explorer; and the mysterious Vanessa Ives (Eva Green).
I spoke to Logan about how his gayness shaped his interest in and understanding of monsters, why he chose to work with established literary characters, and the sweetness he sees in Frankenstein's creature.
June Thomas: You've said that this show and your interest in monsters partly came out of your identity as a gay man. Can you say more about that?
John Logan: I've always been drawn to monsters. Many kids are, without giving it much thought—"I like them because they're scary," or "I like them because they're exciting." But as I grew older, I realized what really attracted me to them was the very deep kinship I felt that has to do with growing up as a gay man. When I was in junior high and high school and living in New Jersey—this was the mid-'70s—I was nuts about theater, so I was going into New York all the time, and walking around Greenwich Village and down Christopher Street. It was a very different place then, a forbidden, sexy, scary place. I looked at what I saw around me, and I realized that this is where I belonged. To step through that door would mark me as different from my brother, from my family, from my friends in school. It was a frightening thing, but my process of coming out was a process of accepting that the thing that made me alien and different and monstrous to some people is also the thing that empowered me and gave me a sense of confidence and uniqueness and a drive toward individuality that I think is important for any writer.
Thomas: It feels to me like Penny Dreadful is almost a reframing of the monster narrative—not exactly from the monster's point of view, but turning the focus onto the feelings of the outcasts rather than the majority.
Logan: Yes, it absolutely is. That's true not only for the characters who are more overtly supernatural or monstrous, such as Frankenstein's creature or Dorian Grey, but for all of the characters. Dramatically, how they address the secrets within them, how they make peace with them or not, defines who they are, and that was certainly my experience growing up. Until I grappled with and accepted the reality of who and what I was—which, once again, many people would consider monstrous—I couldn't be the artist or the man that I am.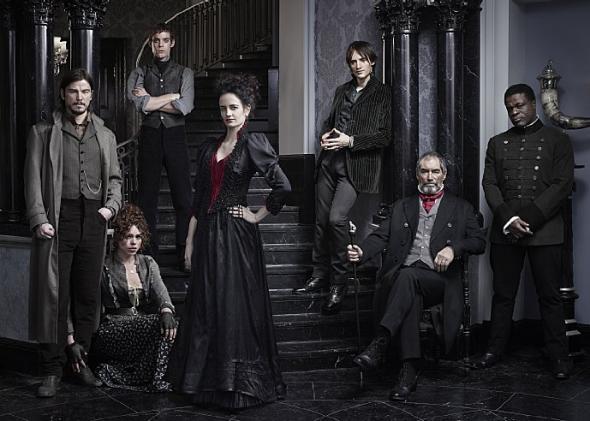 Thomas: The scene where Dr. Frankenstein brings his creature to life is incredibly moving. It's very intimate, there are tears from both of them, very tender caresses. That's a new take on the moment, isn't it? It's almost as if Victor has literally made a friend, a very intimate friend, for himself.
Logan: Yes, he's made an intimate friend in a lifetime that hasn't had much friendship, and he's also given birth. The reason I wrote it that way is because when my niece was born, I was in the hospital and saw her mother holding her, and just the look on her face was just so profoundly moving to me that when I was sitting down to write that scene, I thought, that's what it is. It's giving birth to a child, with all the complexity and heartbreaking emotion of that, with all the poignancy of promise and all the realization that things have irrevocably changed. 
Thomas: In the second episode, Dorian Grey has a sexual encounter with a woman who has consumption, and her physical sickness, specifically her tainted blood, seems to turn him on.
Logan: What Oscar Wilde created was an immortal young man who has done everything and is bored by most things. In our iteration of him, Dorian Grey seeks out new experiences. All of a sudden he sees a door opening onto a new experience, which is, "I can make love to a dying human being, and I've never done that before," so it does turn him on.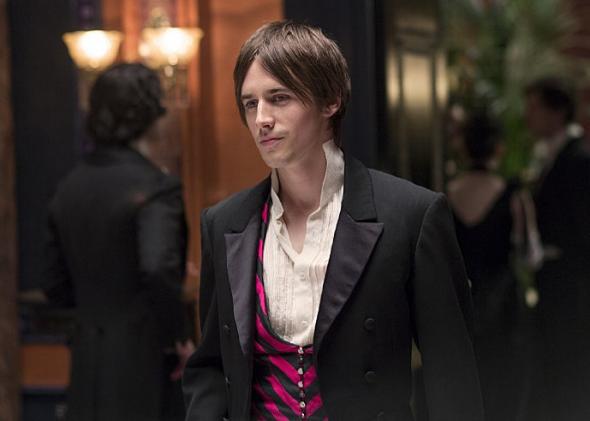 Thomas: For me, there seemed to be an AIDS parallel. We see stories every few years about "bug chasers," people who want to become infected with HIV. That wasn't in your mind?
Logan: No, but certainly the potency of fresh blood in relation to AIDS was in my mind, because obviously I'm old enough to remember when HIV and AIDS really ran rampant and people didn't understand. "Can you kiss? Can you touch? Can you touch blood? What happens to you if you do?" Certainly in the relationship between Dorian and Brona, at that moment there is a subtextual awareness, or a metatheatrical awareness, of the potency of blood and infection and illness.
Thomas: I'm very interested in the character of Sir Ferdinand Lyle. In some ways his affect is that of a classic closeted gay character. He's a dandy, his speech is a little lisping, his hair is kind of ridiculous, he's familiar with codes and occult languages. But I don't think that a conscious gay writer like you would create such a stereotypical character without having some larger purpose. Can you decode Lyle for me?
Logan: Ferdinand Lyle is a fop, a joyous fop. But he's also a very serious linguist and Egyptologist, and as the series unfolds, you see the intensity and the poignancy of that character emerge. The London of 1891 was not a time when gay men could be celebrated for their displays or affectations—as Oscar Wilde would be the first person to comment. So Lyle is in one way my attempt to grapple with the many complex sexual mores in the Victorian era.  
Thomas: You seem very interested in shadows. Vanessa Ives talk about exploring the demimonde between what we know and what we fear. Am I right in thinking that that's a key space for you?
Logan: It's the only thing that interests me as a dramatist. I don't believe in heroes, and I don't believe in villains. When you're writing someone like Silva in Skyfall, for example, it would have been easy to make him a stereotyped villain. But the trick and challenge and the provocation is to find the poignancy and the pain behind the villainy. As any playwright will say, the best characters are the most complicated ones.
This interview has been edited and condensed.