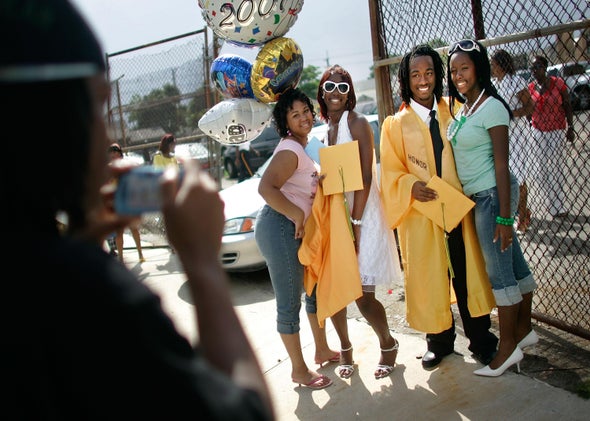 Can asking teenagers if they've ever had sex in a public health survey cause kids to want to have sex? It's a question recently considered, in all seriousness, in the Louisiana state Legislature. RH Reality Check reports that the Legislature struck down a new bill allowing government officials to ask teenagers questions about sexual behavior in the context of seeking out information on "risk behavior associated with chronic health conditions," i.e. asking kids if they've had sex on anonymous public health surveys in order to gather data about teen pregnancy and STI transmission.
Right now, Louisiana has a law stating, "students shall not be tested, quizzed, or surveyed about their personal or family beliefs or practices in sex, morality, or religion." A lot of legislators are hesitant to loosen up the law to allow the Centers for Disease Control and Prevention to conduct the Youth Risk Behavior Surveillance System survey in the state, because it asks anonymous questions like, "Have you ever had sexual intercourse?" or "Have you ever had sexual intercourse without a condom?" The legislators are not, as you might assume, worried about protecting student privacy. No, they're worried that taking an anonymous public health survey about sexual behavior might turn kids on to the idea of having sex. 
No, really, that's the concern. The New Orleans Times-Picayune reports:
Those opposed to the bill worried that the survey would expose children unnecessarily to sex. "Won't we desensitize children when asking them about sexual activity?" said Rep. Lenar Whitney, R-Houma.
Honestly, I would think "desensitizing" teenagers, so that they don't get sexually aroused at reading the word "intercourse" would probably be a good step in the direction of preventing them from acting like lust demons who can't exert basic self-control. But that is assuming, of course, that there's a teenager alive who is so sheltered that merely hearing that sex exists will kick-start dormant sexual desires.
One funny thing: The state allows the YRBS System to survey kids on drug and alcohol use, smoking, and even diet. No one seems worried that asking kids if they "drank a can, bottle, or glass of soda or pop one or more times per day" is going to turn them into Diet Coke addicts. What about sex, specifically, causes the majority of the Louisiana Legislature to think that merely mentioning its existence will make kids want to go out and do it? 
We already know that Louisiana has some of the worst sexual health outcomes for teenagers in the country, as RH Reality Check notes:
In fact, Louisiana's teen pregnancy rate of 80 pregnancies per 1,000 young women ages 15 to 19 is higher than the national rate of 68 pregnancies per 1,000. The birth rate for teens is higher as well, with 45 births per 1,000 young women ages 15 to 19, compared to 31 births nationwide. The state also has an alarmingly high rate of HIV infection among young people, with 22.1 HIV cases diagnosed per 100,000 young people ages 13 to 19, compared to a national rate of just seven cases.
The YRBS System survey would probably just cough up even more statistics that continue to embarrass the state and suggest that its conservative policies regarding sex education and sexual health care are failing. Wait, did I just type sex education and sexual health care? OK, I get it, you gotta go.
---