In an inspired move the village of Krumbach, Austria, invited seven international architecture firms for a week's paid holiday in the region in exchange for designing what might be the world's most innovative bus shelters. Built by local craftspeople, the results are a spectacular demonstration of what design can do to elevate banalities of life such as waiting for the bus. The shelters are currently in use in Krumbach, population 1,000, where public bus service operates on an hourly basis.
Belgian architects Jan de Vylder, Inge Vinck, and Jo Taillieu of dvvt created a folding triangular homage to Sol Lewitt and the acute angles of the Alps, above.
Ensamble Studio from Spain was inspired by the rough, untreated oak planks stacked up and left to dry in timber workshops in the Bregenzerwald region, which the architects layered to create a semi-open structure.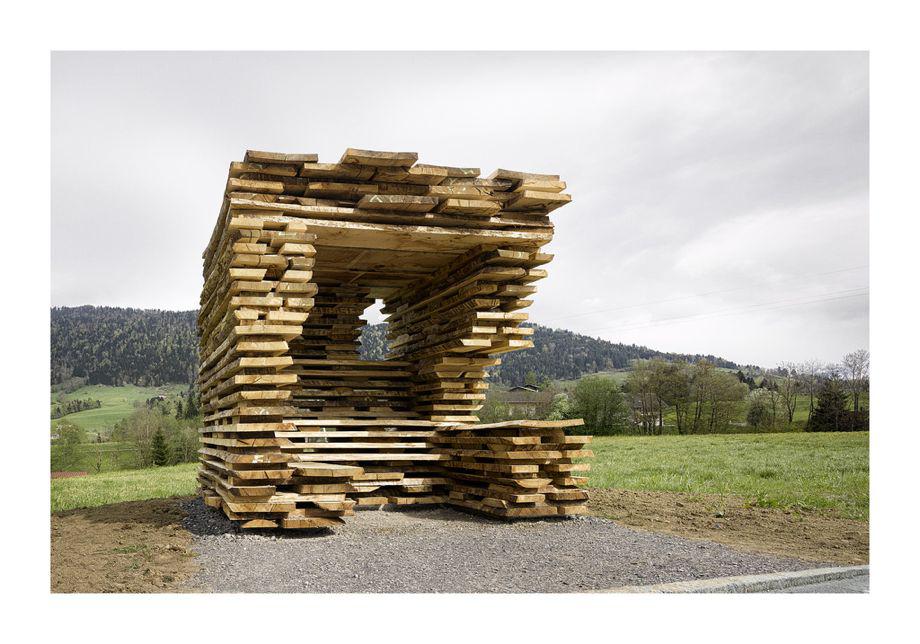 Japanese architect Sou Fujimoto designed an open structure made of thin, steel rods with a winding staircase that makes no pretense of offering protection against the elements.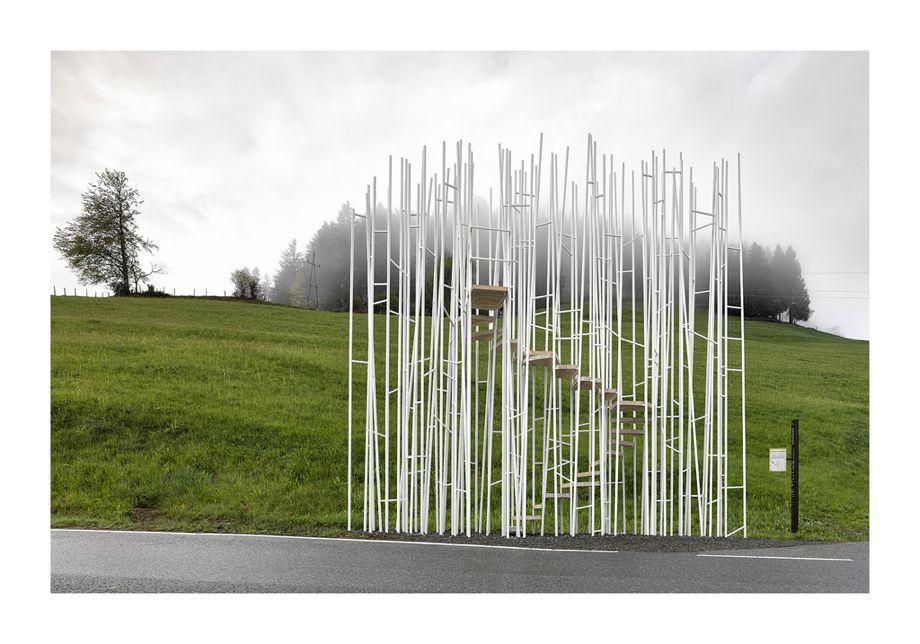 Inspired by the handicraft and traditions of the area, Chilean architect Smiljan Radic created an outdoor "parlor" consisting of a glass pavilion with a coffered black concrete ceiling. Rustic wooden chairs provide seating and a birdhouse provides distraction.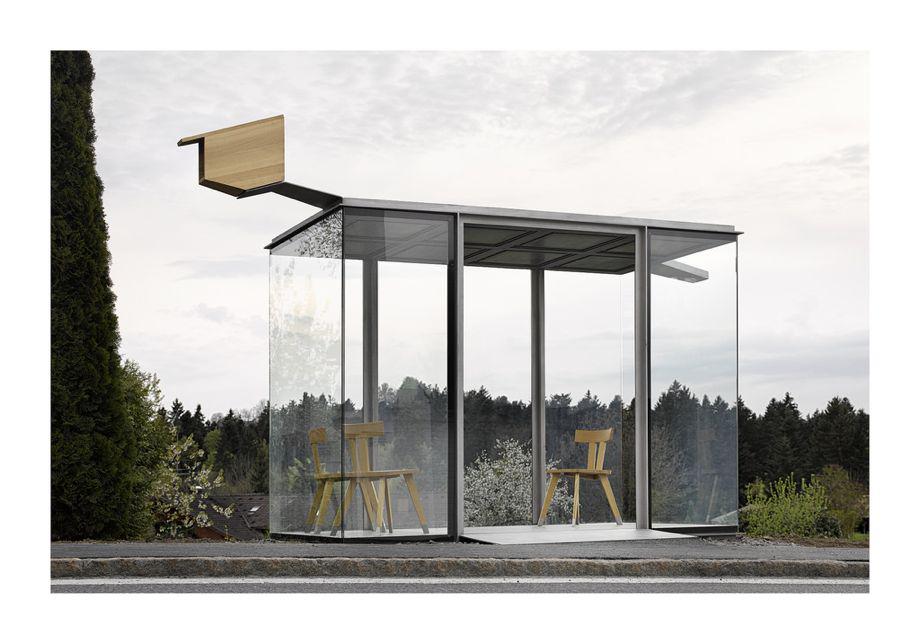 Russian architect Alexander Brodsky built a wooden tower on the edge of a plot of land occupied by a single-family house. The structure is open on all sides, so that wind and birds can flow through. A table and bench provide a place to hang out if the bus is late.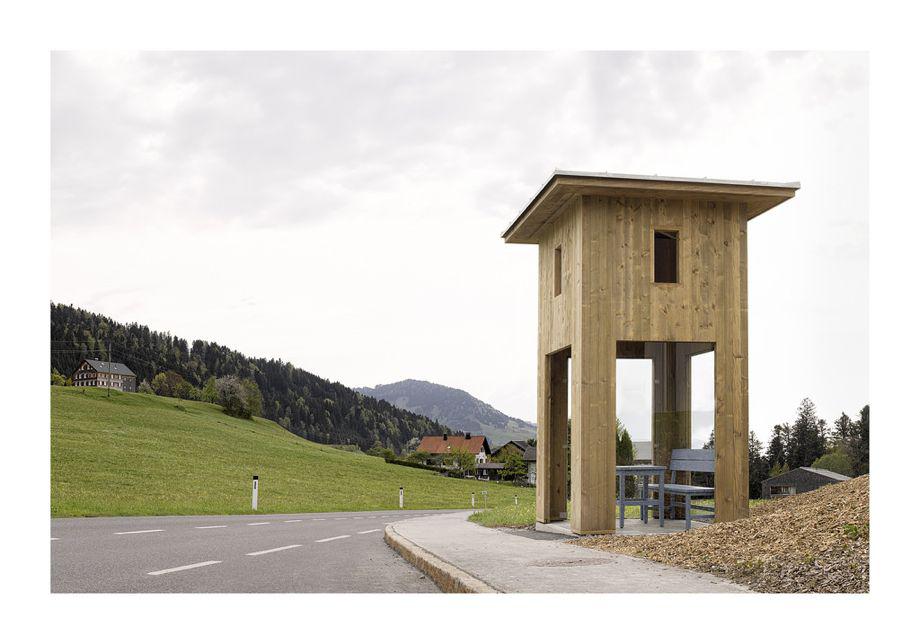 Pritzker prize–winners Wang Shu and Lu Wenyu from Hangzhou, China, designed a camera obscura, a conical space that opens to the street and, with a window in the rear wall, frames the mountains.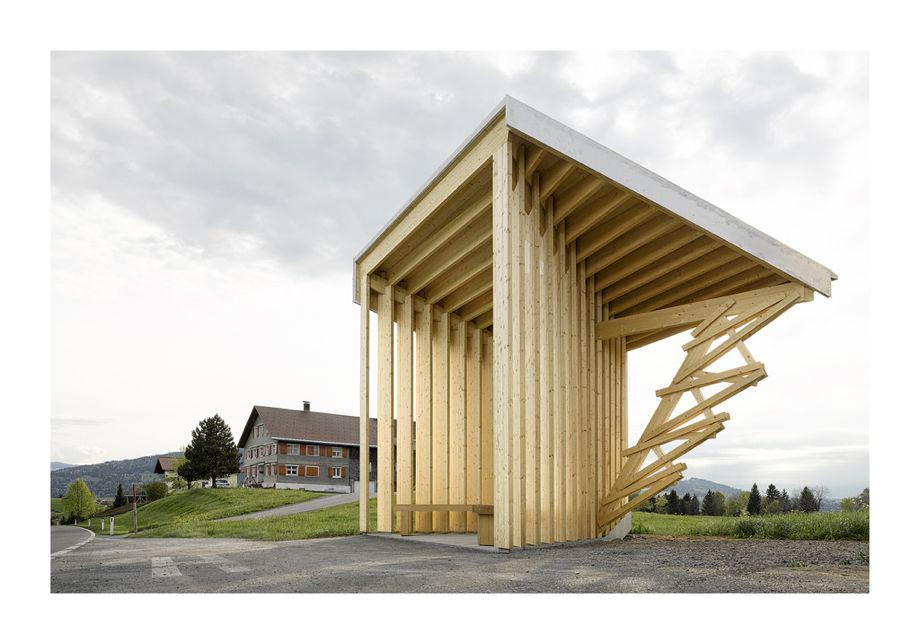 Sami Rintala, Dagur Eggertsson, and Vibeke Jenssen from Norway's Rintala Eggertsson Architects created a bus shelter that doubles as a spectator stand for the neighboring tennis courts.