The Vault is Slate's history blog. Like us on Facebook, follow us on Twitter @slatevault, and find us on Tumblr. Find out more about what this space is all about here.
On the blog of the Smithsonian Asian Pacific American Center, Scott Seligman recently wrote about this 1879 letter from Chinese-American merchant Wong Ar Chong to activist William Lloyd Garrison. As Seligman points out, "Chinese-American voices were rarely heard during the national debate over Chinese exclusion that swept the United States in the 1870s and early 1880s." Wong's letter—written in English, which was his second language—gives us the political perspective of a Chinese-American tea merchant living in Boston. 
Wong sent this letter to Garrison after the aging abolitionist and human rights activist engaged in a public argument with James G. Blaine, a senator from Maine who had recently advocated a bill that was a precursor to the 1882 Chinese Exclusion Act. Blaine was seeking the 1880 Republican presidential nomination, and looking to curry favor in the West by aligning himself with anti-Chinese forces.
After Garrison censured Blaine's bill—which proposed severely limiting trade and immigration with China—in a letter to the New York Tribune, Blaine replied via the Associated Press. Garrison wrote a longer rejoinder in the New York Tribune on February 27, 1879 (available in full here). Wong appears to have drafted this letter to Garrison the day after that long reply was published.
In his letter, Wong rebuts Blaine's arguments by invoking patriotism, fairness, and—over and over again—Christian ethics of kindness.
Click on the image to arrive at a zoomable version. My transcript follows.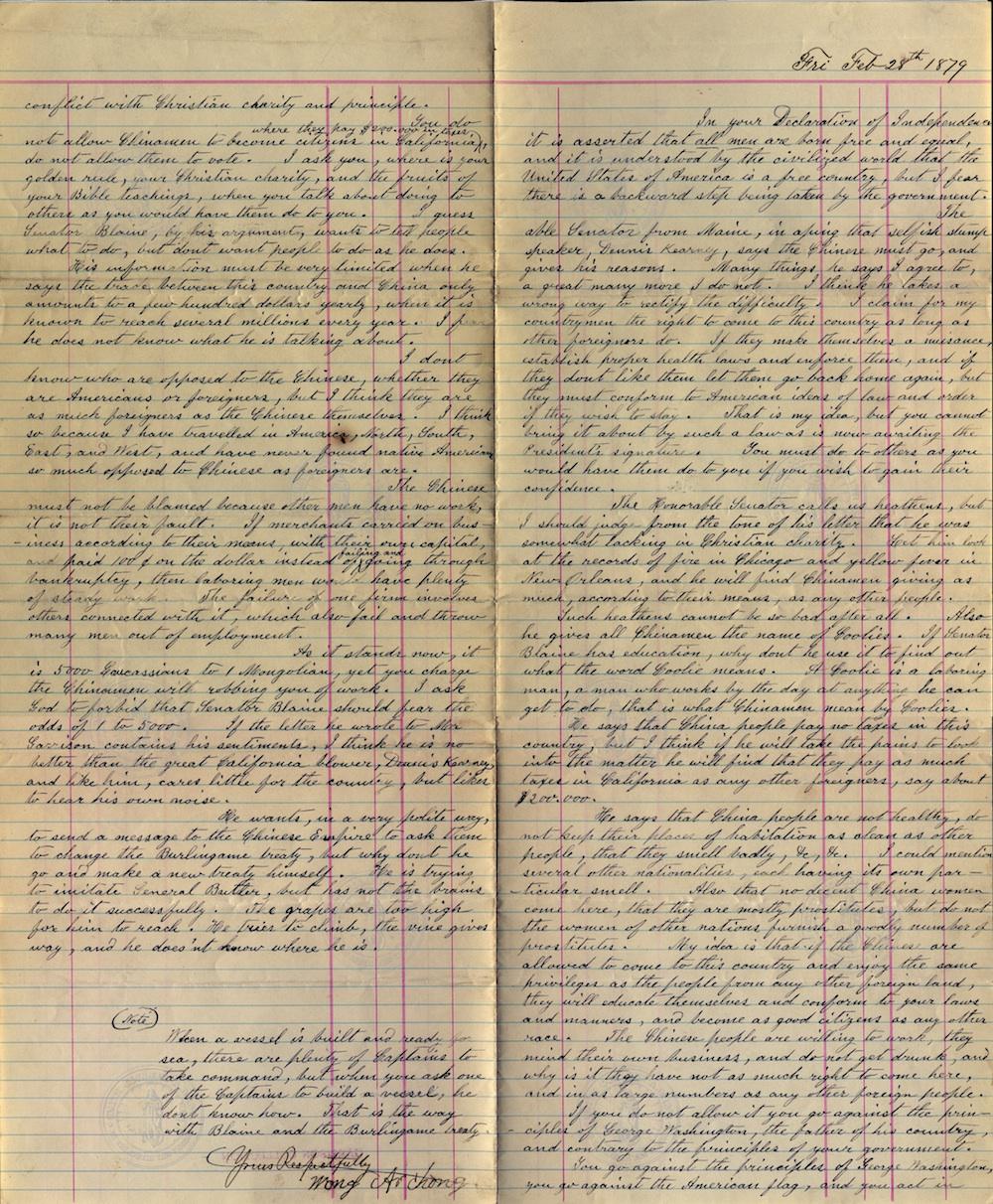 My transcript:
Fri Feb 28th 1879
In your Declaration of Independence it is asserted that all men are born free and equal, and it is understood by the civilized world that the United States of America is a free country, but I fear there is a backward step being taken by the government.
The able Senator from Maine, in aping that selfish stump speaker, Dennis [sic] Kearney, says the Chinese must go, and gives his reasons. Many things he says I agree to, a great many more I do not. I think he takes a wrong way to rectify the difficulty. I claim for my countrymen the right to come to this country as long as other foreigners do. If they make themselves a nuisance, establish proper health laws and enforce them, and if they don't like them let them go back home again, but they must conform to American ideas of law and order if they wish to stay. That is my idea, but you cannot bring it about by such a law as is now awaiting the President's signature. You must do to others as you would have them do to you if you wish to gain their confidence.
The Honorable Senator calls us heathens, but I should judge from the tone of his letter that he was somewhat lacking in Christian charity. Let him look at the records of fire in Chicago and yellow fever in New Orleans, and he will find Chinamen giving as much, according to their means, as any other people.
Such heathens cannot be so bad after all. Also he gives all Chinamen the name of Coolies. If Senator Blaine has education, why don't [sic] he use it to find out what the word Coolie means. A Coolie is a laboring man, a man who works by the day at anything he can get to do, that is what Chinamen mean by Coolies.
He says that China people pay no taxes in this country, but I think if he will take the pains to look into the matter he will find that they pay as much taxes in California as any other foreigners, say about $200,000.
He says that China people are not healthy, do not keep their places of habitation as clean as other people, that they smell badly, &c., &c. I could mention several other nationalities, each having its own particular smell. Also that no decent China women come here, that they are mostly prostitutes, but do not the women of other nations furnish a goodly number of prostitutes. My idea is that if the Chinese are allowed to come to this country and enjoy the same privileges as the people from any other foreign land, they will educate themselves and conform to your laws and manners, and become as good citizens as any other race. The Chinese people are willing to work, they mind their own business, and do not get drunk, and why is it they have not as much right to come here, and in as large numbers as any other foreign people.
If you do not allow it you go against the principles of George Washington, the father of his country, and contrary to the principles of your government.
You go against the principles of George Washington, you go against the American flag, and you act in conflict with Christian charity and principle.
You do not allow Chinamen to become citizens in California, where they pay $200,000 in taxes, do not allow them to vote. I ask you, where is your golden rule, your Christian charity, and the fruits of your Bible teachings, when you talk about doing unto others as you would have them do to you. I guess Senator Blaine, by his argument, wants to tell people what to do, but don't [sic] want people to do as he does.
His information must be very limited when he says the trade between this country and China only amounts to a few hundred dollars yearly, when it is known to reach several millions every year. I fear he does not know what he is talking about.
I don't know who are opposed to the Chinese, whether they are Americans or foreigners, but I think they are as much foreigners as the Chinese themselves. I think so because I have traveled in America, North, South, East, and West, and have never found native Americans as much opposed to Chinese as foreigners are.
The Chinese must not be blamed because other men have no work. It is not their fault. If merchants carried on business according to their means, with their own capital, and paid 100¢ on the dollar instead of failing and going through bankruptcy, then laboring men would have plenty of steady work. The failure of one firm involves others connected with it, which also fail and throw many men out of employment.
As it stands now, it is 5000 Caucassians [sic] to 1 Mongolian, yet you charge the Chinamen when robbing you of work. I ask God to forbid that Senator Blaine should fear the odds of 1 to 5000. If the letter he wrote to Mr. Garrison contains his sentiments, I think he is no better than the great California blower, Dennis [sic] Kearney, and like him, cares little for the country, but likes to hear his own noise.
He wants, in a very polite way, to send a message to the Chinese Empire to ask them to change the Burlingame treaty, but why don't [sic] he go and make a new treaty himself. He is trying to imitate General Butler, but has not the brains to do it successfully. The grapes are too high for him to reach. He tries to climb, the vine gives way, and he doesn't know where he is.
(Note) When a vessel is built and ready for sea, there are plenty of Captains to take command, but when you ask one of the Captains to build a vessel, he don't [sic] know how. That is the way with Blaine and the Burlingame treaty.
Yours respectfully,
Wong Ar Chong.
Update, June 4, 2014: An initial version of this post unintentionally omitted Scott Seligman's byline.