Few of the thousands of protesters arrested during the Occupy Wall Street protests in Zuccotti Park ever saw the inside of a courtroom. One of the exceptions, a young woman named Cecily McMillan, was convicted Monday of elbowing police officer Grantley Bovell during demonstrations on March 17, 2012. She faces up to seven years in prison. Here's a version of the video of the incident that the jury saw:
No one disputes that McMillan jammed Bovell in the eye. The question, however, is whether it was an act of self-defense. McMillan claims that Bovell grabbed her, hard, on the right breast, and she acted instinctively to stop what felt like a sexual assault. McMillan had evidence for this claim: a hand-shaped bruise on her right breast, which she and her advocates have shared widely online.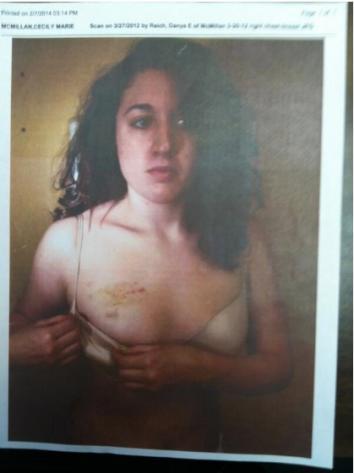 She also talked about her injuries with Amy Goodman on Democracy Now.

Prosecutor Erin Choi had an answer for these injuries, however: She strongly implied to the jury that McMillan injured herself after the fact and lied about it to garner sympathy. At times sounding like the defense attorney for an accused sexual assailant instead of a prosecutor, Choi painted a picture of McMillan as a hysterical liar throwing out false accusations, calling her claims "so utterly ridiculous and unbelievable that she might as well have said that aliens came down that night and assaulted her." She argued that McMillan didn't report the assault quickly enough, saying, "This is not someone who would be too shy to say she was sexually assaulted, if she was sexually assaulted." She also leaned on McMillan's medical history, according to the Village Voice:
McMillan also told one doctor shortly after the arrest that she wasn't in serious pain, but told another doctor two days later that her pain was a 10, the worst kind. "This defendant is not reliable and cannot keep her story straight," Choi said. She added that the first time McMillan's bruised breast was noted by a doctor was three days after the incident, when McMillan saw her own doctor at the Institute of Family Health. The prosecutor implied that McMillan had bruised her own breast. For Bovell to have grabbed her hard enough to leave a bruise and scratches, she said, he would have to have "razorblades as fingernails and a hot iron for a hand."
That could be evidence of faking, but it could also be that bruises change color and can hurt worse days later. McMillan also apparently suffered a seizure during the arrest, which was witnessed by multiple people and captured on video. Choi accused McMillan of faking that, too, calling it "the performance of a lifetime."
The jury was not permitted to hear about other accusations of police brutality against Bovell. But according to the Guardian, the same day as the elbowing incident, another Occupy protester accused Bovell of banging his head against seats during the arrest roundup. The Guardian also reports that Bovell was accused in 2010 of deliberately running down a 17-year-old boy on a dirt bike, causing the boy to break teeth and get a head wound stitched up. 
As you can see in the video, it's impossible to tell if Bovell did or didn't grab McMillan's breast. But the prosecutor's willingness to get so aggressive in her accusations against McMillan suggests to the public that the justice system is more worried about a protester elbowing a cop than the possibility that a cop is using arrest roundups as an excuse to sexually assault young women.