The ax has been around in one form or another for more than 1 million years. Now Finnish inventor Heikki Kärnä has revolutionized the age-old chore of chopping firewood by brilliantly redesigning the tool. The new and improved Vipukirves (Leverax) uses a "unique lever action" that is "considerably stronger than a traditional axe" to separate a log into sections, allowing the user to easily create a pile of firewood in seconds. The ax is painted in traffic-light red and yellow to make it easier to spot if left on the ground.
On his website, the 74-year-old inventor writes that he moved to "the gloomy forest of Sipoo" 20 years ago and began clearing trees to build a house, an arduous task that led to an obsession with improving on the tools he found at the local hardware store. He spent 15 years building numerous prototypes of his ax at a local steel workshop.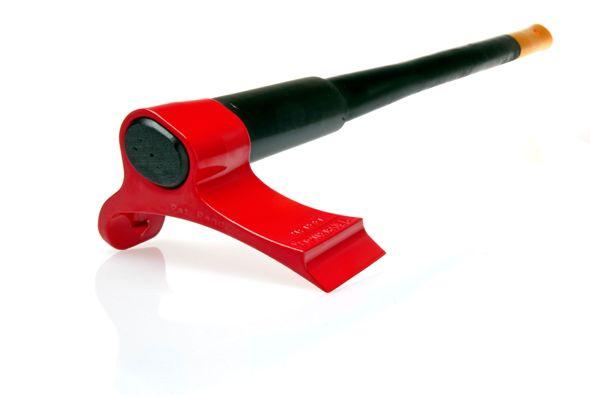 "At times the man was discouraged, but his persistent Finnish nature didn't allow him to give up," he writes. "The man continued developing a safer and more efficient axe; one that would allow him to conquer the roughest terrain; one that would be completely manual to overcome the lack of electricity in the middle of the thick forest; one that could be used where even a tractor could not get through, where the mossy forests are too precious to be destroyed by the digging machines."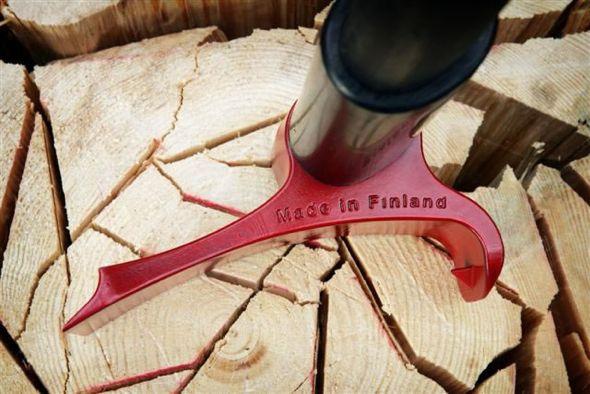 He had a design epiphany one day while levering stones with a crowbar, when it struck him that the crowbar's prying power over big rocks and stumps could also be applied to an ax.
The Vipukirves is used like a conventional ax, except that users are required to loosen their grip on the 3-foot-long birchwood handle when the blade strikes the log, as it automatically inclines to the right, creating torque that multiplies the splitting force and detaches the chopped portion from the log with a single strike. This prevents the blade from getting lodged in the log. The ax head is attached to the handle from the side and not through the center, changing the center of gravity of the ax and the strike line.
Here's a demonstration in slow motion:
The inventor provides instructions for how to build your own wood-chopping stand from a used tire, including step-by-step tips on wood-chopping form and safety advice, like refraining from using the ax while drunk or from allowing it to be handled by children. Another tip: "Don't hold the log with your hand while chopping. This could result in losing a finger."  
Kärnä's website urges you to "order Vipukirves now and chop your work in half!" but the ax—which costs $281 and has a 10-year guarantee—is temporarily out of stock.