Sunday night, British model Emma Appleton posted a screenshot of her iPhone to her Twitter feed, featuring a Facebook message—allegedly from the infamous fashion photographer Terry Richardson—that had just popped up on her phone. It read: "If i can fuck you i will book you in ny for a.shoot for Vogue." Within hours, Richardson's reps had called Appleton a liar, and Appleton had shut down her Twitter account to hide from the deluge of public attention hurtling her way.
This is a familiar news cycle for fashion's skeeviest photographer. Models go public with allegations of Richardson's harassing behavior. Richardson accuses the models of lying, defends his provocations as art, and criticizes the press for drumming up false controversy. Then, Richardson continues to work with A-listers like Lady Gaga, Miley Cyrus, and Beyoncé, while the lower-profile models who have spoken out against him are forced to shoulder the burden of sexual harassment in their industry.
"I didn't actually think it would blow up so much," Appleton told me over email Sunday night shortly after she posted the message. She says she tweeted it "because it's so inappropriate yet people think it's acceptable," but quickly took the tweet down after receiving "abuse" over it. For example, clothing designer Carlton Yaito told her (in a since-deleted tweet): "You're in the industry and you're surprised by that message? You're in the wrong industry, sweetheart." A rep for Richardson took the opposite approach, telling BuzzFeed: "This is obviously a fake. Terry did not send this text." Richardson's camp claims that Appleton faked the message. (Richardson didn't respond to an email request for comment.) Appleton then posted a note to her Instagram to clarify that she is not seeking attention over the matter. "I just want it to go away," she told me earlier in the evening. "Hopefully he gets stopped, though."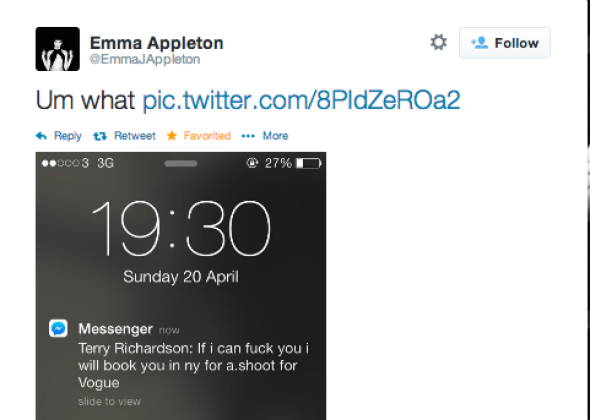 This is, as I mentioned, not the first accusation against Richardson. At least one model says she was forced to walk off Richardson's set when she refused to perform oral sex as a part of her duties. And it's worth noting that Richardson has not always favored flat denials of such tactics: In 2007, he told an interviewer, "It's not who you know, it's who you blow. I don't have a hole in my jeans for nothing."
Title VII of the Civil Rights Act of 1964 outlaws workplace sexual harassment where "submission to or rejection of [unwelcome sexual] conduct by an individual is used as the basis for employment decisions affecting such individual," or where the unwelcome sexual conduct "unreasonably interfer[es] with an individual's job performance" or creates an "intimidating, hostile or offensive working environment" for others on the job. Basically, sexual harassment laws were made to stem abuses of power from people like Terry Richardson. But these laws don't apply to independent contractors, like models and photographers shooting spreads for Vogue, because unlike employees, freelancers are free to take their talents elsewhere, where sex isn't part of the job description. That leaves the issue up to publications, journalists, advocates, and the models themselves to sort out.
U.S. Vogue told BuzzFeed that it has "no plans" to work with Richardson in the future and hasn't since 2010 (though international editions of Vogue have worked with him as recently as this year, and he also regularly gets paid by GQ, Interview, Harper's Bazaar, and the Wall Street Journal). The nonprofit organization the Model Alliance offers free assistance for models looking for help lodging complaints about sexual harassment on set. But Alan S. Gould, an attorney who works with the Alliance, told me that short of pursuing criminal claims of sexual assault, models don't have much legal recourse beyond speaking out. "If enough people complained publicly, I'd assume some of these publications would start to ask some questions about it," he says. Then again, "if these places do work regularly with the photographer, it might be that they've decided that he's just worth it." So until entertainment's most powerful institutions decide that it's simply wrong (or else bad for their brands) to keep working with harassers, the Terry Richardson news cycle will keep repeating itself. As Appleton put it: "There are too many young, vulnerable girls this industry can exploit."