The Vault is Slate's history blog. Like us on Facebook, follow us on Twitter @slatevault, and find us on Tumblr. Find out more about what this space is all about here.
This Washington, D.C., Metropolitan Police Department logbook for the night of April 14, 1865 records the news of the Lincoln assassination in the bottom right-hand entry.
The book catalogs the mundane police business of the night, noting the names of officers who were on duty at this unidentified precinct and reporting on arrests for assault and threats of violence. The assassination entry breaks into the everyday flow, and the officer on duty offers a rare editorial comment, calling the news "melancholy intelligence."
The next page in the blotter lists the 17 witnesses who had identified Booth, including workers at the theatre and audience members who had tried to subdue the assassin in the aftermath. Booth, an actor, was a public figure, and took no care to keep his involvement in the assassination secret.
The report also mentions the coordinated stabbing attack in the household of Secretary of State William Seward, mentioning that the attacker was "supposed to be" a "John Serrett" (John Surratt). In fact, though Surratt was involved in the conspiracy, it was Lewis Powell who bluffed his way into Seward's sickroom and attacked the Secretary, his son, and his bodyguard.
This logbook almost became trash, before it was rescued by an MPD employee who happened to see its historical import and pulled it from a dumpster where records were being discarded. The employee had the logbook for decades before former D.C. police chief Maurice Cullinane arranged for its 2008 donation to the National Archives.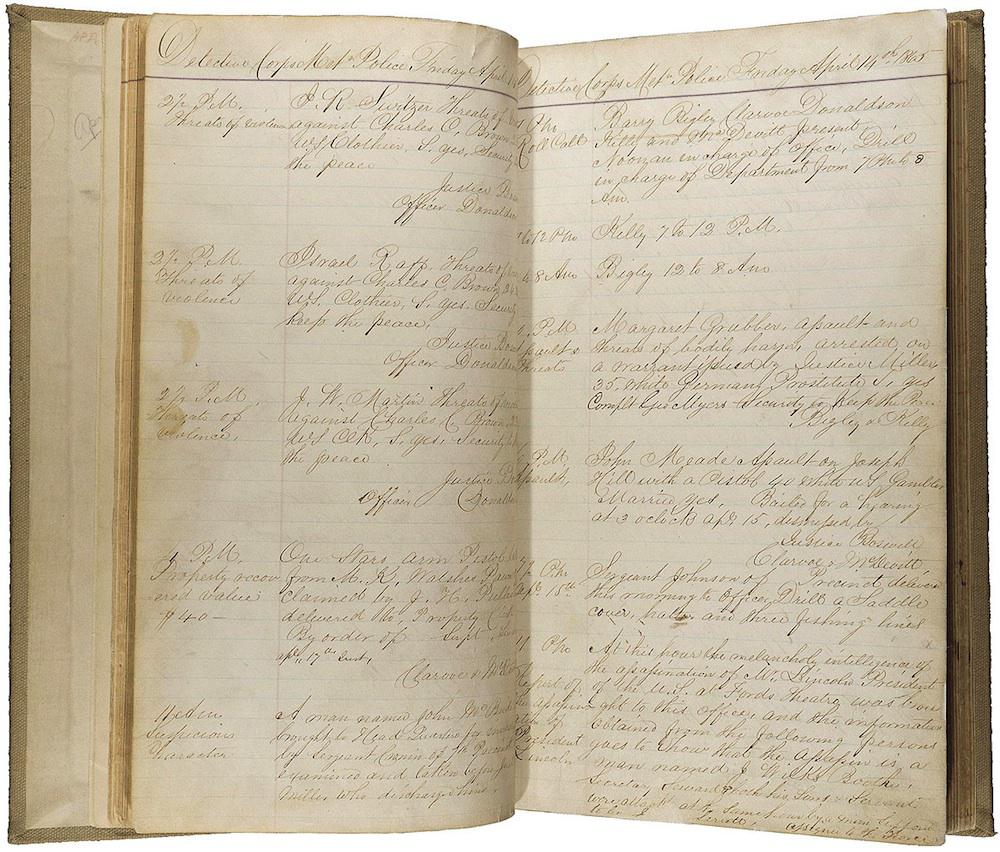 My transcript:
At this hour the melancholy intelligence of the assassination of Mr. Lincoln President of the U.S. at Fords Theatre was brought to this office, and the information obtained from the following persons goes to show that the assassin is a man named J. Wilks [sic] Booth.
Secretary Seward & both his sons & servant were attacked at the same hour by a man supposed to be John Serrett.