When Hasbro last week revealed the 16 finalists in its add-a-word-to-Scrabble contest, devotees of geocaching—the game in which people hunt for hidden treasures using GPS-enabled devices—noticed that geocache was among the contenders. Word spread quickly in the geocaching community. Shortly after first-round voting began, the Geocaching.com Twitter feed asked its 56,000 followers: "Should 'geocache' count in Scrabble? Say heck yeah! Comment 'Geocache' on Hasbro's FB page."
Bitcoin didn't stand a chance. And, thanks to a steady get-out-the-vote campaign by geocachers on Twitter and Facebook and in news groups, neither did the Scrabble-friendly words ew in the semifinals and zen in the finals. Like the undefeated Connecticut women's basketball team, geocache barely broke a sweat. "We didn't push the gas pedal all the way to the floor," Eric Schudiske, social media and public-relations manager for the geocaching website, told me. "But we wanted to make sure our community was aware of a moment in time that we could be part of something larger."
As much as I and other lexicographical diehards wanted this contest to be about words, the outcome confirmed it was about publicity. Hasbro reaped millions of dollars worth of media exposure—the winning word was revealed on Good Morning America on Thursday—for a classic brand that's hard to market. Merriam-Webster, which publishes the Official Scrabble Players Dictionary, got free advertising for a new, fifth edition to be released this summer. And the geocaching community—bigger and better organized than cosplay aficionados or bitcoin hoarders—got itself in a dictionary and onto national television.
And Scrabble? "We've been so punked," expert-level player Chris Lipe wrote on the Facebook page of the North American Scrabble Players Association, or NASPA, a player-run group licensed by Hasbro that oversees Scrabble clubs and tournaments. 
Many serious Scrabble players opposed the contest from the start. Scrabble has a formal process for updating its lexicon: adding words found in the standard college dictionaries that the game uses as lexical source books. None of the 16 words in the contest met that criterion. But the contest was endorsed by NASPA and the words were vetted by Merriam-Webster as on their way to inclusion someday. Scrabble players grudgingly recognize that Hasbro owns the game, even if its interest in the competitive culture has declined drastically, so most players were willing to go along with the contest. And once they did, many—including me—rooted for a word that actually would make a difference in how the game is played. 
GEOCACHE isn't that word. According to NASPA co-president John Chew, the probability of drawing GEOCACHE from a full bag of 100 tiles (98 letters and two blanks) is about 1 in 563,033. "This places it between LITTLEST and STATUTES (1/562,961) and IODOFORM/IODOPHOR/OILPROOF/OOSPORIC (1/563,275) in the 76th percentile of eight-letter words," Chew wrote. By comparison, the probability of drawing the most common eight-letters words—NOTARIES/SENORITA, ORIENTAL/RELATION, and others—is about 1 in 6,992
Put another way, there are 29,766 eight-letter words currently acceptable in Scrabble. GEOCACHE would rank 22,684th in terms of probability. Expert player Matt Canik noted that words such as CAZIQUES, XANTHOMA, and ZIGGURAT are about as likely to be drawn as GEOCACHE. (Scrabble players write words from the game in uppercase; a lowercase letter denotes a blank.)
In GEOCACHE's defense, the word is a potential extension for ACHE and CACHE. If a player were to open a game with CACHE, with the first C on the double-letter score square, a G-E-O front-extension to the triple-word score square would net 48 points. Earlier this week, an expert named David Koenig was playing a game on Facebook when he held the letters A, C, E, G, O, and both blanks. He slotted GEOCAChe through the second C and took a screenshot (and then played COAGEnCy in the same place).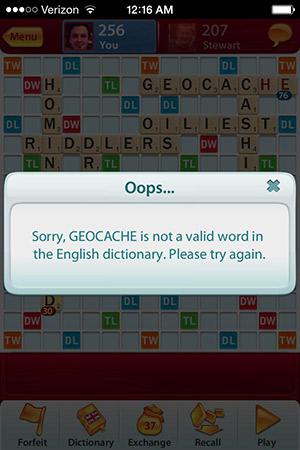 But in terms of how Scrabble is played, either of the losing short words would have been a better choice.* A lowercase zen—which is to be added to Merriam-Webster's unabridged online dictionary later this year—would have been just the 25th three-letter word containing a Z in tournament Scrabble (but only the 24th in the OSPD; LEZ is excluded because it's defined as an offensive term). Ew would have been even more dramatic. While any new two-letter word expands hooking and scoring possibilities, ew also would have severely reduced the defensive value of the W, the front side of which no longer could have blocked words starting or ending with an E.
With the new word made permissible for the five-day, 31-game National Scrabble Championship in August, players would have had just four months to adjust their brains to playing and defending against ew. Not an insurmountable challenge but, believe it or not, a significant one; when you play as much Scrabble as competitive players do, incorporating major changes—like the addition of QI and ZA in 2005—takes time. So some experts were relieved when GEOCACHE won.
"On one hand, I'm disappointed that EW—which I've long felt should be in the list of two-letter interjections along with AH, AW, EH, ER, HM, MM, OH, OI, OW, OY, SH, UH, UM—didn't make it," expert Brian Galebach wrote on the NASPA Facebook page. "But on the other hand, I'm glad that a word which will have pretty much zero impact on the game was chosen, given the way that Hasbro is forcing the acceptability of this one word at Nationals on us." NASPA's other copresident, Chris Cree, was concerned about the short turnaround time for ew to be playable at the championship. He voted for GEOCACHE over both short words.
I would have preferred ew or zen; more short words equals more dynamic play. I also think GEOCACHE was a weak choice for the contest because the nouns GEOCACHING and GEOCACHERS were already slated to join the Scrabble list this summer (they were added to Merriam-Webster's Collegiate Dictionary in 2012). But I'm willing to extend a hand to the verb GEOCACHE, along with its -CACHES, -CACHED, and -CACHING forms, and invite geocachers to use their GPS devices to find a Scrabble tournament. Despite its limited utility in Scrabble, GEOCACHE is a worthy word, with citations dating to 2000 and a robust subculture with undeniable social media pull. 
*Correction, April 18, 2014: This piece originally misstated that the word zen lost in the semifinals of the add-a-Scrabble-word contest. It lost in the finals. (Return.)