TESTChocolatiers love a holiday, be it Christmas, Valentine's Day, or Easter. The French version of the Easter Bunny is Easter Bells (les cloches de Pâques)—which allegedly fly to Rome for a few days before the holiday to be blessed by the Pope before returning with chocolate eggs for the kids. But you don't have to hunt very far to find French chocolate and pastry shop windows full of Easter eggs all trying to out-cute, out-class, or simply out-design one another…
Good-looking pastries and other sweets are a modestly priced pleasure in France. But like fashion designers, French patissiers and chocolatiers often put out a signature showpiece that's more haute couture along with a ready-to-eat collection. Some of this year's best designs use the egg as a blank canvas and fine art as inspiration.
One example: Superstar French pastry chef Pierre Hermé—whose nickname is the Picasso of pastry—has issued a limited edition stunner of an Easter egg (above) made from Brazilian dark chocolate that is an homage to the paintings and metal sculptures of Swiss artist Beat Zoderer. Multicolored ribbons of chocolate flavored with citrus, red berries, and spices look like rubber bands stretched across a chocolate shell; inside, a secret drawer contains an assortment of chocolate, ostensibly since you won't want to break this beauty open like a piñata, given that it costs $290.
Fauchon's Easter egg collection is inspired by the paintings of French post-impressionist Henri Rousseau and includes this decadent limited-edition centerpiece Peacock Egg that's $48 for a 7-ounce version and a staggering $1,100 for an 18-pounder: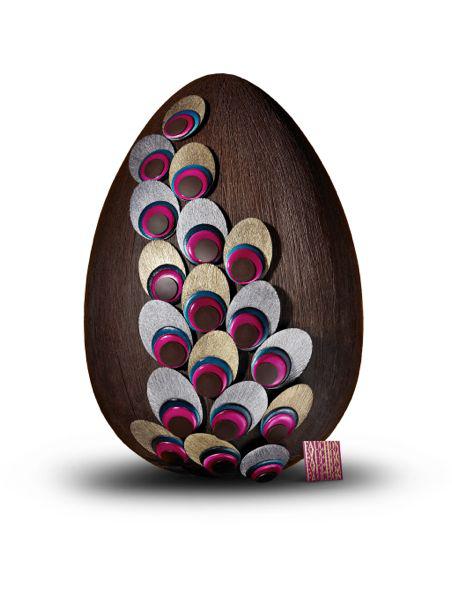 Some lower-budget art-inspired Easter egg creations this year are Parisian chocolatier Jadis et Gourmande's street art-inspired Easter eggs ($14-25), which include this stenciled homage to Jimi Hendrix …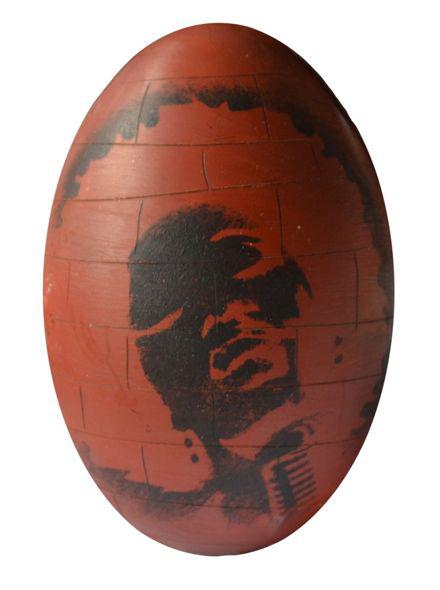 … and graffiti-splattered milk chocolate: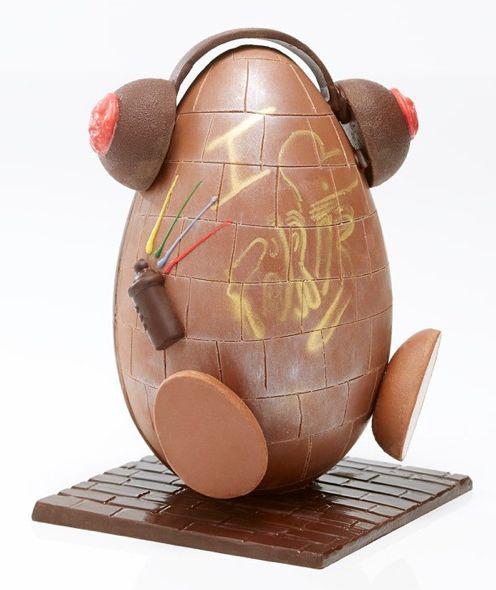 The Embruns egg ($93) by Parisian chocolatier Henri Le Roux is an artful souvenir of the waves that crash on the rocks of the Brittany coast (here rendered in chocolate-covered caramelized almond shards). Break the wave-painted egg shell and mini fish and shellfish in milk and dark chocolate tumble out.