This post contains drawings that may be NSFW.

When Anna Gensler downloaded Tinder six months ago, the mobile dating app quickly matched her with a selection of her city's most eligible bachelors. Then, they started texting. "Bet your tight," Andrew, 19, messaged right off the bat. "If I was a watermelon, would you spit or swallow my seeds," 20-year-old Kenny wanted to know in his first text. "8==D I love anal," contributed Mark, 26, by way of introduction. 
Gensler, an artist, was not charmed by their opening lines. In retaliation, she began drawing nude portraits of these online creeps, posting the results to Instagram next to their offensive messages, and then sending the final product back to the perpetrators for review. I talked to Gensler, 23, about the process of turning harassment into art, the psychology behind pickup lines like "your boobs are even nicer than my mom's," and why all the men in her portraits are so poorly endowed.
Slate: Tell me about the moment when you first thought, "I'm going to draw creepy guys naked."

Anna Gensler: I feel like this gets me in trouble a lot, but when someone does something I think is rude, I always want to give them a taste of their own medicine. I'm an artist, and I try to use art as my weapon, even though that sounds so lame. So I thought, "What is something I can do to make me feel the way that they're making me feel?" Obviously, I couldn't just send them back a sexy message, because they would love that. They would be like, "Yay, it worked!" So I just started doodling how I would imagine them naked … except sad-naked. It was the most immature thing I could think of, because their pickup lines are the most juvenile, basic things, but also still oddly offensive.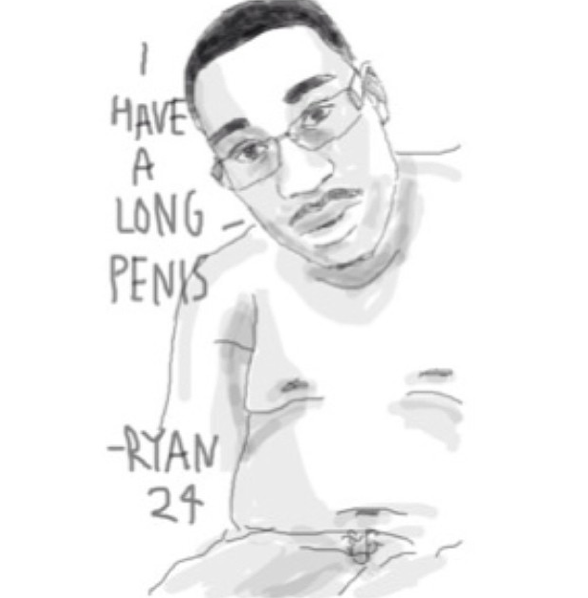 Slate: I've noticed that most of these men are rendered with small, flaccid penises. Especially Ryan, 24, who wrote: "I have a long penis." Is that a deliberate choice?
Gensler: Well, I didn't want to draw them in a way that would make them happy. They're all based off of these guys' profile pictures, so their faces and their general positions are the same, but from there I tried to make them look a little chubbier or scrawnier or just not particularly well-endowed. I wanted to prevent a reaction that was like, "Oh, she loves me and my hot body, let's have sex."
Slate: Have you learned something about the nature of creepiness by doing this project? There is some confusing stuff in here, like the 27-year-old guy who asks if you like middle-aged men, and the guy who says, "Your boobs are even nicer than my mom's."
Gensler: I don't know. I feel like, on the Internet, people can say whatever they want, and it doesn't really matter. I don't know if any people actually end up meeting anyone off of Tinder, so maybe they just think it's all a funny joke.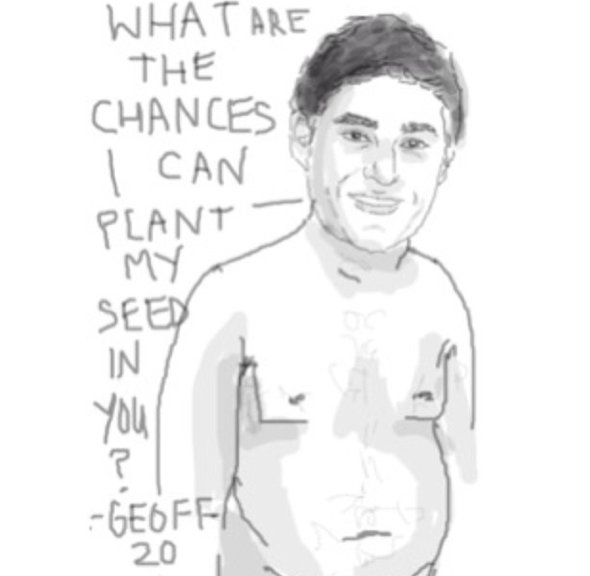 Slate: Have you gotten any positive responses from noncreepy men about the project?
Gensler: Yeah. First, I made the Tinder account, and then I was like, "Maybe there are even more creepy guys out there I'm missing out on!" So I made an OkCupid account and I put a warning to guys on there: "I'm going to draw you naked if you send me rude messages," and linked back to the Instagram. I thought that would creep out a lot of people enough to just not message me, but instead, I got so many messages from guys who were like, "This is the funniest thing I've ever seen! Can you please draw me naked?" They're totally missing the point if they act so nice.
Slate: Do you think the project has deterred some of the creeps?
Gensler: I feel like the guys who are really creepy don't even bother to read my profile at all. They're just like, "This girl has two arms and two legs."
Slate: Right: "I'll message her."
Gensler: "She's perfect."
Slate: How do men respond after receiving their portraits?
Gensler: There are a few approaches. Some of them get really angry and say a bunch of mean stuff. Some of them get a little bit offended and say, "Why am I so fat? My facial hair doesn't really look like that. My nipples are smaller than that!" They think I didn't do them justice. Some people just block me. But a couple of guys have actually said smart things after I sent it to them. But if you're smart and seem like a normal person, why are you using opening lines like "I love butt sex"?
Slate: It can't be a very successful strategy.
Gensler: I can't imagine that it is! I feel like girls get a lot of messages and matches on places like these, but I don't actually think that guys do, necessarily. You'd think that when they do get a match, they would actually try to say something nice and intelligent. But I guess not.