The Vault is Slate's history blog. Like us on Facebook, follow us on Twitter @slatevault, and find us on Tumblr. Find out more about what this space is all about here.
These personal ads come from The Water-Cure Journal, which began publishing in 1845. (Some volumes of the journal are available through the Internet Archive.) In a section called "Matrimony," placed at the back of the magazine, the readers of The Water-Cure Journal advertised for soulmates who shared their commitment to vegetarianism.
The water cure (or hydrotherapy), popular in the antebellum United States, prescribed baths and wrapping the body in soaked-through sheets in order to expunge toxins. Historian Adam Shprintzen, author of The Vegetarian Crusade: The Rise of an American Reform Movement, 1817-1921, notes that American hydrotherapy was strongly associated with vegetarianism. The Water-Cure Journal featured various articles on the health benefits of vegetable and "farinaceous" food.
By 1850, when the new American Vegetarian Society held its first meeting, people associated vegetarianism not only with the water cure, but also with a range of other progressive causes and beliefs. In these lonelyhearts ads, we can see which reforms were dear to the hearts of the people who were vegetarians before the Civil War. 
Thanks to Adam Shprintzen for his help.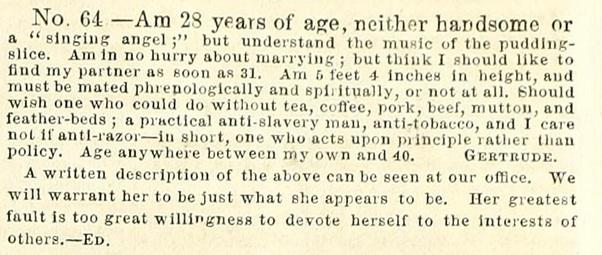 Phrenology was a common topic in these ads, as the overlap between vegetarians, reformers, and believers in that pseudoscience was significant. Fowlers and Wells, the publishing company that printed The Water-Cure Journal, also produced books and magazines about phrenology, and offered personal head exams. "F & W" administered the personals ads in The Water-Cure Journal, forwarding mail and even vouching for candidates who had paid for phrenological examinations.


Many women's ads mention singing or musical aptitude, or lack thereof. In a time before recorded song, musicianship was a desirable wifely quality.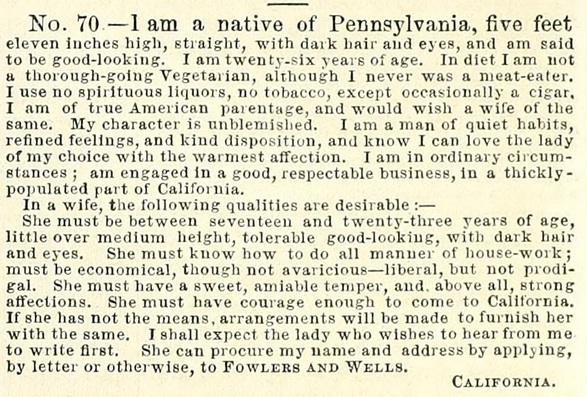 Many of the ads placed by men mention willingness to emigrate as a desirable trait in a mate (and many of the ads placed by women mention they'd be amenable to the idea).  

 "Teach young ideas how to shoot" comes from a 1728 poem by James Thomson about the art of teaching ("shoot" refers to the sprouting of a plant, rather than the firing of a weapon).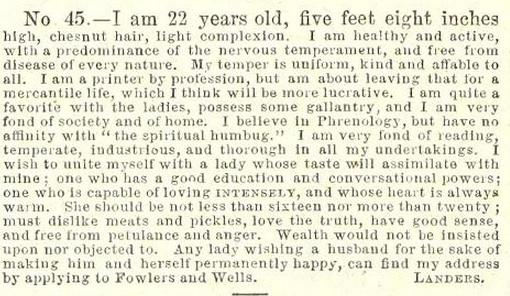 Many male ads mention liking "Bloomers," or those who advocated dress reform for women. Some men specified wanting a wife with a "natural waist."

Authors of these ads—both male and female—were commonly quite forthcoming about their financial situations. Some explicitly advertised for someone who wouldn't mind marrying an impoverished mate, while others told the world about their small fortunes, soliciting respondents who could bring an equal nest egg or earning power to the match.