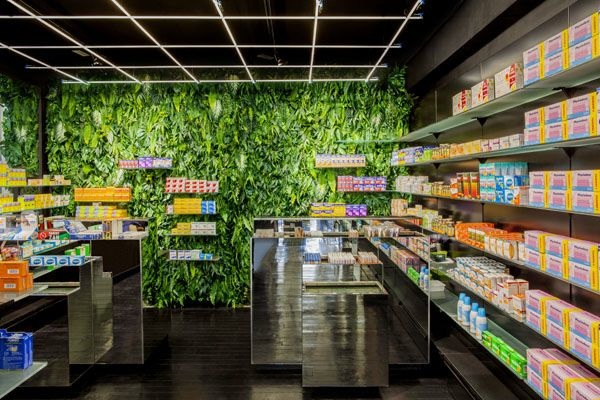 The most recognizable design element of the French pharmacy is the bright green, sometimes blinking, illuminated cross that beckons on nearly every block to let locals know that over-the-counter codeine is a few euros away and let every out-of-town model or beauty blogger know that a roomful of cult French beauty products awaits.
But the quaint old-style French pharmacies with vintage carved wood apothecary shelves are a disappearing breed, and the majority of modern Parisian pharmacies are cluttered and uninspired from a design perspective, as sterile as the pharmacy section of your average CVS (in France, the pharmacy sells only medicine and health and beauty products).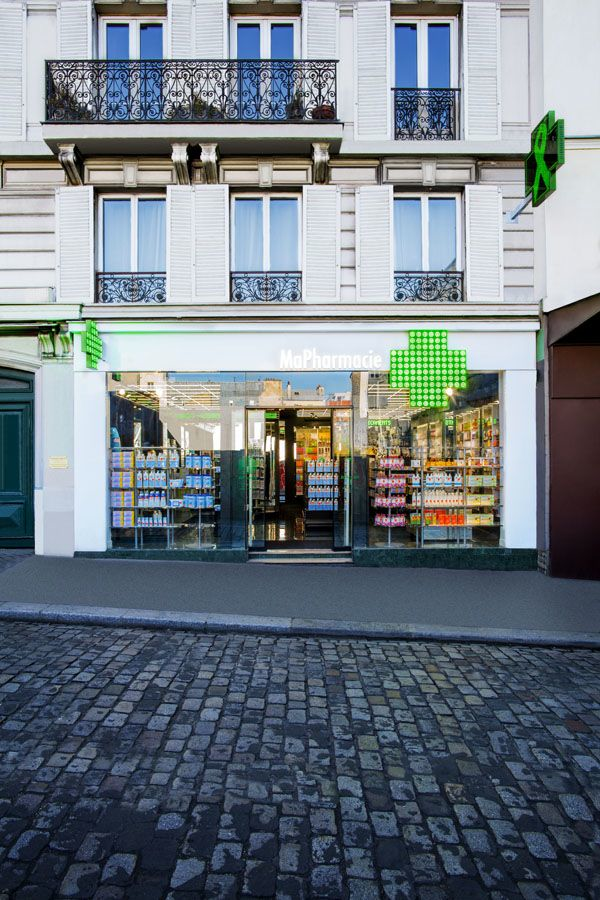 French interior designer José Lévy and French pharmacist/radio personality Michael Zazoun took a stab at injecting some design personality into the French pharmacy in 2010 with MaPharmacie (My Pharmacy) at 1 rue des Tournelles in the Bastille neighborhood. And the duo has just introduced another design-forward branch at 44 rue Faubourg du Temple in the République area.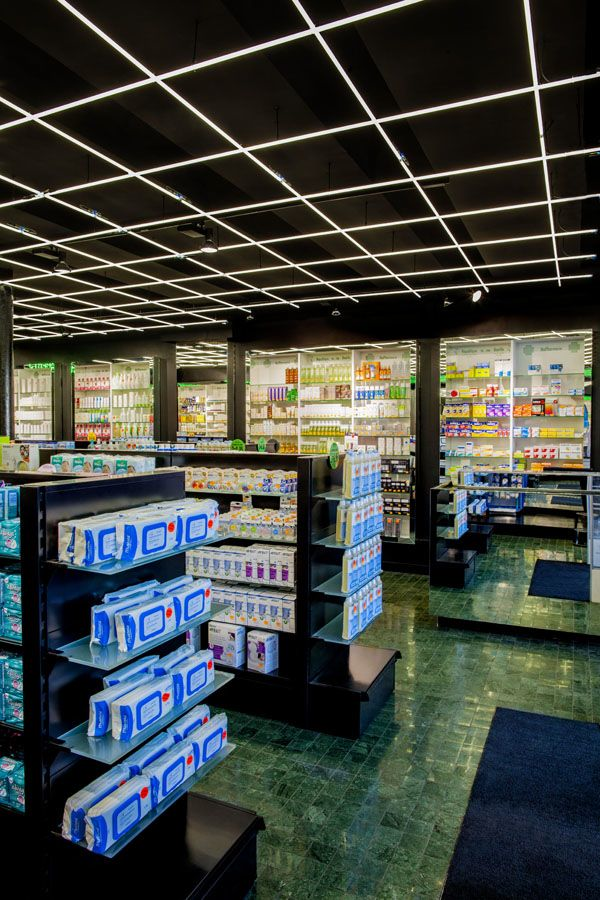 Lévy told me by phone that he wasn't trying to reinvent the pharmacy, just to play around with its codes. "I wanted to tap into the collective unconscious idea that everyone in France has of a pharmacy," he said, "which is the only kind of shop that literally everyone from every social class goes into."
The original project, he said, was a remodel of an existing pharmacy that had no charm, ugly floor tiles, and a disgusting false ceiling. "If I had been rethinking a pharmacy with lovely old sculpted wood shelves, then I would have approached it differently," he said, "but it was like starting from nothing, from a blank page. It wasn't situated in any one time period, so I wanted to turn it into an object that really looked like today."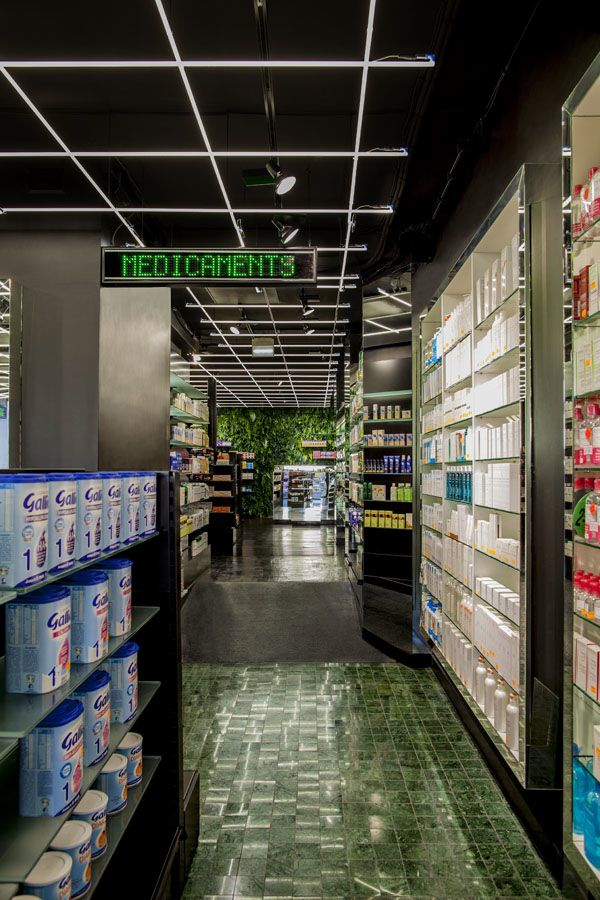 MaPharmacie respects the archetype of a pharmacy while glitzing up the details. The design features green Guatemalan marble floor tiles instead of the generic standard white variety. A synthetic vertical plant wall separating the space behind the pharmacy counter and the stockroom is meant to playfully transform your local pharmacist into a shaman diving into an Amazonian Forest to retrieve natural remedies for what ails you. (Lévy said he chose a synthetic plant wall for practical reasons but also as a nod to the synthetic transformation of plants into medicine.)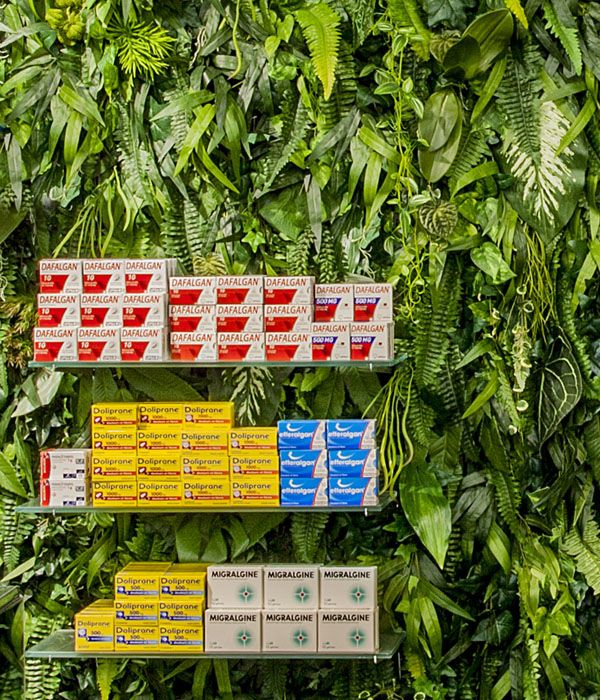 The goal was to create a reassuring atmosphere for the majority of people who enter the pharmacy space who aren't feeling well or have a measure of anxiety, Lévy said. But he didn't try to create a calming atmosphere, injecting it with color, bling, and personality instead. He used the traditional neon lights found in drugstores but made a playful ceiling grid out of them. And he used clear plexiglass, black, and mirrored countertops and shelving. Ads run on an LED strip off to one side of the pharmacy counter.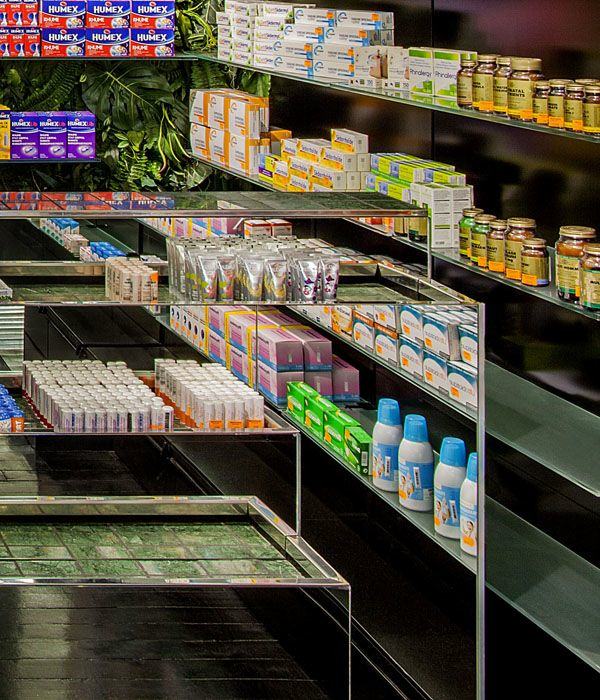 Lévy said that he and Zazoun have talked about trying to export the concept to other countries in need of a pharmaceutical design intervention. "Why not?" he said. "But mostly what I want to show people is that you can create something ugly or beautiful with exactly the same budget."
---