Most gay men already know that the more masculine you present in online dating profiles, the more interest you will attract. I've always known that, aside from being black, my feminine, flowing, chest-length locks were the greatest deterrent to my own success, which is why I logged off altogether for a while. However, recently, I started wondering if the masculine vs. femme assumptions were true, so I signed on for a few weeks to conduct a little experiment. The results are pretty interesting—predictable, but still interesting.
The Backstory
I stopped looking for dates online more than a year ago because it's just not a productive use of my time. My greatest strength is my personality, and I'm not very photogenic. Add that to the fact that black men are virtually invisible on online dating sites (unless you are in the top 5 percent of musculature and attractiveness) compared to white men (who can be completely average in every way and still fill a social calendar), and it became clear to me that looking for dates on the Internet was pointless for me, personally.
That said, I ended up in West Hollywood last month all by myself. I was alone in one of the gayest neighborhoods in the world, so, I thought, why not check the online presence? I downloaded Grindr, Scruff, and the mobile applications of OkCupid and Adam4Adam with the intention of deleting them once I got back to real life. The important thing to note here is that I was using my typical profile picture, a standard selfie looking at the camera, with my hair down much the way it is in my everyday life.
The Plan
As I came across the Triborough Bridge into Manhattan, I eyed my phone and wondered if I'd see the same faces from the last time I was online. NYC has a really high turnover rate because every queen east of the Mississippi who wants to get out of their small town and follow their dreams usually ends up here at some point. Then they realize it's expensive, cold, rude, and dirty so they go back where they came from.
Anyhow, nothing changed. Nobody really sent me any messages, and given that being ignored by men is hard on my self-esteem, I was just about ready to delete the dating apps again when I stopped short: Could it be that my femme look was to blame for the cool reception? Maybe a more butch look would attract the attention I wanted—surely a test wouldn't hurt, right? I decided to try out my hypothesis on Scruff.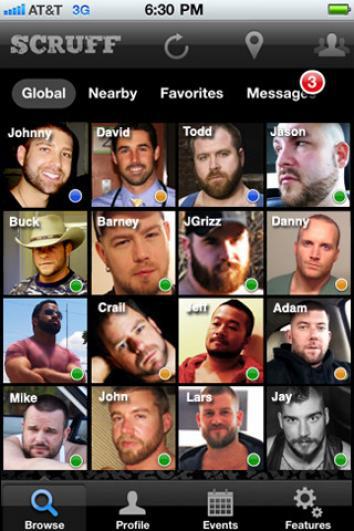 For all of the straight people reading, Scruff is a location-based smartphone app where gay men can find, chat, and connect with each other. You upload a photo and then write a profile, which can be as short or as long as you want. Once you open the app, all of the registered gay men in your vicinity who are also online at the time will show up. I should mention that Scruff is ostensibly pitched to a more masculine, "scruffy," type of guy, but in my experience, all kinds of guys actually use it, though in smaller numbers. While you will still encounter a lot of beards and body hair on the grid, the app has definitely evolved from being Grindr's manlier cousin to make room for more variety.
I also chose Scruff for two experimentally important reasons: 1) Unlike Grindr, Scruff allows you to write an actual profile, meaning I could test my visual variable against a control of wit and intelligence and 2) Unlike OkCupid, only one picture is shown unless you unlock others. I didn't want prospective chatters to see other pictures because I wanted to cultivate a specific image.
The Experiment
I was on Scruff for 14 days with my hair down and fully visible in all its luscious glory. The actual text of my profiles is always amazing, and I don't say that just because I think so. My friends think so, and I've written more than a few OkCupid profiles for my friends that immediately led to relationships. Anyway, in those 14 days I received four messages, four conversations resulting from messages where I had made the initial contact, and three woofs, which are like hey, you're cute but I'm too lazy to say hi so this is like a Facebook poke. These numbers were fairly disheartening, especially when you sit across from one of your friends at dinner who has 15 new messages every time he opens his phone.
After changing my profile pic to something more butch—again, face-forward but with less expression and my hair pulled out of sight under a baseball cap—my screen lit up with two messages in the first 10 minutes. Over the course of 10 days I received 28 messages, had 29 convos based on my initial message, and scored 36 woofs. While these numbers are not massively high (I don't do half-naked pics and I'm black), the butch factor clearly had an impact.
Some Discussion
Remember that I kept profile text—the information that actually gives you some insight about who I am—the same in both iterations of the profile. With that in mind, what immediately stood out to me was the fact that guys who didn't respond to me when I tried to initiate conversation during the "femme period" then proceeded to message me shortly after I changed my picture. Clearly they read none of the text; if they had, they would have realized they were talking to the same person. In other words, those guys were only looking at the picture and basing their decision about whether or not to interact solely on that.
That's perfectly fine as it goes: Scruff is a gay app, and it's fairly common knowledge that a large chunk of users only want to have sex. To counteract that, I make sure to only message guys who say they are looking for dates and friends. If you're looking for those things, visual cues shouldn't matter as much, right? You think "hey this guy is funny and smart and has a lot of interests—I think I might wanna get to know him better." Well, obviously that wasn't the case, given my low numbers in Stage 1.
When I did start getting pings, I tried to arrange dates with a few guys—if we can get past the initial contact issue, I'm really good at turning on the charm. Unfortunately, many of the guys with whom I was making plans—after great conversations online, of course—would cancel or stop responding completely once I let them see other pictures. For example, I had been talking to this one guy for a few days; he thought I was funny, I thought he was smart, he wanted to have coffee and maybe take a walk in the park since it was going to be nice out. But then I sent him other pictures in which you can tell I have long hair. His response: Wow … I wasn't expecting that. I thought your hair would be close-cropped. I tried to make a joke about it … and never heard another word from him. Some version of that scenario happened nine times total.
Conclusions
Believe it or not, I didn't come out of this experiment feeling bad about myself—just smarter about the way gay men (or perhaps men in general) place way too much emphasis on silly characteristics like beards and ballcaps (hint: that's why you're all still cranky and single).* And really, I don't think having long hair itself is the big hang-up; it's what my hair implies. Having long hair (especially for a black man) means you're probably a bitchy dramatic queen that nobody wants to date. Even if the assumption isn't that extreme, the underlying fear is "you spent too much time on your appearance and that's not masculine." That's frustrating, of course, since stereotypical masculinity takes just as much work—we just don't think of it that way. I remember chatting with this scruffy, fairly muscular guy with tattoos and chest hair and an Instagram full of masc pics; once we got to talking, he revealed his obsession with Beyoncé and said "yasss!" every other paragraph. But no matter—his picture is butch, so his dating life is always full. 
As for me, I like my hair, and I like my style; right now, I don't feel the need to change myself to attract 5 percent of the population when the other 95 percent gives me snaps. It'll always bother me at least a little to watch the whole gay dating scene from the outside, but for the moment I'd rather be unique than put on another interchangeable, expressionless "masc" mask.
*I suppose this isn't only applicable to gay dating. Since I've changed my picture to the bro version on Tumblr I've gotten about 1,200 new followers over 10 days and my Facebook activity spiked as well. Seems like a lot of people—gay and straight—prefer butch to femme, at least when it comes to bloggers who write about serious issues like race and politics in addition to just reality TV and celebrity gossip.