On Jan. 27 in the Daily Beast, Robert Weide, director of the two-part PBS special Woody Allen: A Documentary, wrote a 5,600-word defense of Allen against allegations that he molested his 7-year-old daughter Dylan Farrow in 1992. A few days later, Dylan, now 28, published her own account of the alleged molestation in the New York Times. Dylan's open letter convulsed the Internet, forcing Allen's defenders to confront the public statements of an adult woman who says, with no caveats, that she was sexually assaulted by her father.
In the aftermath of Dylan's essay, Weide's Allen apologia seemed, at best, embarrassingly timed. At least, that's what I assumed everyone who had read the Daily Beast piece would think. But very many people did not agree.
New York Times reporter Steven Greenhouse, sharing Weide's article on Feb. 2, said that it "raises serious questions about Dylan's allegations of sexual abuse." The following day, no less than the Times' public editor, Margaret Sullivan, linked to Weide's piece and wrote, "I urge those who have not yet done so to read Mr. Weide's illuminating article. It provides essential context." Also on Feb. 3, tech-journalism superstar Kara Swisher tweeted Weide's article to her 930,000 followers, calling it "the counter" to Dylan's letter. And on that same day, Michael Wolff praised Weide's piece as "detailed and powerful" in an unhinged Guardian column that hypothesized that the "rehashed scandal" was being revived in the public memory to raise the public profile of Allen's ex-partner Mia Farrow and her son, Ronan, both of whom made public statements in support of Dylan after Allen was honored at last month's Golden Globes ceremony. (Weide worked on the celebratory montage of Allen's films for the broadcast.)
Given all the accolades, is Weide's Daily Beast piece actually "detailed and powerful"? It is certainly detailed. And yes, it's powerful, in its own way. Weide's long essay is full of sleazy innuendo, bad-faith posturing, and passive-aggressive self-promotion. Like the recent Grantland piece "Dr. V's Magical Putter," one wonders—one hopes, actually—that smart people have been sharing the article approvingly because it was long and seemed interesting, not because they'd actually read it.
The first thing you need to know is that this is what Robert Weide's Twitter profile looks like.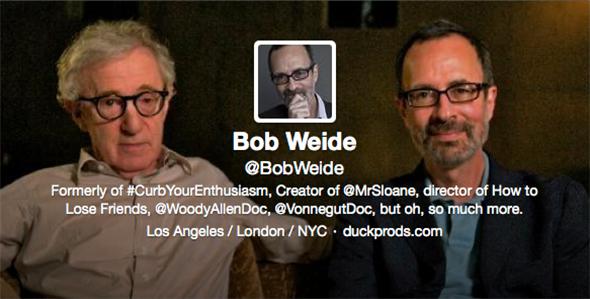 How can we possibly trust a young woman's firsthand account when we've got this fellow to patiently explain the situation to us?
Now let's turn to the article itself, which promises a "closer examination" of charges that Allen molested his daughter. Here are some highlights from its first 1,800 words:
Weide uses Dylan's current name, though she prefers to keep it private. Later, when called out for this on Twitter, Weide justified the choice by digging up a 1 ½-year-old tweet from Mia Farrow that referred to Dylan by her current name.
Weide clarifies that Farrow's daughter Soon-Yi Previn, whose affair with Allen when she was 19 pulverized the Allen-Farrow household, was in no way like a family member to Allen, despite the fact that she was his children's sister and his longtime partner's daughter.
Weide quotes Ronan Farrow's famous condemnation of Allen—"He's my father married to my sister. That makes me his son and his brother-in-law. That is such a moral transgression"—and then adds: "However, this particular dilemma might be resolved by Mia's recent revelations that Ronan's biological father may 'possibly' be Frank Sinatra, whom Farrow married in 1966, when she was 21 and the crooner was 50." This passage doesn't track—it's not clear if the "particular dilemma" is the Woody/Soon-Yi relationship or Ronan's feelings toward it. But the upshot is that if Farrow did indeed sleep around, then that's a lucky break for Ronan, who can rest easy about the whole Soon-Yi situation.
Weide then spends two more paragraphs auditing Mia Farrow's sexual history. Alleged victims of sexual assault are commonly subjected to such scrutiny, but when we're dealing with a 7-year-old, it seems her mother will serve just fine by proxy.
All of that is just an appetizer. It's when Weide finally arrives at his ostensible subject—unpacking the child-molestation accusations—that the piece becomes most noxious.
Here is Dylan Farrow's account of the events of Aug. 4, 1992, in her mother's Connecticut home, called Frog Hollow, as it appeared in the Times:
When I was seven years old, Woody Allen took me by the hand and led me into a dim, closet-like attic on the second floor of our house. He told me to lay on my stomach and play with my brother's electric train set. Then he sexually assaulted me.

And here is Weide's:
During an unsupervised moment, Woody allegedly took Dylan into the attic and, shall we say, "touched her inappropriately."

The "shall we say" is the worst rhetorical crime in a piece brimming with them, glibly framing an unconscionable act as a bit of innuendo. It's the skeleton key to the entire article's sneering cluelessness.
What's most galling about Weide's writing is its preening faux-gentility. He adopts the pose of a gentleman who is above the fray. He is "not here to slam Mia," who is "an exceptional actress." He is not "blaming the victim," Weide insists. He is "merely floating scenarios to consider."
The scenarios that he floats are thinly veiled smears, not-quite accusations that Weide shovels in at regular intervals. I'm not saying that Mia and Dylan Farrow are liars, he insists throughout the piece, but if you come to that conclusion then I wouldn't disagree.
Here is a representative passage:
Much is made by Mia's supporters over the fact that the investigative team destroyed their collective notes prior to their submission of the report. Also, the three doctors who made up the team did not testify in court, other than through the sworn deposition of team leader Leventhal. I have no idea if this is common practice or highly unusual. I won't wager a guess as to what was behind the destruction of the notes any more than I'll claim to know why Mia stopped and started her video camera while filming her daughter's recollections over a few days, or who was alleged to have leaked the tape of Dylan to others, or why Mia wouldn't take a lie detector test. (Woody took one and passed.)

Given one data point that points to Allen's guilt, Weide will offer up three more that imply his innocence. He doesn't follow through on these insinuations, and constantly pleads ignorance on their significance, and that's fine by him. His rhetorical aim is to cast doubt.
Weide spends the middle section of the essay cherry-picking the strikes in Allen's favor: a Farrow household nanny's doubts that Allen did anything wrong without any reference to the other childcare providers who had deep suspicions; the Yale–New Haven Hospital investigative team's conclusion that Dylan likely had not been molested; an early inconsistency in the 7-year-old's testimony; the Connecticut state attorney's office's decision not to press charges against Allen.
This accounting of evidence will not be unfamiliar to those who have followed the case. The one bit of new information is this bizarre bury-the-lede aside about Dylan's older brother, Moses.
Moses Farrow, now 36, and an accomplished photographer, has been estranged from Mia for several years. During a recent conversation, he spoke of "finally seeing the reality" of Frog Hollow and used the term "brainwashing" without hesitation. He recently reestablished contact with Allen and is currently enjoying a renewed relationship with him and Soon-Yi.

It's not clear that the "recent conversation" is with Weide or someone else, but if Weide did conduct an interview with Moses, that's huge. Allen and Farrow's oldest child, Moses has been conspicuous in his absence from the renewed controversy; he was a central figure in Allen and Farrow's epic 1990s custody battle, when the teenager refused to see his father. In a 1994 decision, the Appellate Division of the Supreme Court of the State of New York, discussing Allen's continued relationship with Soon-Yi, cited "the obvious ill effects it has had on all of the children and the especially profound effects it has had on Moses."
If Moses has indeed cut off contact with his mother, reconciled with his father and sister/stepmother, and is talking to Weide about it, then it's extremely puzzling that Weide chooses to quote Moses using a grand total of five words' worth of sentence fragments. It's one of many moments in the Daily Beast piece where the lack of editorial judgment is glaring. Update, Feb. 5, 2014: In a piece published online on Wednesday, Moses Farrow spoke with People magazine at greater length to defend his father against the molestation allegations, which he described as false. "My mother drummed it into me to hate my father for tearing apart the family and sexually molesting my sister," he told People. "I see now that this was a vengeful way to pay him back for falling in love with Soon-Yi." Moses Farrow also stated, "Of course Woody did not molest my sister." Also in People, Dylan Farrow responded to her brother's comments: "My memories are the truth and they are mine and I will live with that for the rest of my life."

The last third of the piece is in keeping with the first third: not a "closer examination" of the molestation accusations but a grab bag of tendentiousness and disingenuity masquerading as "context." Weide's got cutesy anecdotes about Allen's teenage daughters, the ones he adopted with Soon-Yi Previn. He reminds us yet again that Ronan Farrow may not be Allen's biological son, which for Weide is a twofer: a proof of his mother's licentiousness and, bizarrely, a pretext for excusing his father's sexual relationship with Ronan's sister.
In fact, the real subject of Weide's piece isn't Dylan Farrow or even his main man Woody Allen. It's what Weide sees as Mia Farrow's hypocrisy. She's a hypocrite because she's friends with convicted rapist Roman Polanski. She's a hypocrite because her brother is a convicted child molester—"a more mischievous part of me," Weide writes, wanted to tweet about Mia's brother's abuse of children during the Golden Globes. She's a hypocrite because she approved a clip from The Purple Rose of Cairo for Allen's Golden Globes tribute, and then publicly complained about the tribute. "This woman needs to get over herself," Weide writes of Mia Farrow.
And isn't that the wish of all of Woody Allen's defenders, that these women would just get over themselves? (Stephen King, for one, tweeted that Dylan's letter smacked of "palpable bitchery.") Weide's piece performs a neat substitution of Mia for Dylan, performing a greasy character assassination of the mother as if it could dismantle the daughter's claims. That Dylan has now spoken for herself—in her own words, standing 100 percent behind the story she told over and over and over again to a team of investigators 21 years ago—should grind Weide's piece to dust.
That's not how Weide sees it. In an editor's note appended to the bottom of his piece, he writes:
This continues to be a very sad story from every angle. I can only say I found nothing in Dylan's letter that hasn't previously been alleged in the two previous Vanity Fair articles, which I've already addressed. I also see nothing that contradicts what I wrote for The Daily Beast. If I wrote it today, it would be exactly the same piece. As I've already stated in my article, I hope she finds closure, and I sincerely wish her all the happiness and peace she's been looking for.
It's not surprising that Woody Allen's No. 1 fanboy continues to go to the mat for his hero. It is surprising that so many respected journalists continue to line up behind Robert Weide, insisting that his voice should be at least as loud as Dylan Farrow's. That's exactly what Weide wants: When their voices are equal, they cancel each other out, and there's nothing left to hear.