The Vault is Slate's history blog. Like us on Facebook, follow us on Twitter @slatevault, and find us on Tumblr. Find out more about what this space is all about here.
Virginia Clemm Poe wrote this carefully-penned acrostic valentine for her husband, Edgar Allan, in 1846. The first letter of each line spells out his name.  
The tradition of writing romantic acrostics was a venerable one by the time Virginia put pen to paper. (Here is an entertaining story about a trend in anonymous valentine acrostics among the settlers near Williamsburg, Virginia, in 1768.) While commercially produced valentine cards were increasingly available in 1846, it wouldn't have been unusual to send a hand-written note on plain paper instead of a printed card.
Virginia married the 27-year-old Edgar when she was 13 years old, and contracted tuberculosis when she was 19, eventually dying at 24—a year after writing this poem. While their marriage is generally regarded as having been a happy one, Edgar, who also lost his mother, brother, and foster mother to the disease, was devastated by her illness and death. The poem mentions her TB, while assuring her husband, wistfully, that time alone with him would surely fix it: "Love shall heal my weakened lungs."
This is the only surviving poem we have from Virginia's hand. The Edgar Allan Poe Society notes: "Virginia was not well-read and cared little for poetry, even that of her husband."
This poem is held in Special Collections at Baltimore's Enoch Pratt Free Library. You can browse their Edgar Allan Poe digital collection here.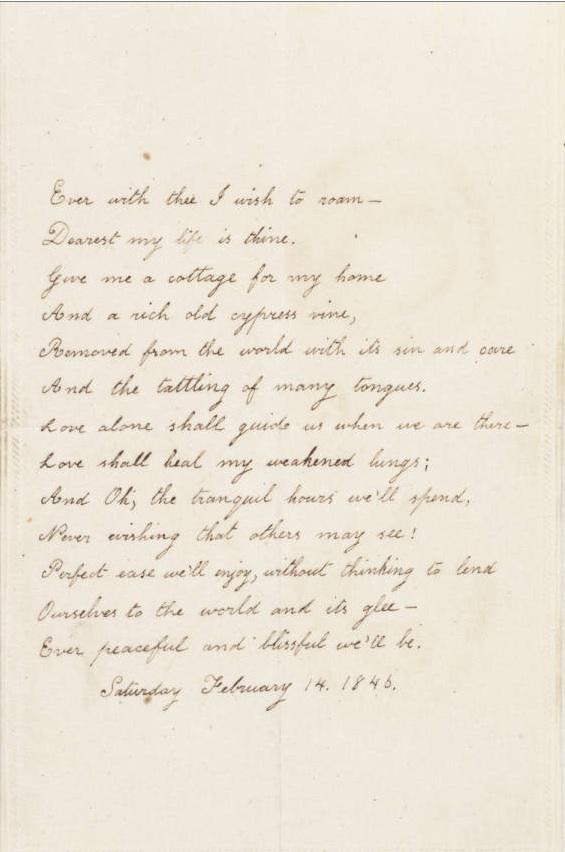 Update, Feb. 18: This post has been updated to clarify which letters spell out Poe's name.