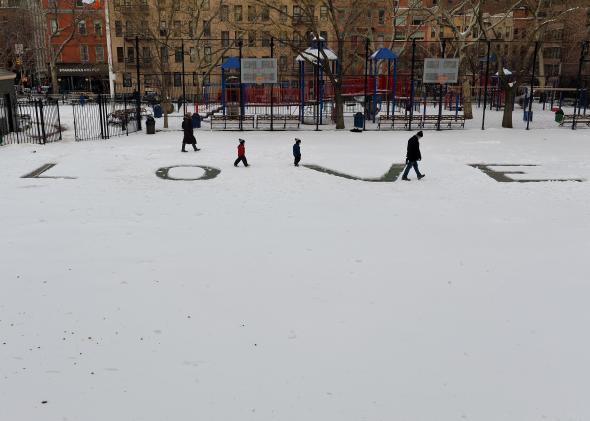 Round after round of snow is pounding much of America right now, only broken up by the occasional relief of a freezing rain to frost everything in a casing of ice so that at any given moment, either a tree or a human is falling. It's bleak. It's depressing. It's making people cranky. Yet, for all this, the snow that is blanketing our world and crushing our dreams is actually a blessing in disguise. It gives us an excuse to avoid something even drearier than a snow bank turned yellow from dogs relieving themselves: Valentine's Day. 
Nature is trying to help you, couples of America. You can't very well go out in this snow for Valentine's Day, now can you? It's not safe. Which means no pressure to have made that reservation at the right fancy restaurant. No having to sit around a dining establishment absorbing the atmospheric tension of all those couples reading each other's gestures like they're an MRI scan of the relationship. No consuming a steak and a piece of cake and three glasses of wine and going home to half-hearted sex while wishing you could just sit on the couch digesting instead. No expectations. No disappointments.
Valentine's Day is canceled! You read it here first. Depending on who you're with, you might have to break this news by pulling a disappointed face and saying, "I was really looking forward to going out, but it looks like they've canceled Valentine's Day." Or you might be a little more forthright and say, "Yes! Snow night! Put on your PJs and meet me on the couch!" Either way, I bet this will be the best Feb. 14 you've had in years. Crack open a bottle of wine. Don't bother with presents (the stores are closing early due to snow, I have heard) or deep talks about your feelings. Watch movies and have sex before the delivery guy shows up with your dinner (tip a lot—it's hell out there). There's something magical that happens to fun times when they don't feel forced: They end up being more fun. The snow has given you an excuse this year, so why not go ahead and try it out? 
---