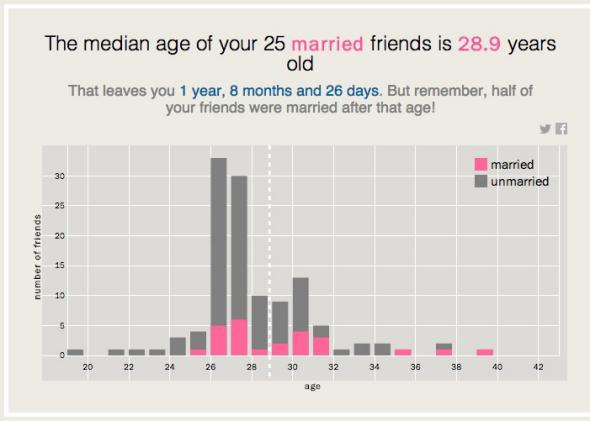 According to sitcoms, romantic comedies, and anecdotal evidence, Valentine's Day carries much more significance for singles than it does for those who are happily paired off. If you're in a relationship, you don't need some commercialized holiday to validate your partnered status. And why should you? You're in love! If you're single and looking, though, Valentine's Day can feel oppressive, a holiday whose sole purpose seems to be about pointing out that you haven't found someone yet.
Time staffer Chris Wilson has brilliantly capitalized on the tendency of Valentine's Day to strike terror into singles' hearts by creating a special app that determines whether all your friends secretly think you're going to be alone forever. "TIME Can Predict Your Perfect Marriage Date," says the headline optimistically, but a more realistic title would be "TIME Can Tell You Whether It's Time to Start Panicking About Not Being Married Yet." Wilson's app scours your married Facebook friends' profiles, figures out how old they are using their listed birthday, and calculates their median age. (Note that it does not take into account how old they were when they got married, which might give you a more accurate idea of whether you're deep in spinster territory.)
For extra convenience/angst, the app tells you exactly how much time you have left before you pass the dreaded top of the curve and begin the long, steep descent toward a lonely death. For instance, as you can see above, I have 1 year, 8 months, and 26 days before I become an old maid. I would only note that the app would be more useful if it immediately launched a countdown clock—maybe something that looked like the timer on a bomb, which will explode for me in certain disaster on Nov. 5, 2015.
"But remember, half of your friends were married after that age!" chirps the app cheerily. Thanks, app, but I know your type. The only kind of app that would spout such empty platitudes in an attempt to soothe a single friend after totally screwing with her brain is an app who hasn't been single in years. "Don't worry, you'll find someone," this app says, before the dreaded, "not that everyone has to get married!" Here's betting Time's marriage app is in a long-term monogamous relationship—with Candy Crush, probably—and that they don't really celebrate Valentine's Day, because every day is like Valentine's Day for them.
---