Recently Designboom called our attention to the String Prototype, a 32-foot-tall inflatable cube from Croatian/Austrian industrial design studio Numen/For Use that houses a minimalist matrix made of parallel ropes connected to the interior walls. More than an abstract art installation, the prototype, set up outside of Vienna last December, was engineered to be an incredibly cool jungle gym for kids and adults with a daredevil streak.
Numen/For Use co-founder Christoph Katzler said in an interview that the designers were inspired by inflatable advertising cubes. He told Wired that he couldn't figure out how what looked like squared off inflatable balloons, which should theoretically have rounded sides, managed to maintain such flat edges. A look inside of one revealed hundreds of strings stretched between the walls to provide structure and force the inflatable into shape. That's when the light bulb went off, and the designers got to work engineering a larger version that people could climb inside.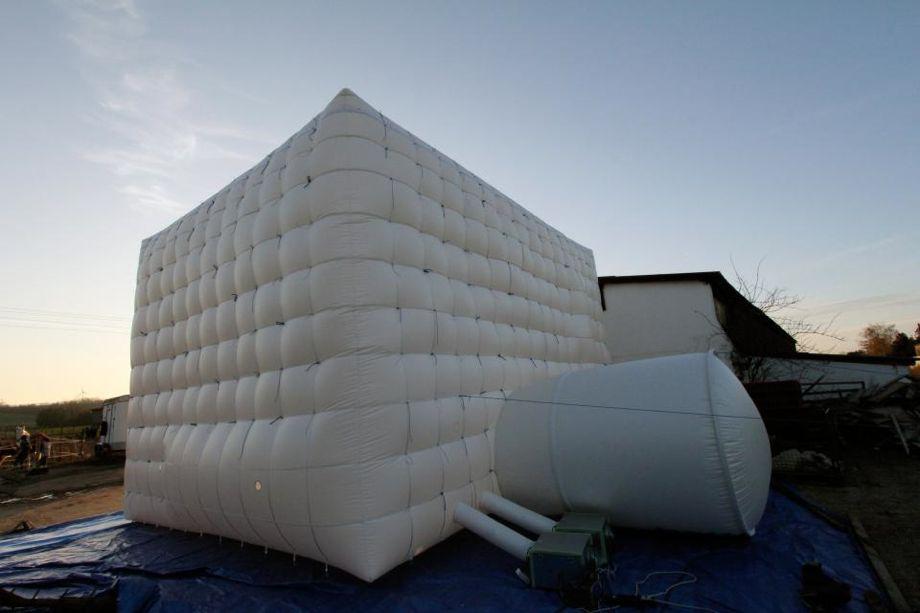 A fan creates just enough interior volume to keep the String Prototype's ropes sufficiently taut to support the weight of a human body, while allowing deformation to occur as climbers move through the space. Diffused light seeping through the "skin" of the structure purposefully confuses climbers' sense of scale and direction, so they can't tell how big it is when they are inside.
So how do climbers manage to maneuver through the ropes without falling?
"This is a question of course from someone from America," Katzler told me in a phone interview, teasing that I wasn't the first reporter from the U.S. to fret over safety concerns. "If you fall on somebody else … you fall on [them]. When you stand on a chair, you [could] fall on someone."
He speculated that it's more likely that climbers would collide with each other, rather than falling straight down. But despite his fatalistic outlook, Katzler noted that the bottom of the inflatable cube is lined with a 20-inch-thick "air mattress" to soften the blow should you stumble.
The final project is still in development so potential climbers will have to wait a bit longer for their chance to monkey around.