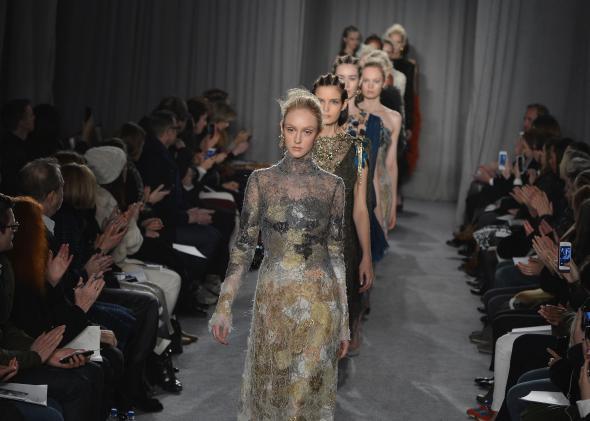 New York Fashion Week. I know nothing about it. Or, I knew nothing about it, until I spent a day in the vortex of oxblood neck ruffles, silk kick pleats, slouchy genii pants, and glistening eye shadow. No, I did not attend one of the more than 300 shows and events of this week's Week, where glittery cumulus clouds of celebrities rolled into converted warehouses and enormous tents bisected by runways. No, I did not rub shoulders with Oscar de la Renta or Donna Karan or Rag and Bone. I don't even know if Rag and Bone are people, with shoulders to rub. Instead, I sat in my oversized fleece that makes me look like a giant ink blot and read every single article about fashion week on New York magazine's website since the festivities started last Thursday, until my brain seams burst and began to dribble out polka dots and silver paillettes. Here's what I learned.
There's not that much skin at NYFW.
Generalizing about 300-plus shows is hard, but for the most part, the models seemed swaddled and packaged and swathed in fabric (even the princesses and the vampires). High necklines, billowy hems. One exception was the Donna Karan show, which outfitted women in wispy, thigh-baring negligée. This is apparently weird because, as Robin Givhan observes, Karan spent her career perfecting the image of the powerful, seductive lady professional. 
On the runway, comfort is glamorous.
"Women everywhere are opting for ease," says Rebecca Ramsey, and you can see it in all the soft, voluminous coats, balloony pants, and fuzzy cashmere sweaters on display. "Supersize me" could be a NYFW motto. There are turtleneck collars that bloom like Georgia O'Keefe paintings, yellow parachute slacks, giant floppy hats. This emphasis on comfort reminds me of the ascent of yoga gear around the office and the various arguments that American couture has grown too casual. On the other hand, the rustling, winking trains on Oscar de la Renta's ballgowns are a good indication that old-fashioned ostentation hasn't faded completely.
If you are Thom Browne, you may dress up a model as an enormous fleur de lis and inspire brilliant commentary rather than laughter.
Browne's fall 2014 collection used ecclesiastical symbols to explore religion and taboo, writes Givhan.
The appearance of the models on this altar of a runway reminded one of the difficulties women face in navigating some church hierarchies — the traditions that keep them from the highest roles of leadership despite their yeomen's service to congregants. By the time they started to emerge draped in gold — from embroidered skirts, seamed dresses, and gilded jackets — it felt as though they had stepped from some vault of plundered wealth in the darkest recesses of the Vatican. Here was the church leadership, the bureaucracy, and the politics. The grandiose inaction. The hypocrisy.
Posh Spice has a clothing line.
 It favors "sharp separates," "gold accents," and scowls.
There are two types of NYFW-goers: chill-deniers and chill-embracers.
"It's a decision every man and woman must make," writes Youngjun Koo, "Will you dress for the weather you want or the weather you have?" Deniers "rock cheery, thin layers and a forced look of comfort. Embracers skulk in their furs and try to look like they mind not at all." There are also stealth embracers, who don nude ice-skating tights under their rippedd jeans. (All those bare gams and open-toed shoes of the chill-deniers inspire a philosophical question: If truth is beauty and beauty is pain, is truth pain? Is Fashion Week dark and nihilistic at its core?)
Animals.
Fox fur collars. Panda face-masks. Dyed ostrich feathers. Raccoon-ringed eyes. Also, big cuddly hats that look like what you might buy your 7-year-old at CVS.
Fashionistas can be geeks.
Kate and Laura Mulleavy, the designers behind Rodarte, debuted a collection of gowns inspired by the original Star Wars trilogy. This led bloggers Stella Bugbee and Isabel Wilkinson to unveil a collection of puns paying homage to the dresses, including "The Empire Waist Strikes Back" and "Attack of the Clothes."
Soon, we will all bleach our eyebrows.
And aspire to the glow of a Nepalese sunburn when applying blush. (Also to "virgin hair.") 
And dress like anime characters.
And cut the shoulders out of our coats.
And streak our ponytails blue.
And pair Legolas tresses with Daft Punk futurism.
And dig out our old Varsity jackets.
A final note: With just a few exceptions, everyone in New York's extremely thorough coverage looked pretty young, white, and skinny. If only the variety and vision evident in the clothes could manifest in the models, too. 
---