In Wes Anderson's new film Grand Budapest Hotel, set at a Central European hotel between the two world wars, the concierge M. Gustave H. (played by Ralph Fiennes) has a penchant for dousing himself with a cologne called L'Air de Panache.
"It has a Russian quality, like Orthodox incense," Anderson told the New York Observer when asked to describe the scent at the Berlin Film Festival earlier this month, where the film screened to rave reviews. "Plus, something collected from the erogenous zones of rare animals."
The reporter identified the perfume as "fictional." But for the lucky few who will attend tonight's Paris premiere of the film, Anderson and distributor Fox Searchlight Pictures commissioned perfumer Mark Buxton, co-founder of French perfume boutique Nose, to create a concept scent. The Nose website describes L'Air de Panache as a primarily "woody, citrus" scent that ultimately takes an olfactory journey that is a metaphorical "return to the wild forest."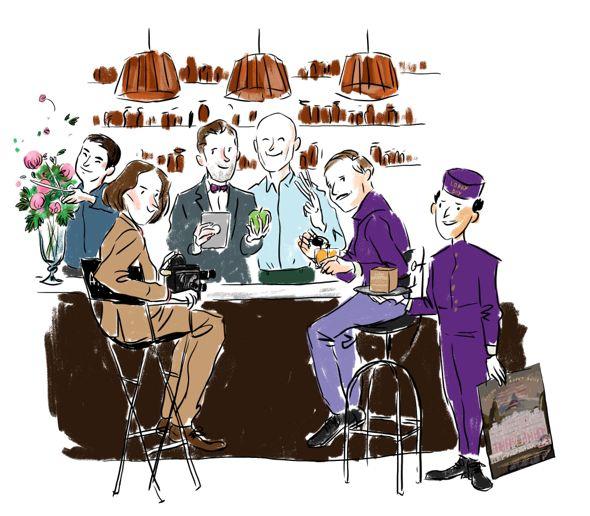 "The idea was to bring fiction to reality," Nose president and co-founder Nicolas Cloutier told me in a phone interview. Anderson and Fox Searchlight asked the perfumers to submit a proposal in which they attempted to translate details from the film into an intoxicating and complex aroma to bring one of the film's signature gags to life.
"[I]t's an interpretation of the film in the image of what we do as a perfume store that carries noncommercial brands," Cloutier said. "There was no marketing bullshit or brief whatsoever."
Cloutier said that Anderson gave them complete creative license. They included top notes of aldehyde to reflect the kinds of scents that the older women guests Gustave H. catered to (and bedded) might have worn in the 1930s.
They also included a note of green apple in a nod to a painting called "Boy With Apple," bequeathed to Gustave H. by one of his lady friends, and a hint of the "rose worn by the most refined dandies."
"It starts out very much like a traditional cologne," Cloutier said, "then five or 10 minutes later it moves to a very woody and animalic scent, very modern."
L'Air de Panache isn't available for purchase––for now––but those in Paris can stop by the Nose boutique in the 2nd arrondissement for a whiff, and the scent will also be on display at the film's roster of international premieres. "It's not a commercial project," Cloutier said. "We don't care if everyone likes it or not."