The Vault is Slate's history blog. Like us on Facebook, follow us on Twitter @slatevault, and find us on Tumblr. Find out more about what this space is all about here.
This map is from a geographical game meant for children, published in the 1880s. The game starts in Hartford, Conn.—the location of the publishing company that sold the set—and proceeds westward via a northerly route, and then back east via a tour of the South, ending up in New York City after 200 total possible "stops."
The beautiful game board reflected a then-current vision of the kinds of "rambles" that would intrigue a childish populace weaned on Western dime novels and adventure stories. Miners, cowboys, and teepees feature heavily. The bottom left-hand corner features an inset tableau of a group of Native Americans watching a train pass by, with sadness in their faces—a common motif at the time, as people justified the development of the West as an inevitable fact of life.
The Internet Archive has a digitized version of the Harvard College Library's copy of the instructions for the game. Gameplay appears not to have required any geographical knowledge. Players spin a teetotum and "travel" to the number indicated by their spin. The person in charge reads the paragraph of geographical information in the guidebook that corresponds to the place marked by the number, while the players listen.
Subsequent spins are subject to a complex numerical scheme, guaranteeing that players move forward, rather than backward. Players' progress is dictated entirely by luck, making the game a piecemeal geography lecture spiced up with the barest element of suspense.
I first saw this map on the entertaining Big Map Blog. The Library of Congress and the David Rumsey Map Collection each have a copy in their digital archives. Click on the image below to reach a zoomable version.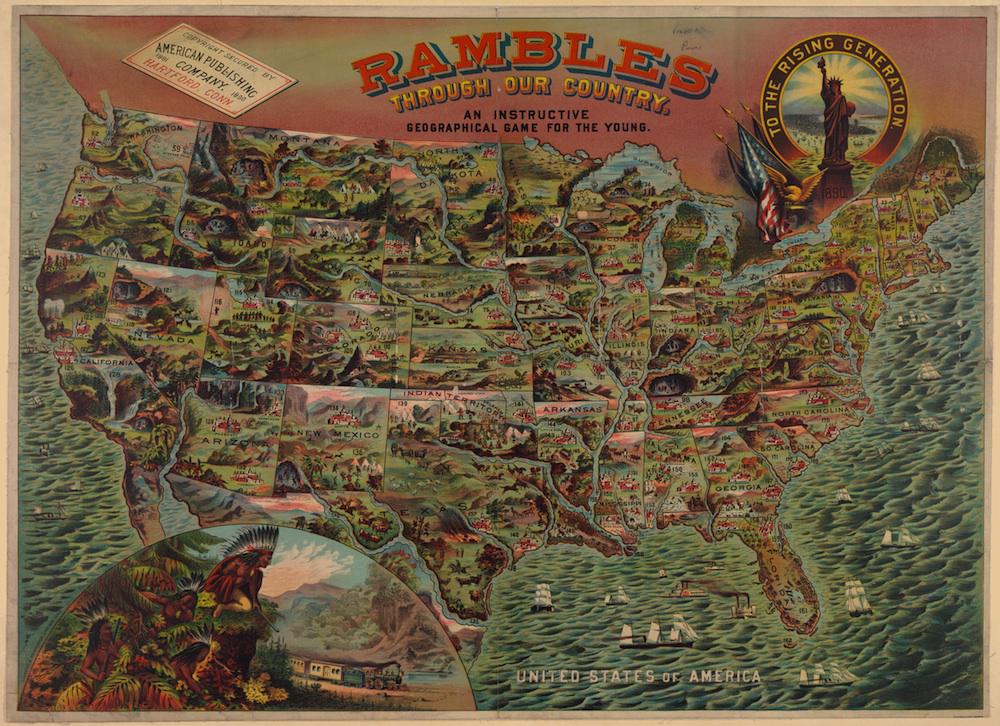 Correction, Feb. 25, 2014: This post original misstated the location of the inset tableau. It is on the bottom left-hand corner, not the bottom right-hand corner.