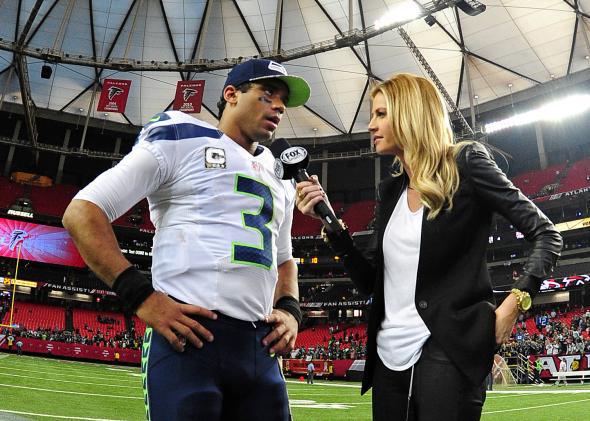 Drama has erupted in the land of prime-time talent competition: Host Brooke Burke was abruptly fired from Dancing With the Stars and replaced with Fox Sports reporter Erin Andrews. Now US Weekly is reporting that an inside source claims that a major reason for the change is that DWTS producers think they can get more of those all-important male eyeballs:
"Everyone loved [Brooke], but the execs wanted a whole new show," the source revealed. Adding that Andrews' "young male following" was appealing to the network. "They're desperate for those viewers," the source added.
The hope here is that instead of angrily changing the channel at the first sign of sequins, many guys in the audience will see Erin Andrews and have a Pavlovian response that tricks them into thinking they're about to see some football. Or, at bare minimum, that Andrews will be able to calm masculine panic when a man finds himself actually enjoying a dancing show. She likes sports and dancing! Maybe it's OK if I do, too!
Cute as this all is, these expectations seem completely unreasonable. Andrews is a great TV presence, and most male sports fans accept her as a sports journalist, but there's no reason to think she can encourage men to give dancing contests a try if they were previously against them. That's especially true if their discomfort stems from a fear that watching ballroom dancing is emasculating. Twelve NFL players have appeared as contestants on DWTS, and three of them have taken the crown. If Jerry Rice and Emmitt Smith couldn't get football-loving guys to watch, nothing will.
---