The Vault is Slate's history blog. Like us on Facebook, follow us on Twitter @slatevault, and find us on Tumblr. Find out more about what this space is all about here.
After Abraham Lincoln's death in 1865, the national outpouring of grief resulted in the printing of many souvenir books, sermons, portraits, and even medals. Companies that sold prints went into high gear. Historian Harold Holzer writes that the New York firm Currier & Ives had deathbed lithographs for sale within nine days of the President's death, "a breathtakingly fast response in the 1860s."
This broadside, printed by D.P. Mann and Company, of Oneida, New York, took a different tack, eschewing representations of Lincoln's assassination and death or reassuring images of Lincoln in heaven with Washington for a text-heavy approach that incorporated quotations from Lincoln's speeches.
The engraving is based on the 1864 portrait of Lincoln made by photographer Anthony Berger at Matthew Brady's studio. The quotations frame his face, and are, in turn, dressed up with a twig-and-vine border.
The whole effect—as the inclusion of the quote "Let us resolve that the martyred dead shall not have died in vain" shows—is a reassuring memorial not just to Lincoln, but to all those who died in the recent war.
Below the image, I've tried to identify sources for the quotations, and have linked to full text of the speeches, where available.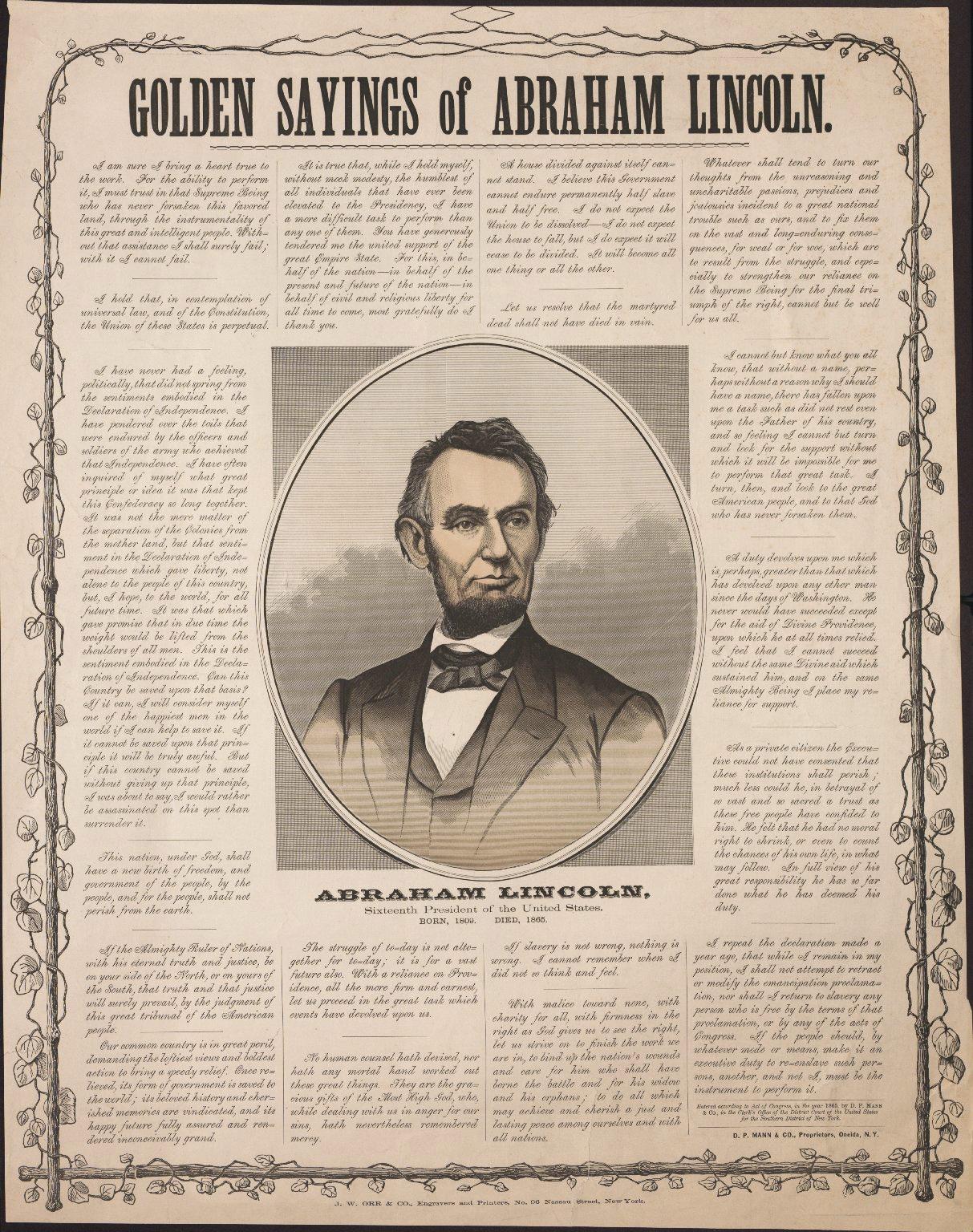 Moving from left to right, and up and down columns:
"I am sure I bring a heart true to the work"—Speech at Buffalo, NY, February 16, 1861
"I hold that, in contemplation of universal law"—First Inaugural Address, March 4, 1861
"I never had a feeling, politically"—Speech at Independence Hall, Philadelphia, February 22, 1861
"This nation, under God, shall have a new birth of freedom"—The Gettysburg Address, November 19, 1863
"If the Almighty Ruler of Nations"—First Inaugural Address, March 4, 1861
"Our common country is in great peril"—Appeal to representatives from the border states (Delaware, Maryland, Virginia, Kentucky, Tennessee, Missouri), in the White House, July 12, 1862
"It is true that, while I hold myself, without mock modesty"—Address to the Legislature at Albany, New York, February 18, 1861
"The struggle of today is not altogether for today"—Message to Congress, December 3, 1861
"No human counsel hath devised"—Thanksgiving Proclamation, Washington, DC, October 3, 1863
"A house divided against itself cannot stand"—Republican State Convention, Springfield, Ill., June 16, 1858
"Let us resolve"—Contemporary sources note that the statement was often publicly cited during the mourning process, and trace the phrase to a speech Lincoln gave at the Sanitary Fair in Baltimore (April 18, 1864), though it doesn't appear in the text.
"If slavery is not wrong, nothing is wrong"—Letter to Albert G. Hodges, April 4, 1864
"With malice toward none"—Second Inaugural Address, March 4, 1865
"Whatever shall tend to turn"—Letter to Rev. Alexander Reed, February 22, 1863
"I cannot but know what you all know"—Address to the Ohio General Assembly, February 13, 1861
"A duty devolves upon me"—Lincoln's farewell address, upon leaving Springfield for Washington, DC, February 11, 1861
"As a private citizen"—Speech to special session of Congress, July 4, 1861
"I repeat the declaration"—Annual message to Congress, December 6, 1864