There is a lot of talk in design and publishing circles these days about the objectification of the book in a time when words no longer need be contained in discrete physical packages and screen-based reading is becoming the norm. Authors, designers, and publishers hope that a heightened attention to form will encourage people to buy, hold, display, and keep books on the shelves in a world where making books from dead trees is a dying art.

So it was unsurprising but still kind of cool when Riverhead Books released the world's first 3-D printed book cover earlier this month. The limited-edition printed book sleeve for On Such a Full Sea by award-winning Korean-American novelist Chang-Rae Lee was designed by Riverhead art director Helen Yentus and produced by Brooklyn-based MakerBot. The design is a 3-D take on Futura typeface, a piece of sculptural typography formed from a corn-based bioplastic printed on a MakerBot Replicator 2 Desktop 3-D Printer. One of 200 original signed, numbered copies—initially  priced at $150—is currently on sale at Amazon for $795. (Amazon is also selling the hardback original for $16.77 and the Kindle version for $12.29.)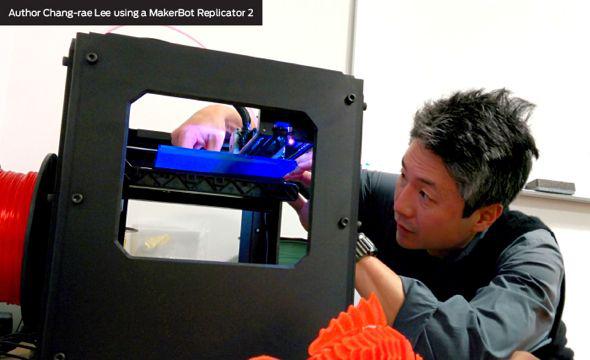 It remains to be seen whether 3-D book covers will become commonplace or remain a rarefied exercise in style. But it's notable that the first 3-D book cover is the casing for a novel, not a coffee table book, and one in which the design is used as an extension of the flat typography on the cover of the book, used to bring a third dimension to the written word.
Check out this video to learn more about the design of the book: