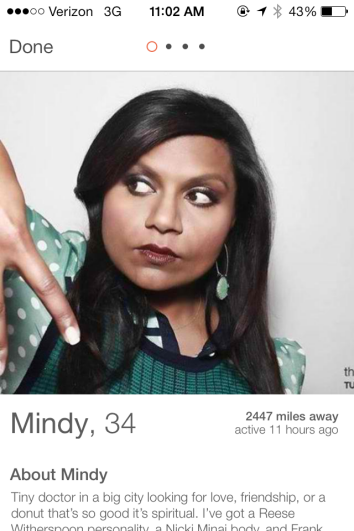 This week, singles looking for a date on Tinder will also find an alternative option for getting through another lonely night. Swipe through the profiles on the mobile dating app, and you'll come across a couple of fictional characters from The Mindy Project: Dr. Mindy Lahiri, a 34-year-old New York OB-GYN who is "looking for the Channing Tatum to my 'girl from Step Up,' " and Dr. Danny Castellano, her 35-year-old co-worker who is "not sure how I feel about 'web dating.' " If you make a match with Mindy or Danny, you'll be directed to a couple of Web videos promoting the Fox sitcom.
It's a clever bit of viral marketing synergy. In real-world New York City, hopeless romantic Mindy and curmudgeonly divorcee Danny would absolutely take Tinder for a spin after a long day interfacing with expecting parents at the office. As for the rest of us, it's hard to complain about a corporate advertiser butting in on our dating lives. Tinder's efficient and superficial approach to matchmaking has already thoroughly commercialized the attraction process; the only difference between the Tinder ad for Mindy and the Tinder ad for ourselves is that Lahiri isn't actually available for a nightcap. (Then again, most Tinder back-and-forths won't result in a real-life meetup, either.) So the question isn't why is Mindy on Tinder, but why isn't Tinder on The Mindy Project?
Since online dating's rise—last fall, Pew found that 38 percent of single Americans have now used a dating site or app—sitcoms charting the single life have failed to sign up. In two seasons of casual dating, Mindy's been set up on a blind date; she's met suitors on the subway, in her office building, in the hospital, and on the street; and she once even unwittingly employed the services of a male escort. But she's yet to locate a date through her phone. In 2011, Fox's New Girl released a faux online dating video for single bro Schmidt, but in prime time, nobody in the show's loft full of Los Angeles singles has so much as logged onto OkCupid. Instead, hard-up Winston recently got his fix by hooking up with a bizarre bus driver who recovered his lost cat. When sitcoms do incorporate online dating into their narratives, the services are relegated to one-episode gimmicks, as when How I Met Your Mother's Barney Stinson created a fake profile to lure in his hapless single friend, or when Parks and Recreation's Leslie Knope looked for love on the fictional Indiana dating service HoosierMate, only to be matched with her co-worker Tom. She promptly deleted her profile. If sitcoms were anything like real life, at least one main player on each of these shows would be reliably seeking out some stranger via computer or phone at least once an episode.
It's tempting to conclude that these sitcoms are retrograde relics of meet-cutes past, out of step with the realities of modern dating. But there's another way of looking at it: Sitcoms and dating sites are both built to organize our messy romantic lives by corralling our desires into neat narratives. Sitcoms offer an unrealistic version of modern singledom, but so do online dating services. Mindy may not literally employ Tinder, but she plows through scores of potential hookups with mobile-app efficiency. Her romantic interests flit in and out of the show's narrative arc at the speed of a finger swipe. She just does it all with her face positioned toward the cameras, instead of down at her screen. So maybe sitcoms characters don't sign up for online dating services because they don't need an additional narrative strategy to structure their lives and provide a reliable stream of romantic interests; they have writers who do that for them. Unscripted singles rely on technology companies to perform a similar trick.
---