The long-established trend toward loft-like living means that having a bed in the middle of your living space is now considered a lifestyle choice, like an open kitchen or a wall-free bathroom. Cohabitation-related sound and privacy issues notwithstanding, many one or two-person households now prefer to keep their interior spaces open plan with an integrated sleeping area instead.
For years, one of the best ways to achieve the open-plan bedroom has been to install a Murphy bed—a hinged bed that folds vertically into a wall closet when not in use. Various legends have it that in the early 20th century, William Lawrence Murphy applied for a patent on the device, which he devised in order to turn his bedroom into a parlor to make it socially acceptable for him to entertain ladies. (Or, less salaciously, maybe the idea was for him and his wife to entertain in their modest home.) Either way, the Murphy bed surged in popularity in the '20s and '30s when buildings like those in Tudor City on the far east side of Manhattan were developed; special Murphy bed closets made these diminutive studio apartments more livable during waking hours. But these clever beds, which were often uncomfortable and shabbily made, lost their allure after World War II as people flocked to houses in the suburbs.
Nevertheless, the fold-up wall bed has quietly been making a resurgence in recent years, as the world's population becomes increasingly urban, family sizes are shrinking, more people are choosing to live alone, and the price of real estate in crowded cities becomes more and more unaffordable. Companies around the world are designing beds that disappear into walls, can be stowed via remote control, or are even stored on the ceiling.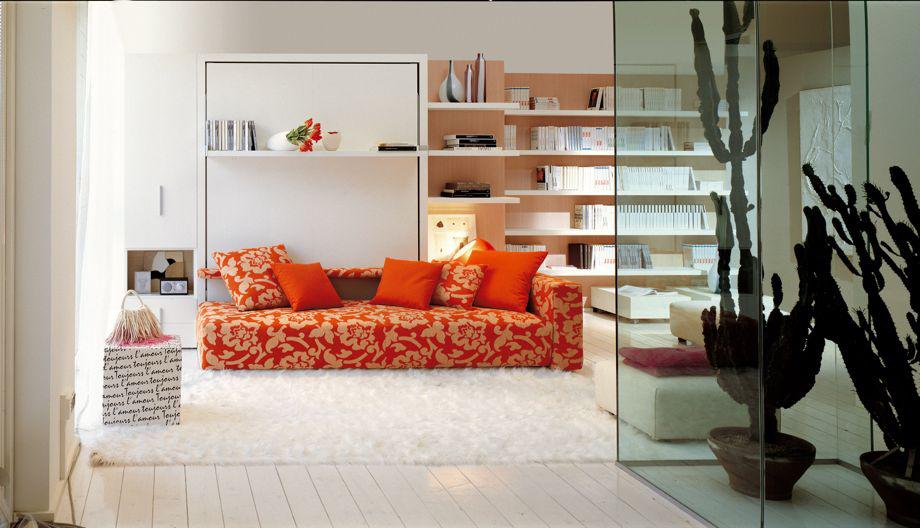 Even in super-sized North America, the so-called micro-condos popping up in cities like New York, Washington, D.C., San Francisco, Toronto, and Vancouver have become an archetype for the ruthless space planning required to make modest spaces not only livable but enjoyable.

And a growing number of these projects are installing upscale wall beds that turn back into a sofa (or a dining table, or a desk, or a bookshelf, or a wall-storage unit) by day, giving the small-space dweller the equivalent of a secret room. The design leader of cleverly engineered, high-end, top quality transformable furniture is Clei, the family-owned, Brianza, Italy–based company that celebrated its 50th anniversary last year and is available in the U.S. via Resource Furniture.
Graham Hill, the Treehugger founder who now runs Life Edited, an interior design specialty consultancy that focuses on intelligently designed small spaces, said by phone that he stumbled across the furniture when looking to equip his own company prototype apartment in New York. At 420 square feet, it can sleep four, seat 12 for dinner, and serves as a home office.
"The Murphy bed is a key part of the design," Hill said. "But there are so many that are cheesy and low-quality, and look like crap. We're trying to create something really compelling and sophisticated, that doesn't feel like you're sacrificing anything. These don't feel gimmicky or cheap but like a great bed, and a great piece of machinery."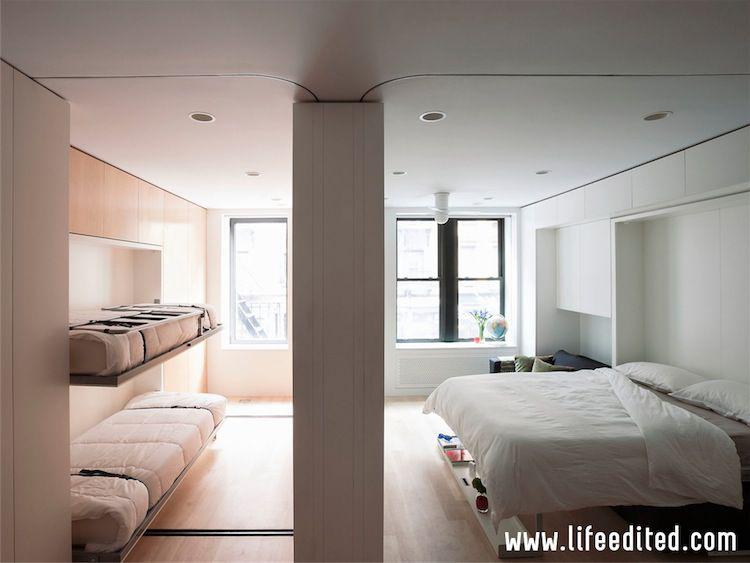 Clei beds are the closest thing I have ever seen to furniture performance art. Thanks to sophisticated engineering, they can be opened and closed in seconds with almost no effort, a huge part of their appeal.
Check out this video for a demonstration:
The beds are made from quality materials and offer ultra-sleek contemporary Italian design. Much of the hardware is hidden and the units housing beds are only 12 inches deep. One detail they are working on is finding a way to hide the buckled straps that hold the mattress in place while the bed is being opened and stowed.
But Clei beds also take months to produce and ship from Italy and cost a fortune, from $3,000 for a transformable child's bed to more than four times that for higher-end models or those with integrated storage.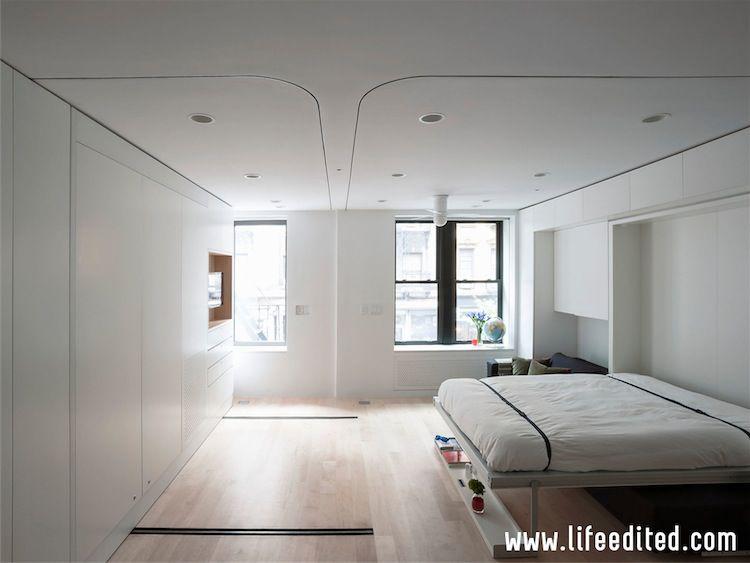 Those costs could theoretically come down if the furniture gained more mainstream appeal and Clei was able to scale production, sales director Luca Colombo told me by phone. He said that his father and uncle founded the company in 1963 to make excellent Murphy beds that weren't "ugly." It now makes wall systems that allow space to expand or contract according to your needs, whether you're furnishing a kids room, a studio apartment, or a house where you want to eliminate the need for a dedicated guest room. (They also introduced a compact, free-standing transformable kitchen at the Milan furniture fair last spring.)

"We want to solve problems," Colombo said. "Before there were only static pieces: a sofa was just a sofa. We want to give people a different way to think about furniture and architecture."
The dedicated bedroom is actually a fairly recent phenomenon, according to British curator and historian Lucy Worsley, who wrote If Walls Could Talk: An Intimate History of the Home. Medieval servants often bunked together in a shared hall, she points out. It wasn't until Victorian times, it seems, that dedicated bedrooms became the norm.
But not having a bedroom still carries a stigma in mainstream circles. I asked Hill, who is currently developing projects in Brooklyn and São Paulo that incorporate Clei beds and other space-saving wizardry, about the biggest obstacles he faced evangelizing about the merits of small-space design.
Hill said that it was hard to convince status-conscious humans that it's OK to give something up. Or of the wisdom of investing in a large, expensive piece of furniture on the front end that would save them the cost of an extra room down the line. "We have super-sized ourselves and it's just not working for us," Hill said. "Our vision is to help convince people that a simpler life is a happier life."