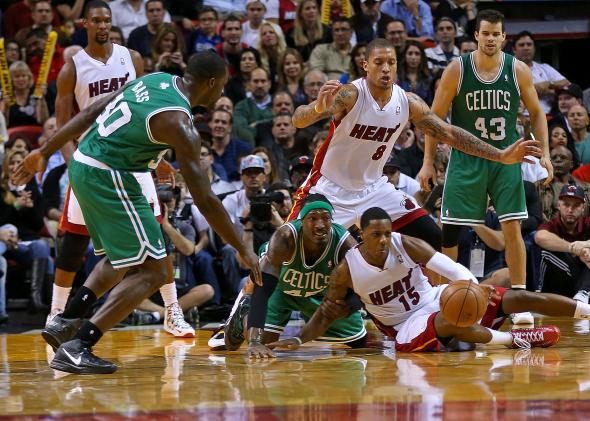 When Craig asked Shannon to marry him this week during a Miami Heat game, his grand romantic gesture unfolded across the arena's big screen. But this was not just any Jumbotron marriage proposal. As the camera showed off Shannon's new ring—lovely—the name of a Florida jewelry company flashed under the happy couple. This sparkling moment of love and publicity is brought to you by Mayors Jewelers. Or, as Jason Feifer tweeted about the sponsored gesture, "All is lost." 

Before you take the Mayors stunt—the culmination of a contest the company puts on with the Heat, called "Shoot for Happily Ever After"—as further evidence that real romance has dribbled away from the modern age like a basketball tossed carelessly down a forgotten hallway, consider that sponsored weddings have been happening for some time. (It is a venerable dribble.) A 2006 article in the New York Times introduced readers to the savvy brides and sales-minded grooms who succeeded in pitching their tulle-draped ceremonies to flower companies, airlines, and other businesses. You can Google tips for seducing sponsors for your big day. Then there is the way proposals have turned into performance art, the kind of public attention grabs that enlist skywriting Cupid impersonators and flash mobs. "Pay the divers at an aquarium to put on a show inside their biggest fish tank," recommends one site offering "50 romantic ways" to pop the question. "Give them a handwritten sign that says, 'Will you marry me?' to hold up against the glass." (That's how the sea turtles do it!) (Wouldn't the sign get wet?) Furthermore, everything else in a basketball arena is sponsored: the mascots, the KissCam, the space itself. Why should Craig and Shannon's life milestone stand out in the cold? Sponsored proposals seem like the logical next step, in fact. Go get yourself a sponsored proposal! Everything's for sale!
Now I just need to find the companies eager to sponsor my single life. Kraft?
---