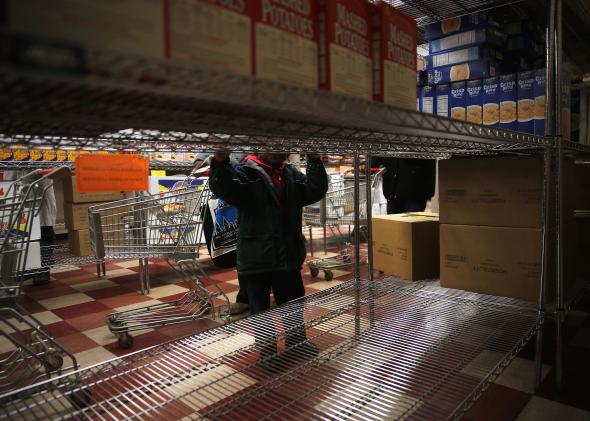 Beyond just the dishonest hype about the supposed widespread fraud in the food stamp program, conservative commentators employed two major narratives to justify the dramatic cuts to the Supplemental Nutrition Assistance Program (SNAP) that went into effect back in November: that people on food stamps don't really need the assistance and that the few who do will be able to turn to charity to make up for the shortfall. Stephen Moore of the Wall Street Journal declared on Fox News that "families with children would not be affected by this" and that people who live in million-dollar homes were getting food stamps. Rush Limbaugh claimed that "more food stamps means fatter kids," implying that people who use food stamps already have enough food. Forbes writer John Tamny famously told Jessica Williams of The Daily Show that "a massive outpouring of charity" would make up for the shortfall if he had his way and SNAP was "abolished altogether."
Well, the results are in: Turns out that people actually do need the food that they aren't getting and no, charity is not making up for the shortfall. Bryce Covert at ThinkProgress reports on how the cuts to SNAP have created a surge in demand on food banks, causing the food banks to run short on food and even turn people away. Food Bank NYC surveyed the food charities of New York City and found that 85 percent of food pantries and soup kitchens are reporting a surge in visitors asking for food. In fact, the number of people turning to food banks is higher now than it was in the aftermath of Hurricane Sandy. Nearly half of food pantries and soup kitchens don't have enough food to assemble proper meals. More than a quarter have run so low on food that they've had to turn people away.
"We're supposed to be the last line of defense against hunger," Triada Stamps, the senior director of government relations for Food Bank for New York City, told me. "We've gone from hunger being an emergency situation to it being a chronic situation."
Really, common sense could have predicted this would happen. Before the cuts, the assistance people on SNAP were getting fell short of what they really needed to cover their food bills, and so of course cutting those benefits back means they have to turn to food banks even more. The benefits were cut by an average $36 a month for a family of four, a drastic slash for people who were already scraping by. Right now, the average amount allotted per meal is less than $1.40 for every person on the program. That increasing demand on food banks would deplete supply is basic economics. The notion that charitable giving would just suddenly and magically go up to make up the difference was nothing but a fantasy. In fact, as Bob Aiken of Feeding America explained back in May, the economic downturn means that people are giving less to charity than they were before, because they have less to give. 
It's not just reduced giving that's a problem, either. "These cuts are just the latest in a series of events that have formed a perfect storm to stress hunger relief charities," explained Kathleen DiChiara, the president and CEO of Community FoodBank of New Jersey when we spoke. "Grocery prices increased more than 7 percent in the last two years at the same time gas prices rose more than 30 percent. Those rising costs make it harder for food banks to purchase and distribute enough food for their clients."
All sorts of things were promised by conservatives defending the cut in food stamps: That it would boost the spirits of people who were on food stamps by making them less dependent. That it would improve the moral fiber of people on food stamps by causing them to drink less and look at porn less. That it would inspire people to go out and get the jobs that will start to exist just because people want them. None of that appears to have happened. What has happened is that poor Americans turn to food pantries and soup kitchens out of desperation, and, increasingly, they're finding that there's not enough help to go around. 
---