Emily Pilloton first discovered the rewards of teaching kids to design and build while co-founding Studio H, an innovative high school shop class in Bertie County, N.C., that was featured in If You Build It, a recent documentary that is now playing at the IFC Center in New York and soon to tour the country.
The designer-teacher-activist is now running Studio H out of REALM Charter School in Berkeley, Calif., where she has founded Camp H, an innovative after-school and summer design and build camp for 9- to 12-year-old girls.
Pilloton became focused on developing a program for younger girls when she was asked to pitch in as a school adviser. She said that trying to lead discussions with themes like "what it means to be a sister" had fallen flat. "The girls were all really timid and shy and hesitant to speak up and raise their hand and say 'This is what I think,'" Pilloton told me by phone. "I was supposed to teach them something about life and social skills and the only way I knew how to do that was through building. They were really into it! They would say 'Where's the chainsaw, I want to cut something in half!' I was really surprised and delighted by that."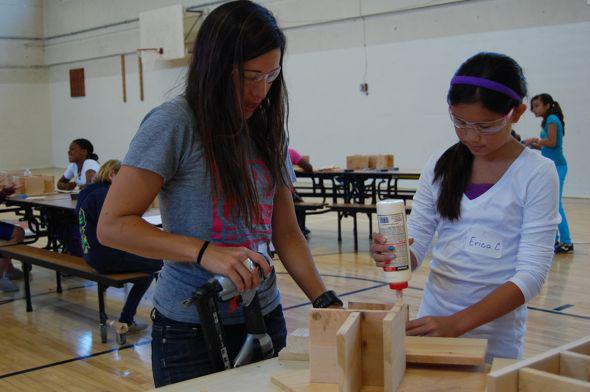 The goal of Camp H is to offer girls practical creative and problem-solving skills in a nonacademic setting to build confidence to help them through the rest of their school years and beyond. "It's a moment in their lives when they are about to become disenchanted with math and science and school in general," Pilloton said, adding that the kind of hands-on building work she had them doing––cutting plywood with a jigsaw, fusing metal with a welder––offered them the chance to learn math and science skills in an organic way while building meaningful projects for themselves and the community.
Pilloton said that she felt a special connection to this age group, remembering her own childhood years aged 9, 10, and 11 as a "seminal moment" when she learned how to feel competent and empowered by playing sports and learning how to work with her hands. And while she is wary of making sweeping gender-based generalizations, she said that she chose to create an all-girl camp after noticing the differences between how her female and male students tackled problems, with the boys often jumping right in and the girls generally wanting to be apprised of the steps that would follow before tackling a new project.
"There aren't enough spaces for girls to be together as girls doing things that feel audacious," Pilloton said. "I don't want girls to just be given a hammer and say 'You're holding a hammer, that's awesome!' I want to teach them how to weld. And to work on projects that don't feel artsy and craftsy. Not like straight-up wood shop, but to balance the creative and the artistic side."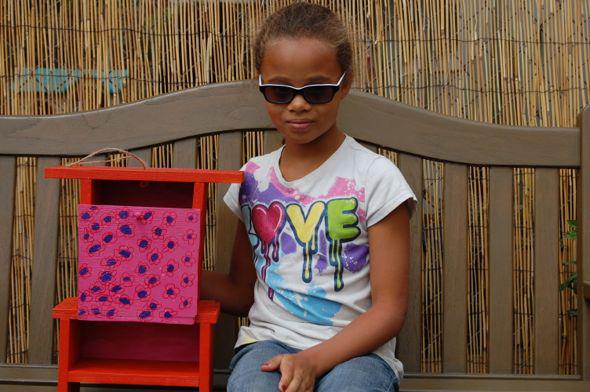 After a first run last summer, Pilloton is teaching an after-school session starting Jan. 28 on Tuesdays and Wednesdays whose theme is "I Can Fix Anything!" The concept of the class was inspired by conversations that Pilloton had with her younger sisters and female friends who didn't know how to do basic things like check the air pressure in their tires. "I thought, 'That's not OK for anyone not to know how to do that for themselves,'" Pilloton said. "They should know how to take care of things."
A course description indicated that the girls would learn "how to use hand and power tools, basic electrical equipment and automotive instruments to fix the things that need repair, installation, and maintenance in our everyday lives. Coupled with core-subject math and science concepts, we will tinker, experiment, build, and repair. Each week we will take on a different repair task so that our girls become confident to tackle everyday problems."
A future session will have the girls building furniture and lighting for a women's shelter.
"I want the projects either to have a personal connection or to teach the girls about being a citizen," Pilloton said, adding that she would be there to help guide them through the design thinking process of asking questions, coming up with ideas and then the hands-on skills needed to work through obstacles and achieve a final result. "I will never ever just give a girl or a student a set of plans and tell her to follow instructions."