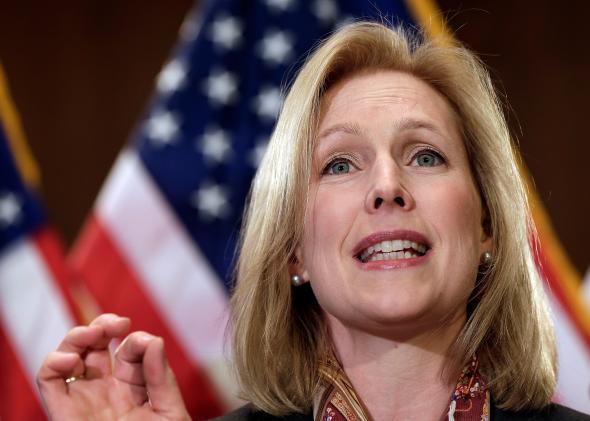 In this week's New Yorker, Evan Osnos has an excellent profile of New York's junior Sen. Kirsten Gillibrand, reported while she was deeply engaged in crafting and pushing legislation to combat the military's sexual assault problem. Despite the fact that her reforms were ultimately dropped from the defense bill (she hasn't given up the fight), the piece shows exactly why we need more women like her in politics. It's not just because she's the mother of small children, though it's exhilarating to read about a mom who picked her kid up at day care and brought him to Congress so she could still participate in a scheduled vote, as Gillibrand did. It's also because she mentors other women and disagrees with her female colleagues.
Studies have shown that women sorely lack mentors in both the corporate and political worlds. Gillibrand herself never had a problem approaching mentors and making them her own—Osnos talks about how she impressed Hillary Clinton, who ultimately mentored her, while working on Clinton's Senate campaign in 2000—but she goes out of her way to mentor other women looking to run for office.
She launched a group called Off the Sidelines, a "call for action for women to make their voices heard on issues they care about." But Gillibrand also does much more personal mentoring. When her former Davis Polk co-worker Terri Sewell expressed a desire to run for Congress, Gillibrand gave her advice about the best pollsters and even role-played phone calls with potential donors so Sewell would feel more comfortable asking for money. Sewell went on to become Alabama's first black congresswoman in 2010.
Gillibrand has been accused of being an overly perky Tracy Flick type, but she's not all rah-rah girl power support at the expense of her beliefs. She has openly but respectfully disagreed with fellow Democratic Sen. Claire McCaskill on how to handle the military's sexual assault problem. McCaskill thinks assaults should continue to be prosecuted by commanding officers; Gillibrand disagrees. She wants to remove the reporting and prosecuting of assault cases from the military's chain of command, and she has gone across the aisle to bright red senators such as Ted Cruz and Rand Paul to get support for her position.
This vocal disagreement destroys the silly notion that all women are some monolithic voting and thinking bloc, or that we have to all stick together in spite of our differences. And furthermore, it shows that although Gillibrand might sound like a sweet lady (much has been made of her high-pitched voice), as the best line in Osnos' profile shows, you shouldn't mess with her. Because for Gillibrand, "Option 1 is light and sunshine, Option 2 is cut your nuts off." 
---