It's that moment of the year when nobody can ignore the ticking clock, as the world collectively anticipates the forced countdown to another year, and muses about an unknown future.
And while nobody has quite solved the puzzle that would allow us to physically time travel into the future, Barcelona, Spain, design collective Honest & Smile has designed a whimsical new device that creates the possibility for what it calls "emotional time travel."
The brainchild of Ignasi Giró, who studied physics before becoming Honest & Smile creative director, the Timeless Box is a device that helps people to send "gifts, messages and emotions, to whomever they want, anytime in the future."
Just deposit your intended message or gift inside the sleek, reusable aluminum or titanium box, program it to open up to 365 days or 10 years into the future depending on the model … and wait.
Giró's idea is an automated time capsule or letter in a bottle that allows anyone to slow time in a fast-moving world, to build anticipation, create suspense, forestall instant gratification, create a sense of presence on the other side of the world if it's impossible to be there in person.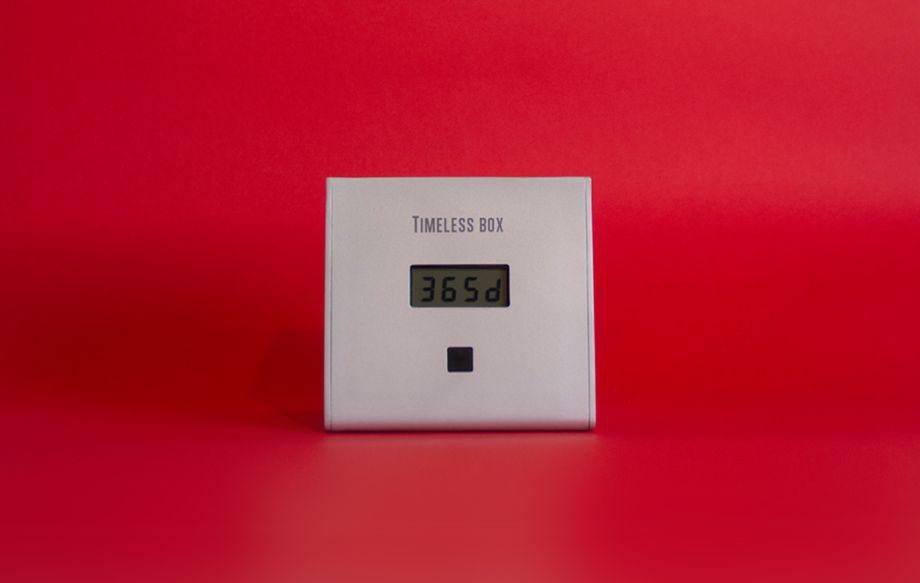 Now in the eleventh hour of a successful Indiegogo crowdfunding campaign, Giró says he's been interested to see the reactions to his idea.
"We feel that this product is a bit like a Rorschach test," he wrote in an email. "Each person suggests different uses, depending on their personality. Some people directly connect with the emotional value, and consider using them as a legacy, or to leave something for their kids in some years to come." Others, he said, have suggested creating further intrigue by leaving keys inside a timeless box to open other boxes.
But Giró said that his invention has also brought out a more sinister reaction in those who have said they would leave it empty, or fill it with a painful confession, or use it to punish kids or friends by locking up their iPhones or other pet personal devices. "It's really a multilayered product that inspires many different people in many different ways," he wrote. "And we just love that."
The Indiegogo campaign ends Jan. 1 and boxes are expected to ship as soon as February. For a simulation of the experience, the makers have created a Virtual Timeless Box that lets you send messages to yourself or someone else up to 365 days in the future.
---