Philip N. Cohen, a sociologist at the University of Maryland at College Park, writes frequently at Sociological Images about the way that physical differences between the sexes are exaggerated to uphold the narrative that men and women are "opposite." His latest post chronicles the way that Disney films magnify gender differences between male and female characters, particularly if they are portrayed on screen as eligible for romantic attention. The apparent need to make the male characters seem so much larger and sturdier than the female characters manifests to a comical level in how male and female wrists are drawn: Female wrists in Disney films are a fraction of the size of male wrists. But you know what else Cohen discovered while studying the wrists? In the latest Disney movie Frozen, the heroine Anna's eyes are bigger than her wrists.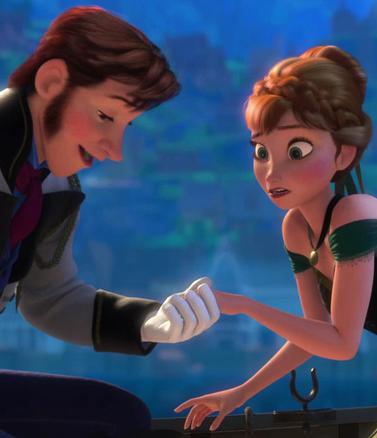 In Disney movies, men's wrists are often three or four times larger than women's wrists. Cohen looks at real-life statistics, gathered from soldiers in the Army, and shows that the average size difference between male and female wrists is closer to a 1.15-to-1 ratio, and that even the largest wristed man in the sample had a wrist that was only 60 percent larger than the smallest wristed woman. Nothing came even close to Disney's animation. Even in the relatively feminist movie Brave, the heroine's father has hands that appear to be three times as large as his wife's shoulder.
Obviously, proportions in cartoons are quite different than real life because the exaggeration adds visual interest, personality cues, and a sense of playfulness. Characters that are supposed to be "cute" become rounder and bigger-eyed than they likely would be in life. Sinister characters are often more angular than real people are. That doesn't excuse signaling to the audience that an inherent part of being female is to be as small and diminutive as possible, and impossibly so. Especially since these gender size differences are even more amplified if the heroine is supposed to be a romantic lead, sending the troubling message that to be loveable, it's best to take up almost no space at all. Shrink your bones down, if you can. Preferably until they're smaller than your eyeballs.