Atlas Obscura on Slate is a blog about the world's hidden wonders. Like us on Facebook, Tumblr, or follow us on Twitter @atlasobscura.
Before the Hyperloop, before email, even before mail trucks, there was pneumatic mail: an underground network of pressurized air tubes that shot cylinders full of letters around a city.
Pneumatic post systems began as delivery services for stock exchanges. Traders needed to receive communications quickly in order to buy and sell at the optimum moments, and telegraphed messages, though faster than ordinary mail, often got held up between the telegraph office and the stock exchange. In London in 1853, the solution was a 660-foot pneumatic tube connecting the stock exchange to the central station of the Electric Telegraph Company. 
Soon pneumatic mail systems began popping up around the world. Berlin, Paris, Vienna, and Prague all got their own city-wide mazes of tubes in the 1860s and '70s. New York soon followed, but the story of its pneumatic system is, like the city itself, full of fast talking and big ideas. The official, post-office-operated tube network opened in 1897, but it wasn't the first air-powered letter service to open in the city. Almost 30 years earlier an ambitious man named Alfred Ely Beach built his own mini pneumatic dispatch system in downtown Manhattan. 
The entrepreneurial gentleman had been studying Europe's underground train systems and came to the conclusion that New York needed a pneumatic subway. The city, however, did not agree, and rejected his development applications. But Beach had a back-up plan. During his observations of Europe's subterranean infrastructure, he had became intrigued by pneumatic post. Beach proposed the construction of pneumatic "mail delivery" tubes and the city approved. He spent two months digging a block-long tunnel – and funnily enough, it was just the right size for a passenger train. (To fulfill the terms of his contract, he installed an eight-inch-wide mail delivery tube alongside it.) 
Built on the sly in grand style – its station featured chandeliers, a grand piano, and a fountain – Beach's fancy but impractical subway attracted passengers when it opened in 1870, but exhausted its novelty value after three years. His pneumatic mail tube, though similarly short-lived, has the distinction of being the U.S.A's first such system.
Take two for New York happened in 1897 with the unveiling of a pneumatic network that connected post offices throughout Manhattan and across the Brooklyn Bridge. Power stations with air blowers and compressors sent cylinders flying through the tubes at 30 miles per hour. Postal workers assigned to the loading and unloading of the grease-coated canisters became known as rocketeers. Some of them apparently couldn't resist a little mischief – there are stories of workers from downtown ordering sandwiches from a deli up in the Bronx and receiving them via pneumatic tube within 20 minutes. 
The European and New York networks lasted well into the second half of the 20th century, but always carried just a fraction of the mail – the system's pipes, which ranged from two to eight inches wide, could only handle a low volume of letters, and parcels wouldn't fit in the canisters. Mail delivery by automobile became the preferred method, and the underground tubes fell silent.
Want to see more zoom tubes? Visit Atlas Obscura for photos.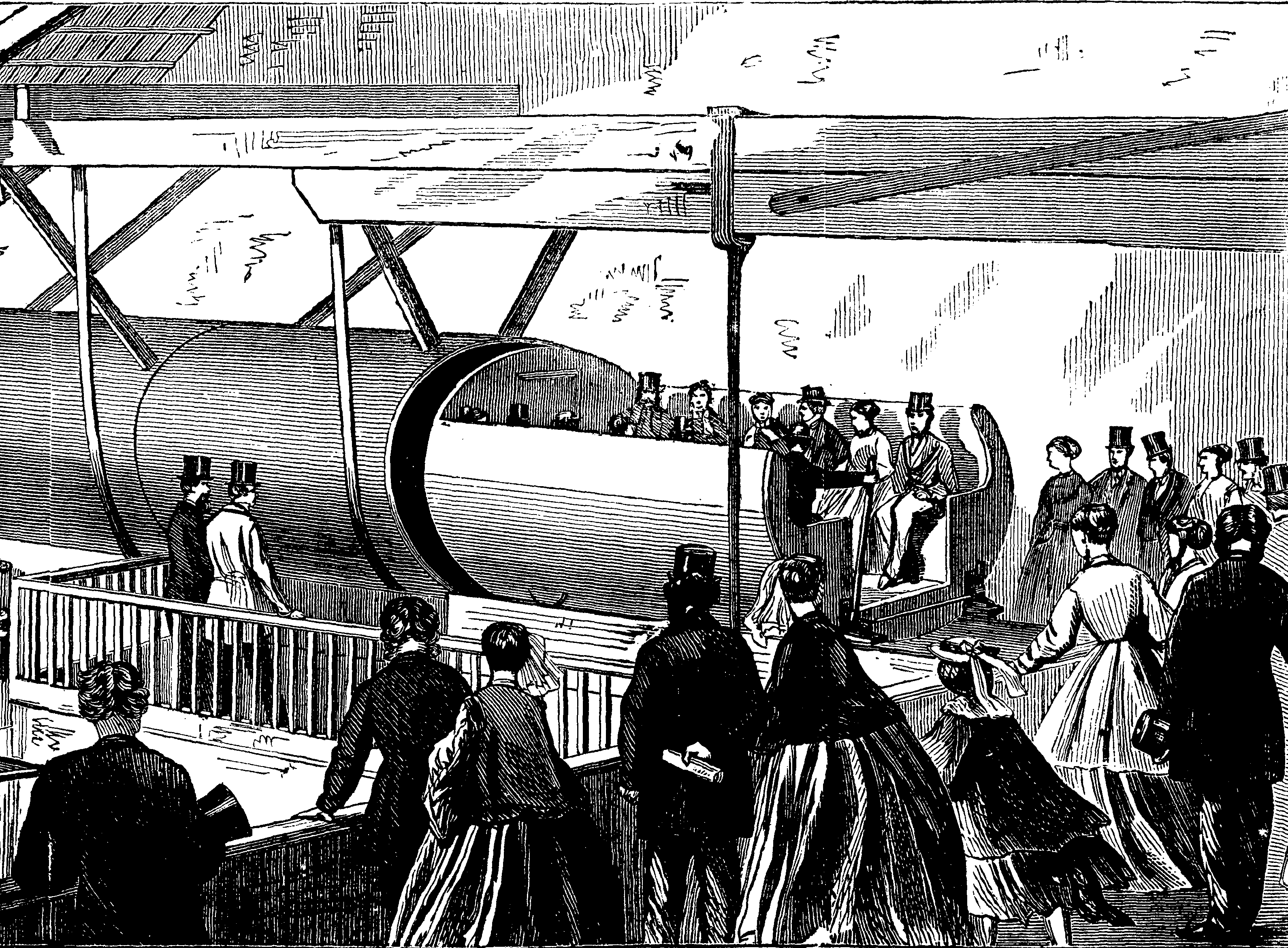 Three bonus tubular tales: