Bizarre high-rise buildings are shooting up all over the world. If you weren't paying attention, you could easily find yourself impaled by one. It happened recently to a friend of mine.
James Biddlecombe, aka Biddie, and I grew up together in a lackluster satellite town with no mod architecture in sight. In the early '70s we moved to London to "hit the big-time." I became a window dresser, and he became a transvestite cabaret performer. Just two guys living the dream. While waiting for global adoration and untold wealth to arrive, we shared a flat on a little street in Battersea where we often consumed vast quantities of alcohol. In the late '70s, I impulsively moved to the United States. Shortly thereafter Biddie left Battersea and scored a council flat (subsidized housing) in a gritty dwelling (tenement) in Southwark, a rough but historic wedge of London. Three decades later, the Shard arrived. Uninvited, Renzo Piano's 87-story glass-clad dildo—the tallest building in the European Union—shot up into Biddie's back passage. It's an adjacency straight out of a Jacques Tati movie.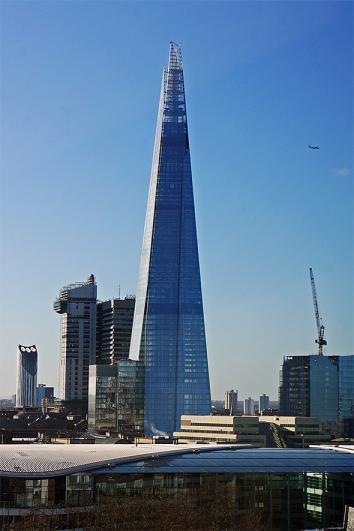 Monsieur Tati, the brilliant French filmmaker, actor, and bringer of joy, masterfully satirized all aspects of modernity and shone a light on the hilarious dissonance between the daily realities of the lumpen populace (no offence, Biddie) and those chrome-and-glass fantasies that are built to serve its needs. When M. Tati conceived of Mon Oncle and Playtime, he was responding to the first wave of futuristic Jetsons architecture. If Jacques were around today—he popped his sabots in 1982—he would choke on his croque monsieur. Things have gotten beaucoup more demented.
Wiggly and squiggly, jagged and jutting, the iconic architectural "marvels" of today make all the original midcentury stuff look like a bunch country cottages. From Dubai to Denver, the urban skylines of the world are now dotted with thrusting science-fiction fantasies, many of which resemble scaled-up versions of the various window dressing awards—lopsided obelisks and chrome projectiles—that I have received over the intervening years. Examples include the Burj Khalifa tower in Dubai, that lemon wedgie thingy in Barcelona, Frank Gehry's melting Spruce Street tower in New York, and Zaha Hadid's Heydar Aliyev fantasia in Azerbaijan.
Encounters with these hallucinogenic structures are always memorable. Earlier this year me and my Jonny flew to Madrid. When we saw the airport, we plotzed. The Richard Rogers and Antonio Lamela–designed structure recalls a giant ruffled orange flamenco frock. This is not a criticism. I love a ruffled orange flamenco frock. As we trundled our wheelies through the empty concourse—the Spaniards were not traveling because the economy was in the toilet because all the money had been spent on the airport—we came upon what I hope and pray was a dog turd. The poignancy of this lone excrescence, lurking under that vast expanse of ruffles, was overwhelming.
Call me perverse, but I find this brave new world to be extremely entertaining. I particularly enjoy watching people—they appear bleak, terrified, and thoroughly upstaged—schlepping in and out of these kooky edifices. I also enjoy the inevitable nicknames. In the U.K. the populace takes revenge on these grandiose creations by giving them ruthlessly quotidian monikers: the Gherkin, the Razor. The Walkie-Talkie. It's a Madonna-becomes-Madge moment.
Though the buildings themselves are very entertaining, the same cannot be said of the architects. Grumpy and inflexible, they seem like a really annoying bunch of Fountainhead-reading egomaniacal lunatics. Many are wildly budget-oblivious and refuse to design anything unless it has a wobbly facade or a diminishing floor plate. Rectangular buildings—such as the modernist masterpieces of the Chicago skyline that I happen to be looking at right now because I am visiting the Windy City—are a thing of the past. Regarding those diminishing floor plates: This is clearly a fuck you to the real-estate developer who, thanks to the pointiness of the building, is saddled with unrentable high-altitude microunits that are whipped by high-velocity winds.
The poster child for this my-way-or-the-highway sci-fi architecture must surely be that daring Calatrava dude whose budget-busting shenanigans, spine-fracturing glass walkways, leaky roofs, and myriad lawsuits were detailed in a recent New York Times article. He is currently scrambling to finish part of the new World Trade Center, a luxe $3.44 billion train station known as the Oculus, a fantastical object that will, if it is ever completed, resemble a massive malevolent-looking outer-space porcupine. My psychotherapist's office is right around the corner. I look forward to indulging in a little Tati-watching after my sessions.
Lest this sound too kvetchy, let me end on a positive note:
People claim that extreme architecture does not age well. I disagree. Whenever I am in San Francisco I usually swing by the brutalist Hyatt Regency, which dates from the '70s. John Portman's pod elevators and interior were immortalized and lampooned in Towering Inferno and High Anxiety. This jaw-dropping architectural freakfest is more impressively hilarious than ever.
And for a further positive note:
When asked what he thought about the Shard, Mr. Biddlecombe gushed unconditionally. Though he is no fan of the Gherkin—"It looks like a phallus with phimosis"—he is wildly pro-Shard: "Because of its crystal surface, it's always changing and looks rather fab. It seems so light and airy and reminds me of those cloaking devices in Star Trek."
In the interest of full disclosure, it should be noted, however, that Biddie, who still performs occasionally but no longer en travestie, has yet to cough up the entry fee (24 pounds and 95 pence) and ascend to the official viewing platform. He is fearful that those wicked breezes will "blow the onions off me hot-dog."