Thanksgivukkah is fast approaching. If you haven't yet learned how to spin the turkey or stuff the dreidel, now's the time. Thanksgiving won't coincide with one of the eight days of Hanukkah for another 75,000 years, which is a long time before you'll get another chance to show off your latke pie recipe. But the good news is that Hanukkah will collide with other holidays much sooner. Mark your calendars for Feb. 14, 11,506, when Valentine's Day will become Valentinukkah's Day!
The reason Hanukkah moves around the calendar so much has to do with the Earth's orbit and the imperfections of our calendar systems. It takes the Earth approximately 365 days 5 hours and 48 minutes to orbit the sun. Neither the Gregorian Calendar (the 12-month calendar used throughout most of the world) nor the Hebrew Calendar averages out to exactly this length, not even when you take leap years into account. Because of these imperfections, the summer solstice is slowly creeping earlier and earlier on the Gregorian calendar, and it will move backward through May, April, March, and eventually all the way back to June 21 over the course of 1,000,000-odd years. On the Hebrew Calendar, the solstice is set to loop around even quicker at once every 80,000 years.
Because each calendar is off by a different amount, Jewish holidays are slowly revolving their way through the Gregorian Calendar. This means, that, hypothetically, every Jewish holiday will coincide with every non-Jewish holiday at some point over the next several thousand years.
Of course, this may not actually happen. It's likely that timekeepers (be they scientists, government agencies, clerics or rabbis) will step in to ruin your St. Patrickkah's Day fun at some point. I called Rabbi Shaye Cohen, a professor of Hebrew literature and philosophy at Harvard University, to talk about Jewish calendrical law, which dictates that some holidays must come in certain seasons. Cohen said that by Jewish law, "Pesach has to come in the spring and Sukkot must come in the fall," therefore a change to the calendar will be needed at some point to keep these holidays seasonally appropriate. And since many of the hybrid Hanukkah holidays on Slate's calendar are scheduled for tens of thousands of years from now, Cohen is skeptical they will ever come to pass. "Maybe the Messiah will have come by then," he pointed out.
The arrival of a Messiah would indeed throw a wrench into your eight-day Laborkkah Day weekend in 57,828. But in the event that no changes are made to either the Gregorian or the Hebrew calendar, you should keep Slate's guide to impending "-ukkahs" handy. You wouldn't want April Foolsukkah Day to sneak up on you.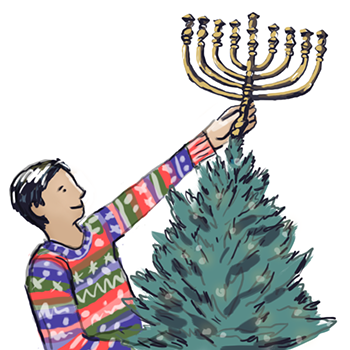 On Dec. 25, 2016, Hanukkah will coincide with Christmas. Celebrate Christmukkah, by putting a menorah on top of your Christmas tree.
On Jan. 1, 2017, Hanukkah will coincide with New Year's Day. Celebrate New Yearsukkah by singing "Ma'oz Tzur" to the tune of "Auld Lang Syne."
On Jan. 15, 4723, Hanukkah will coincide with Martin Luther King, Jr. Day. Celebrate Martin Luther Hanukking Jr. Day by revisiting the Old Testament sources (Isaiah 40:4–5, e.g.) of King's "I Have a Dream Speech."
On Feb. 7, 10632, Hanukkah will coincide with Mardi Gras. Celebrate Mardi Granukkah by turning your gelt wrappers into Mardi Gras beads.
On Feb. 14, 11506 Hanukkah will coincide with Valentine's Day. Celebrate Valentinukkah's Day by telling your partner that your love burns as brightly as the shamash.

On Feb. 15, 11943, Hanukkah will coincide with Presidents' Day. Celebrate Presidentukkah's Day by getting a great deal on the new line of 11,943 Hondas. (So much sleeker than the 11,942s.)
On March 17, 18707 Hanukkah will coincide with St. Patrick's Day. Celebrate St. Patrickkah's Day by adding kale to your grated potatoes to make colcannon latkes.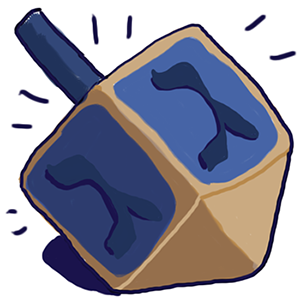 On April 1, 22203, Hanukkah will coincide with April Fools' Day. Celebrate April Foolsukkah Day by buying a trick dreidel (there's a gimel on every side!).
On May 5, 30183, Hanukkah will coincide with Cinco de Mayo. Celebrate Cinco de Maccabee by fashioning a menorah out of empty Dos Equis bottles. (You'll need nueve.)
On May 9, 31019, Hanukkah will coincide with Mother's Day. Celebrate Maternal Gelt Day by bringing your mom sufganiyot in bed.

On May 25, 34933, Hanukkah will coincide with Memorial Day. Celebrate Menorial Day by grilling a kosher frank.

On June 14, 39417, Hanukkah will coincide with Flag Day. Celebrate Flagukkah Day by sewing an American flag with stars of David.
On June 15, 39873, Hanukkah will coincide with Fathers' Day. Celebrate Fathukkah's Day by giving your dad a new tie—and a new tallis.

On July 4, 44015, Hanukkah will coincide with the Fourth of July. Celebrate Independence from the Seleucid Empire Day by putting sparklers in your menorah.
On Sept. 1, 57828, Hanukkah will coincide with Labor Day. Celebrate Laborkkah Day by wearing a white yarmulke for the last time before it becomes a fashion faux pas.
On Sept. 19, 61818, Hanukkah will coincide with Talk Like a Pirate Day. Celebrate Hanukkarrrrr by greeting loved ones with, "Shalom, matey!"
On Oct. 8, 662873 Hanukkah will coincide with Columbus Day. Celebrate Columbukkah Day by watching the Hyman Roth scenes from The Godfather: Part II.

On Nov. 11, 74111 Hanukkah will coincide with Veterans Day. Celebrate Veteranukkahs Day by thanking a veteran of the Battle of Adasa.
On Nov. 22, 76942 Hanukkah will coincide with Thanksgiving (again). Celebrate Thanksgivukkah by breaking out the novelty Thanksgivukkah T-shirt you bought in 2013.
Note: These are projections for when one of the eight days of Hanukkah will intersect with each holiday. Since Jewish holidays begin at sundown, the first night of Hanukkah will overlap with these holidays in different years. For instance, in the year 2070, the first night of Hanukkah will take place on Thanksgiving night.