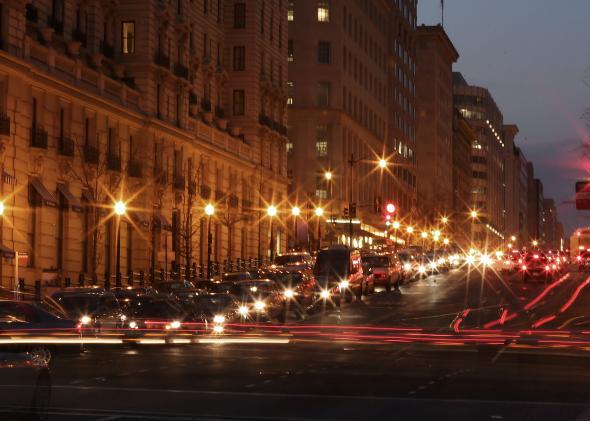 Earlier this year, the Texas A&M Transportation Institute released its "Urban Mobility Report, 2012," or, more apt in the case of Washington, D.C., its immobility report. Those of us living in or outside the District—rated the most traffic-congested metro area in America with a population of 3 million or more—are delayed an average of 67 hours annually in our cars. Which translates to 32 gallons of gas, or $110, burned out of our wallets and into the atmosphere.
Tim Lomax, a civil engineer and urban planner who co-authored the study, told the Washington Post that D.C. had the highest Planning Time Index. In other words, for a trip in this city that would normally take about 20 minutes in light traffic, one should allot nearly 2 hours in the middle of rush hour to ensure an on-time arrival. "That's the combined effect of weather and bad crashes and special events and construction, and in y'alls cases, presidential motorcades," he said. "It's everything rolled together." Not to mention the damn circles!
The Post's John Kelly later wondered whether at least some of the congestion could be attributed to our seeming inability in this town to compromise:
If you drive, merging will eventually become an issue. There are places where two lanes become one, places where parked vehicles suddenly eliminate the right lane, places where roadwork or fender benders steal a lane, places where highway offramps merge into surface roads (or vice versa), places where HOV lanes dump us into regular lanes, intersections where neighborhood streets T-end into commuter routes . . .
In each of these situations, we find ourselves either the merger or the mergee: either the driver who wants to be let in or the driver who does the letting in. Or, as often happens, doesn't.
Desperate for relief, I propose we Washingtonians look to language for one possible solution. Under the theory that naming a behavior is crucial to popularizing it, perhaps all we need is a single word for the orderly turn-taking that allows two lanes of traffic to efficiently blend into one. The Germans call it Reißverschlusssystem, which translates literally as the "zipper system" and even appears on street signs. A zipper is the ultimate accommodator, after all, each side alternating with an obliging "after you." But as good a metaphor as it is, I'm not sure it works well in English. So what does? Your ideas below.
---